The Gilded Edge: Two Audacious Women and the Cyanide Love Triangle That Shook America (Hardcover)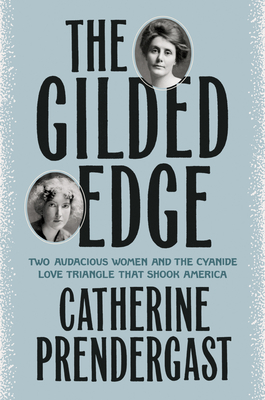 $28.00
Out of Stock - Not Available
Description
---
"The Gilded Edge is a compelling read from start to finish. Gripping, suspenseful, cinematic. This is narrative nonfiction at its best."—Lindsey Fitzharris, bestselling author of The Butchering Art

Astonishingly well written, painstakingly researched, and set in the evocative locations of earthquake-ravaged San Francisco and the Monterey Peninsula, the true story of two women—a wife and a poet—who learn the high price of sexual and artistic freedom in a vivid depiction of the debauchery of the late Gilded Age

Nora May French and Carrie Sterling arrive at Carmel-by-the-Sea at the turn of the twentieth century with dramatically different ambitions. Nora, a stunning, brilliant, impulsive writer in her early twenties, seeks artistic recognition and Bohemian refuge among the most celebrated counterculturalists of the era. Carrie, long-suffering wife of real estate developer George Sterling, wants the opposite: a semblance of the stability she thought her advantageous marriage would offer, threatened now that her philandering husband has taken to writing poetry.

After her second abortion, Nora finds herself in a desperate situation but is rescued by an invitation to stay with the Sterlings. To Carrie's dismay, George and the arrestingly beautiful poetess fall instantly into an affair. The ensuing love triangle, which ultimately ends with the deaths of all three, is more than just a wild love story and a fascinating forgotten chapter. It questions why Nora May—in her day a revered poet whose nationally reported suicide gruesomely inspired youths across the country to take their own lives, with her verses in their pockets no less—has been rendered obscure by literary history. It depicts America at a turning point, as the Gilded Age groans in its death throes and young people, particularly women, look toward a brighter, more egalitarian future.

In an unfortunately familiar development, this vision proves to be a mirage. But women's rage at the scam redefines American progressivism forever.

For readers of Nathalia Holt, Denise Kiernan, and Sonia Purnell, this shocking history with a feminist bite is not to be missed.
About the Author
---
Catherine Prendergast is a professor of English at the University of Illinois at Urbana-Champaign, a Guggenheim Fellow, and a Fulbright Scholar. Interviewed by NPR and New York magazine, she has written about battles over school desegregation, anxieties concerning the global spread of English, and the recognition of disability rights. Dr. Prendergast's previous (scholarly) books include Buying into English and Literary and Racial Justice. The Gilded Edge is her first work of narrative nonfiction. Originally from New Jersey, she now lives in central Illinois with her husband and son.
Praise For…
---
Praise for The Gilded Edge:

One of Monterey County Weekly's "21 Most Important Books of 2021" | One of Bustle's "10 Books to Read If You Aren't Over House of Gucci" | One of Artnet's "20 Books About Art and the Art World to Keep You Reading Well into the New Year"

"Prendergast blows away that sentimental mist with her tenacious research and humorous asides. . . . The Gilded Edge is a book that grapples with the difficult task of retrieving women's lives from incomplete or distorted archival records. As for any romantic notions that readers may hold of what California Bohemia was like in the early twentieth century, Ms. Prendergast's book will blow them away."—Julia Flynn Siler for The Wall Street Journal

"Ultimately, The Gilded Edge takes on the cast of a great detective novel. . . . [An] unpredictable and addictive story."—Lorraine Berry for Los Angeles Times

"The Gilded Edge is a compelling read from start to finish. Gripping, suspenseful, cinematic. This is narrative nonfiction at its best."—Lindsey Fitzharris, bestselling author of The Butchering Art

"The Gilded Edge is a gripping tale set in the Bohemian culture of Gilded Age California. Prendergast paints an electrifying portrait of a tragic love triangle, featuring the beautiful young poet Nora May French; her counterpoint, the pragmatic Carrie Sterling; and Carrie's philandering husband, George. With skill, humor, and biting insight, Prendergast reveals the cost of being a woman in a world dominated by men, placing the women center stage. A brilliant historian, Prendergast also tells of her own quest to find out what really happened, including herself in the story in surprising and fascinating ways. A page-turner, The Gilded Edge reads like a mystery novel. A poignant and fascinating story of the past, but also a story of the writer herself."—Charlotte Gordon, author of Romantic Outlaws: The Extraordinary Lives of Mary Wollstonecraft and Mary Shelley, The Woman Who Named God, and Mistress Bradstreet

"What a story! With the eye of a detective, Catherine Prendergast has brilliantly pieced together the shocking history of the birth of the famed Carmel-by-the-Sea, an early mission turned artists' colony founded in the early 1900s in Central Coast California, where the literary elite and hangers-on fashioned a Bohemian existence rife with alcohol, sex, jealousy, drama—loads of it—deceit, and suicide. Prendergast's vivid storytelling draws you into the debauchery, weaving the poetry and words of the famous and not-so-famous into a narrative that challenges the sanitized version of Carmel's founding. The women, she discovered, paid the price in those early years in lost lives, careers, ruined reputations, and broken marriages, while the men achieved greater accolades. Prendergast puts those women back in the center of the story where they belong, fueling a breathtaking tale about the real lives of the 'New Woman' of the early twentieth century."—Kate Clifford Larson, New York Times bestselling author of Rosemary: The Hidden Kennedy Daughter

"Catherine Prendergast so vividly re-creates the Bohemian circles of early twentieth century California that I felt transported back in time, witnessing firsthand the challenges, triumphs, and tragedies of Nora May French and Carrie Sterling, her brave and brazen heroines. The Gilded Edge is a highly evocative and unforgettable read."—Abbott Kahler, New York Times bestselling author (as Karen Abbott) of The Ghosts of Eden Park

"The text reads like a dramatic novel fueled by sex, alcohol, and quests for fame and fortune. . . .  A well-rendered, tragic tale that speaks to the struggles of women trying to find their places in society."—Kirkus Reviews

"We're living in a second Gilded Age, so this feels pretty relevant. There's a love triangle, there's poetry, there's social reform movements, there's a real estate developer; it's just got all the things. I also love a story where it was HUGE in the news at the time, and then almost no one today has heard of it. This is one of those!"—Book Riot

"Life in Carmel among its Bohemian artists is a captivating subject, but Prendergast deepens it by entering the narrative to relay the difficulties she encountered researching Carrie and Nora, two fascinating women whose lives were largely buried in archives devoted to the men in their circle. . . . Prendergast's vivid history offers a sobering take on a romanticized time and place in which the men were lauded while the women were nearly erased."—Booklist

"This punchy feminist tribute offers a fascinating look at two forgotten women of the Gilded Age."—Publishers Weekly

"Explaining the book's subtitle would constitute a spoiler. The narrative is such a compelling and engaging read, it would be a shame to deny readers the pleasures of exploring it."—Carmel Magazine

"For a book built around suicides, The Gilded Edge is pulsing with life. . . . Part of the energy comes from the author's palpable outrage, which emerges in otherwise chatty interludes that chart her efforts to uncover the real history behind a tale of scandal and tragedy."—Air Mail

"Prendergast gives readers an inside look at what went on behind the writing. . . . This well-organized biography reads almost like historical fiction; readers are reminded that this is a true story when Prendergast inserts her witty intellectual commentary."—Library Journal

"Part detective work, part narrative nonfiction—combined with Prendergast's personal observations about what she learned—[The Gilded Edge] is an indispensable corrective to romantic myths of the early twentieth century and our present day."—Nob Hill Gazette

"Prendergast's book is a MasterClass in research. Throughout, she sporadically reflects on the misogynist injustice imbedded even in seemingly innocuous things like archival structure. Each woman—and Nora May particularly—was exceptional on their own, but their histories were intentionally (and in some cases maliciously) folded into the records of the era's famous men. The methodic persistence required to compile such a complete and compelling account is truly noteworthy."—Holly Dowell, WORD Bookstores