Quiet in Her Bones (Hardcover)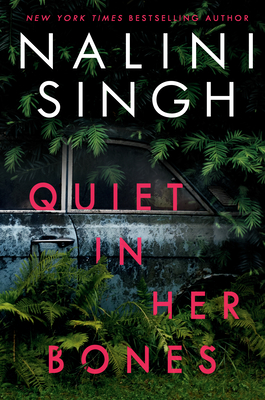 $27.00
Out of Stock - Not Available
Description
---
In this gripping thriller set in New Zealand, New York Times bestselling author Nalini Singh takes you into the twisted world of an exclusive cul-de-sac located on the edge of a sprawling forest.
 
My mother vanished ten years ago.
So did a quarter of a million dollars in cash.
Thief. Bitch. Criminal.
Now, she's back.
Her bones clothed in scarlet silk.
 
When socialite Nina Rai disappeared without a trace, everyone wrote it off as another trophy wife tired of her wealthy husband. But now her bones have turned up in the shadowed green of the forest that surrounds her elite neighborhood, a haven of privilege and secrets that's housed the same influential families for decades.

The rich live here, along with those whose job it is to make their lives easier. And somebody knows what happened to Nina one rainy night ten years ago. Her son Aarav heard a chilling scream that night, and he's determined to uncover the ugly truth that lives beneath the moneyed elegance…but  no one is ready for the murderous secrets about to crawl out of the dark.

Even the dead aren't allowed to break the rules in this cul-de-sac.
About the Author
---
New York Times bestselling author Nalini Singh is passionate about writing. Though she's traveled as far afield as the deserts of China, the Highlands of Scotland, and the frozen landscapes of Antarctica, it is the journey of the imagination that fascinates her most. She's beyond delighted to be able to follow her dream as a writer. Nalini lives and works in beautiful New Zealand. You can contact her directly through her website. While visiting the site, Nalini invites you to join her newsletter for up-to-date news about both the Psy-Changeling and Guild Hunter series, as well as fun exclusive extras, including free short stories set in her worlds.
Praise For…
---
"Singh sustains tension throughout, delivering a lushly written, multilayered mystery that will keep readers guessing. Susan Isaacs fans, take note."—Publishers Weekly

"Full of twists, turns, and genuine emotion, Quiet in Her Bones cements Singh's place in the modern pantheon of suspense." —Crime Reads

"Singh perfectly conveys the sleek architecture amid an unforgiving New Zealand forest...an unsettling thriller that deserves a wide audience."—Booklist

"New Zealand noir" is the name Nalini Singh gives her particular brand of thriller, and it seems fitting.... Full of dark secrets, and even darker motivations, below the veneer of "moneyed elegance," this sounds like a delicious read, the perfect thriller for the weekend."—Amazon Book Review

"Nervy and unsettling noir [with] a legitimately and believably unreliable narrator."—The New York Times Book Review

"Quiet in Her Bones is part Bildungsroman, part thriller, all wholly absorbing…. Nalini Singh owns this subset of the thriller genre: a pairing of an unsolved crime and a forbidding landscape."—Criminal Element