I'll Take Manhattan (Mass Market)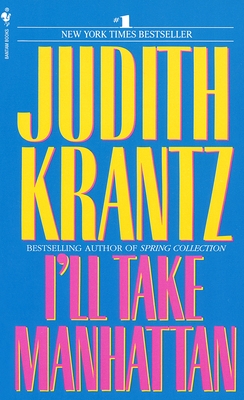 Description
---
In the high-stakes world of magazine publishing, Judith Krantz weaves a dazzling tale of love and betrayal, and creates her most joyous character—sensational Maxi, an uninhibited woman who unexpectedly discovers that her talent for life is matched by a hunger to succeed.

Gorgeous, flamboyant Maxi Amberville is twenty-nine and has already discarded three husbands on two continents. Life is a stream of endless pleasure in her lavish Trump Tower apartment—until her widowed mother married a man who plots to sell her father's magazine empire. And Maxi turns her incredible lust for living into a passionate quest for power.

Maxi takes over the small weekly Buttons And Bows. She gathers her hot-blooded ex-husband, sassy daughter and a coterie of the powerful elite. Then, risking all, Maxi creates B&B—the glitziest, ritziest, most successful fashion magazine in the country. Here is a dramatic, sizzling story of love, family, ambition and one unforgettable woman who gives life and love everything she has.
About the Author
---
Judith Krantz began her career as a fashion editor and magazine article writer. Her first novel, Scruples, was an immediate top bestseller, as were all her subsequent novels—Princess Daisy, Mistral's Daughter, I'll Take Manhattan, Till We Meet Again, Dazzle, Scruples Two, Lovers, Spring Collection, and The Jewels of Tessa Kent. She died in 2019.