The Two Towers: Being the Second Part of The Lord of the Rings (Paperback)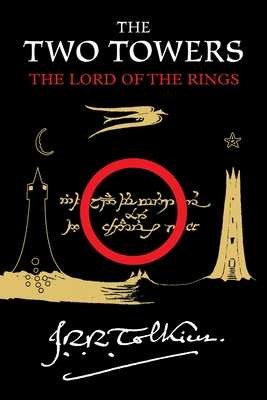 Description
---
The Lord of the Rings saga continues in The Two Towers, the second volume in J.R.R. Tolkien's epic adventure.
One Ring to rule them all, One Ring to find them, One Ring to bring them all and in the darkness bind them.
Frodo and his Companions of the Ring have been beset by danger during their quest to prevent the Ruling Ring from falling into the hands of the Dark Lord by destroying it in the Cracks of Doom. They have lost the wizard, Gandalf, in a battle in the Mines of Moria. And Boromir, seduced by the power of the Ring, tried to seize it by force. While Frodo and Sam made their escape, the rest of the company was attacked by Orcs. Now they continue the journey alone down the great River Anduin—alone, that is, save for the mysterious creeping figure that follows wherever they go.
"Among the greatest works of imaginative fiction of the twentieth century. The book presents us with the richest profusion of new lands and creatures, from the beauty of Lothlórien to the horror of Mordor."—Sunday Telegraph
About the Author
---
J.R.R. Tolkien (1892–1973) was a distinguished academic, though he is best known for writing The Hobbit, The Lord of the Rings, and The Silmarillion, plus other stories and essays. His books have been translated into over sixty languages and have sold many millions of copies worldwide.
Praise For…
---
"The author has intimate access to an epic tradition of Germanic history, civilized by the gentler genius of modern England." The New York Times

"Among the greatest works of imaginative fiction of the twentieth century. The book presents us with the richest profusion of new lands and new creatures, from the beauty of Lothlorien to the horror of Mordor, adventures to hold us spell-bound, and words of beauty and evocation to bring all vividly before us." -- Sunday Telegraph —