The Case for Loving: The Fight for Interracial Marriage (Hardcover)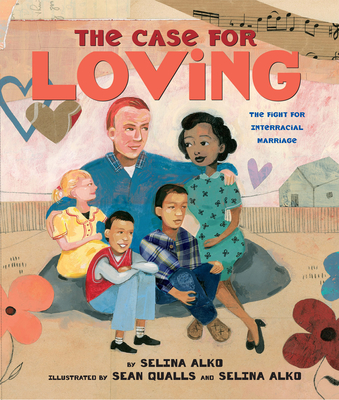 Description
---
"I support the freedom to marry for all. That's what Loving, and loving, are all about." -- Mildred Loving, June 12, 2007For most children these days it would come as a great shock to know that before 1967, they could not marry a person of a race different from their own. That was the year that the Supreme Court issued its decision in Loving v. Virginia.This is the story of one brave family: Mildred Loving, Richard Perry Loving, and their three children. It is the story of how Mildred and Richard fell in love, and got married in Washington, D.C. But when they moved back to their hometown in Virginia, they were arrested (in dramatic fashion) for violating that state's laws against interracial marriage. The Lovings refused to allow their children to get the message that their parents' love was wrong and so they fought the unfair law, taking their case all the way to the Supreme Court - and won!
About the Author
---
Selina Alko has always been curious about different people and cultures, which stems, in part, from growing up with a Canadian mother and a Turkish father, who spoke seven languages and taught her to paint. Her art brims with optimism, experimentation, and a deep commitment to multiculturalism and human rights. She is the author of The Case for Loving, which she illustrated with her husband, Sean Qualls, and the co-illustrator, also with Sean, of Two Friends by Dean Robbins. She has written and illustrated several other acclaimed picture books, including Daddy Christmas & Hanukkah Mama and B Is for Brooklyn. She lives in Brooklyn, New York, with her family. Learn more at selinaalko.com.
Sean Qualls finds inspiration everywhere, from old buildings, nature, fairy tales, black memorabilia, and outsider art to cave paintings, African imagery, mythology, music, and his native Brooklyn. He is the co-illustrator, with his wife, Selina Alko, of the celebrated picture books Two Friends by Dean Robbins and The Case for Loving by Selina Alko. Other acclaimed picture books he has illustrated include Giant Steps to Change the World by Spike Lee and Tonya Lewis Lee, Little Cloud and Lady Wind by Toni Morrison and her son Slade, Dizzy by Jonah Winter, and Before John Was a Jazz Giant by Carole Boston Weatherford, for which he received a Coretta Scott King Illustrator Honor. He lives in Brooklyn, New York, with his family. Visit him online at seanqualls.com.
Praise For…
---
Praise for Dizzy, written by Jonah Winter, illustrated by Sean Qualls"Qualls's acrylic, collage, and pencil illustrations swing across the large pages with unique, jazzy rhythms, varying type sizes and colors, and playful perspectives, perfectly complementing the text." -- School Library Journal, starred review"Qualls's acrylic-and-collage images employ a muted palette of pinks and blues and beiges, and compositions vary from scenes of daily life to poster-like montages, effectively establishing Gillespie as larger than life." -- Kirkus Reviews, starred review"....Qualls is able to translate the story (and the music) into shapes and colors that undulate and stream across the pages with a beat and bounce of their own." -- Booklist starred reviewAwards for Dizzy, written by Jonah Winter, illustrated by Sean QuallsKirkus Best Book of 2006School Library Journal Best Book of the YearBooklist Editors' ChoicesHorn Book Magazine Fanfare Book

Praise for Dizzy, written by Jonah Winter, illustrated by Sean Qualls"Qualls's acrylic, collage, and pencil illustrations swing across the large pages with unique, jazzy rhythms, varying type sizes and colors, and playful perspectives, perfectly complementing the text." -- School Library Journal, starred review"Qualls's acrylic-and-collage images employ a muted palette of pinks and blues and beiges, and compositions vary from scenes of daily life to poster-like montages, effectively establishing Gillespie as larger than life." -- Kirkus Reviews, starred review"....Qualls is able to translate the story (and the music) into shapes and colors that undulate and stream across the pages with a beat and bounce of their own." -- Booklist starred reviewAwards for Dizzy, written by Jonah Winter, illustrated by Sean QuallsKirkus Best Book of 2006School Library Journal Best Book of the YearBooklist Editors' ChoicesHorn Book Magazine Fanfare Book