Dust: Book Three of the Silo Series (Paperback)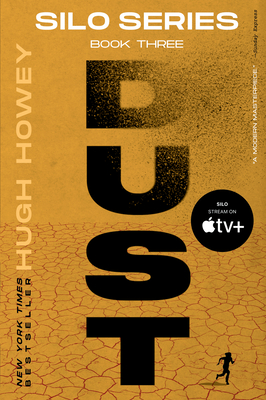 Other Books in Series
This is book number 3 in the Silo series.
Description
---
NOW A SERIES ON APPLE TV+ THAT STEPHEN KING CALLS "MYSTERIOUS AND TERRIFICALLY SUSPENSEFUL.... EXCELLENT SCIENCE FICTION WITH THREE-DIMENSIONAL CHARACTERS."
"The final book secures the status of the Wool trilogy as a modern masterpiece."—Sunday Express
Wool introduced the world of the silo. Shift told the story of its creation. Dust will describe its downfall. In order for a new world to begin, the old one must fall
Juliette, now mayor of Silo 18, doesn't trust Silo 1, especially its leader, Donald. But in the world of the Silos, there is no black and white—everything is shades of gray. Donald may not be the monster Juliette thinks he is, and may in fact be key to humanity's continued survival. But can they work together long enough to succeed?
In Dust, the final book in the New York Times best-selling Silo trilogy, the choices that Juliette and Donald make could lead to salvation . . . or to the death of everyone on the planet.
"The success of Howey's Wool trilogy was no fluke. This is a superior sci-fi thriller, both slick and gritty."—Financial Times
About the Author
---
HUGH HOWEY is the New York Times and USA Today bestsell­ing author of the Silo Series: Wool, Shift, and Dust; Beacon 23, Sand, Half Way Home, and Machine Learning. His works have been translated into more than forty languages and have sold millions of copies world­wide. Adapted from his bestselling sci-fi trilogy, Silo is now streaming on Apple TV+ with an adaptation of Beacon 23 due in 2023. Howey lives in New York with his wife, Shay.
Praise For…
---
"This is the best science fiction series I've read in years. Not since A Canticle for Leibowitz have I been so utterly enthralled." — Douglas Preston, #1 New York Times bestselling author
"A superior sci-fi thriller, both slick and gritty." — Financial Times
"The saga that began in 2011 with a breathtaking self-published novel called Wool comes to a satisfying end with Dust." — Entertainment Weekly