The Grey Bastards: A Novel (The Lot Lands #1) (Paperback)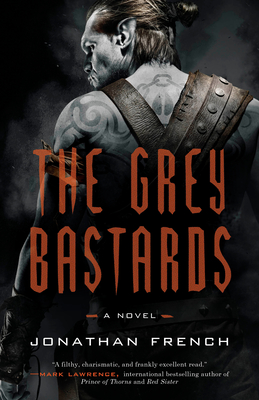 $17.00
Out of Stock - Not Available
Other Books in Series
This is book number 1 in the The Lot Lands series.
Staff Reviews
---
A great fantasy story with a gritty biker/cowboy feel to it's characters. I thoroughly enjoyed the world Jonathan French built in this series and his unique twist to some of the tropes.
— From
Will
Description
---
"[A] fantasy masterwork . . . a dirty, blood-soaked gem of a novel [that reads] like Mad Max set in Tolkien's Middle-earth."—Kirkus Reviews (starred review)
 
Jackal and his fellow half-orcs patrol the barren wastes of the Lot Lands, spilling their own damned blood to keep civilized folk safe. A rabble of hard-talking, hog-riding, whore-mongering brawlers they may be, but the Grey Bastards are Jackal's sworn brothers, fighting at his side in a land where there's no room for softness. 
 
And once Jackal's in charge—as soon as he can unseat the Bastards' tyrannical, seemingly unkillable founder—there's a few things they'll do different. Better. 
 
Or at least, that's the plan. Until the fallout from a deadly showdown makes Jackal start investigating the Lot Lands for himself. Soon, he's wondering if his feelings have blinded him to ugly truths about this world, and the Bastards' place in it. 
 
In a quest for answers that takes him from decaying dungeons to the frontlines of an ancient feud, Jackal finds himself battling invading orcs, rampaging centaurs, and grubby human conspiracies alike—along with a host of dark magics so terrifying they'd give even the heartiest Bastard pause. 
 
Finally, Jackal must ride to confront a threat that's lain in wait for generations, even as he wonders whether the Bastards can—or should--survive. 
 
Delivered with a generous wink to Sons of Anarchy, featuring sneaky-smart worldbuilding and gobs of fearsomely foul-mouthed charm, The Grey Bastards is a grimy, pulpy, masterpiece—and a raunchy, swaggering, cunningly clever adventure that's like nothing you've read before.

Praise for The Grey Bastards

"Saddle up the war boar and set off on a wild, gory thrill-ride that ends in an awesome climax and begs for a sequel."—Daily Mail (UK) 

"Non-stop action, though not for faint hearts . . . the Grey Bastards live up to their name in all respects."—The Wall Street Journal 
About the Author
---
JONATHAN FRENCH lives in Atlanta with his wife and son. He is a devoted reader of comic books, an expert thrower of oddly shaped dice, and a serial con attendee.
Praise For…
---
"A filthy, charismatic and frankly excellent read."—Mark Lawrence, international bestselling author of Prince of Thorns and Red Sister

"A funny thing happens when reading The Grey Bastards. You're rolling along, smiling at the novelties on display, but then, almost without warning, you find yourself truly in the world French has created, and it all becomes wonderfully familiar and convincing. The world-building creates exactly the kind of seamless transition that makes fantasy literature compelling, informative, and just plain fun."—R.A. Salvatore, New York Times bestselling author of The Legend of Drizzt
 
"French flips the fantasy script as the monsters become the good guys, fueling an action-packed, sneakily smart adventure. Half orc and all badass, Jackal is a hero you won't soon forget."—Scott Sigler, New York Times bestselling author of Alive and Infected
 
"Refashions high-fantasy tropes into something both vibrant and highly entertaining..a fantasy take on Sons of Anarchy might seem an unlikely starting point for an excellent novel, but Jonathan French manages it with considerable aplomb."—Anthony Ryan, New York Times bestselling author of the Raven's Shadow trilogy

"The Grey Bastards dragged me in immediately.  A bloody good tale of battles, intrigue, betrayal, duty and frickin' war pigs."—Brian McClellan, author of The Powder Mage trilogy
 
"A gritty adventure with a fantastic, foul-mouthed voice and filthy, lovable characters in a wonderfully original world.  Fans of Abercrombie's THE FIRST LAW or the soldierly banter of Erikson's MALAZAN BOOK OF THE FALLEN will like this a lot."—Django Wexler, author of The Shadow Campaigns series

"A terrific and highly original epic fantasy debut . . . French's half-orcs, halflings, centaurs, and others have rich histories and folklore, giving the work depth while never getting in the way of the fun. Excellent fantasy fare on all levels."—Publishers Weekly (starred review)

"A dirty, blood-soaked gem of a novel [that reads] like Mad Max set in Tolkien's Middle Earth . . . powered by unparalleled worldbuilding, polished storytelling, and relentless pacing. A fantasy masterwork."—Kirkus Reviews (starred)