The Deep (Hardcover)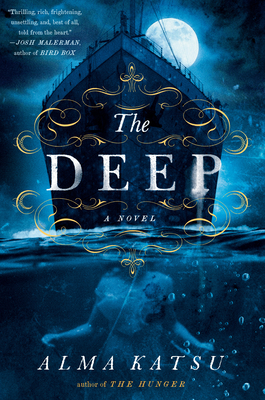 $27.00
Out of Stock - Not Available
Staff Reviews
---
"As a history buff, Alma Katsu's books always pull me into their set perfectly. You get a real feel for the times she's writing about while also getting a touch of magical realism. Getting a look at her to take on The Titanic was a real treat."
— Will
Description
---
From the acclaimed and award-winning author of The Hunger comes an eerie, psychological twist on one of the world's most renowned tragedies, the sinking of the Titanic and the ill-fated sail of its sister ship, the Britannic.

Someone, or something, is haunting the ship. Between mysterious disappearances and sudden deaths, the guests of the Titanic have found themselves suspended in an eerie, unsettling twilight zone from the moment they set sail. Several of them, including maid Annie Hebley, guest Mark Fletcher, and millionaires Madeleine Astor and Benjamin Guggenheim, are convinced there's something sinister--almost otherwordly--afoot. But before they can locate the source of the danger, as the world knows, disaster strikes.

Years later, Annie, having survived that fateful night, has attempted to put her life back together. Working as a nurse on the sixth voyage of the Titanic's sister ship, the Britannic, newly refitted as a hospital ship, she happens across an unconscious Mark, now a soldier fighting in World War I. At first, Annie is thrilled and relieved to learn that he too survived the sinking, but soon, Mark's presence awakens deep-buried feelings and secrets, forcing her to reckon with the demons of her past--as they both discover that the terror may not yet be over.

Brilliantly combining the supernatural with the height of historical disaster, The Deep is an exploration of love and destiny, desire and innocence, and, above all, a quest to understand how our choices can lead us inexorably toward our doom.
About the Author
---
Alma Katsu is the author of The Hunger, The Taker, The Reckoning, and The Descent. She has been a signature reviewer for Publishers Weekly and a contributor to The Huffington Post. She is a graduate of the master's writing program at the Johns Hopkins University and received her bachelor's degree from Brandeis University. Prior to the publication of her first novel, Katsu had a long career as a senior intelligence analyst for several U.S. agencies. She lives outside of Washington, D.C., with her husband.
Praise For…
---
Finalist for the Bram Stoker Award for Superior Achievement in a Novel 

One of...
The Washington Post's "Favorite Scary Stories"
PopSugar's Spooky New Books
BookPage's Most Anticipated Mysteries & Thrillers of 2020
CrimeReads's "Which Scary Book Should You Pair with Scary Movies This Halloween Weekend?" Picks 

"Clever and haunting...Katsu is a wordsmith using vivid imagery and beautiful wording to create a story that will leave you wishing there was more." —Suspense Magazine

"Katsu does for the Titanic what she did for the Donner party, bringing a dark supernatural twist to history in this gripping tale of the ship's doomed first voyage, and one survivor's efforts to deal with resurging terrors four years later, in the middle of war." –Locus Magazine

"Alma Katsu's The Deep isn't just a haunting ghost story, it's also a riveting historical romance." –PopSugar

"I'm a sucker for a gorgeous cover, and the hardcover jacket for Katsu's newest historical thriller is as haunting as its premise….Katsu has a knack for taking the history lessons we all thought we learned and crafting an even more twisted story out of them, making this book one of my most highly anticipated reads for 2020." –BookRiot

"Looking for a read for your book club with gobs of atmosphere and page-turning psychological suspense, yet enough meat to discuss and debate? Look no further than Alma Katsu's The Deep....Katsu's meticulous historical research and vivid imagination braid together into a chilling paranormal story that blurs the lines between fact and fiction while exploring the deep divides that existed between social classes at the turn of the 20th century." –BookTrib

"Brilliantly combining fact and fiction, the historical and the horrific, The Deep reveals a chilling truth in an unputdownable narrative full of unnerving moments and with a growing, inexorable sense of foreboding." –Nerd Daily

"A ghost story set against the backdrop of the sinking of the Titanic is a strong premise to set out with, from a writer who has good form with mixing horror with history after The Hunger….This creepy sounding tale…is highly appealing." –Den of Geek

"A riveting, seductively menacing tale of love, loss, and betrayal set amid the glamour of the Titanic, filled with séances, sea witches, and second chances." —Library Journal (starred review) 

"Painstakingly researched and meticulously plotted...Though readers will be aware of the inevitable tragedies awaiting, Katsu successfully injects suspense into both time lines, spinning a darkly captivating tale of hauntings, possessions, secrets, and class....Katsu's artful writing and calculated pacing keep the pages turning. This is an impressive, horror-tinged trip back in time." —Publishers Weekly

"Atmospheric prose and exquisite attention to detail distinguish Katsu's follow-up to The Hunger....A kaleidoscopic narrative adds color and depth." —Kirkus Reviews

"A slow-burning but satisfying and eerie yarn." —Booklist 

"Even though you know what will happen—these ships are gonna go down—it does not diminish the eerie suspense one iota." —BookPage

"Alma Katsu returns with another masterly supernatural reimagining of a historical tragedy: the sinking of the Titanic and her sister ship, the Britannic. Eerie, haunting, and filled with suspense, The Deep is a whirlpool of a novel that pulls you in and doesn't let go." —Danielle Trussoni, author of the Angelology series and The Ancestor
 
"At once both tragic and chilling, The Deep perfectly blends psychological thriller and eerie gothic ghost story to create something truly haunting, drawing you down into its dark depths before finally letting you up for air. Set in the claustrophobic confines of two doomed ships in their final days, Katsu's excellently researched new novel establishes her as a unique voice in historical fiction. I can't wait to see what she does next." —Sarah Pinborough, author of Behind Her Eyes

"The way Alma Katsu weaves the true story of the Titanic and her sister ship, Britannic, with this dark, terrifying tale of possession and haunting is phenomenal. Part history, part drama, part love story, part creepy-as-heck ghost tale, with chills icier than the watery depths, The Deep is beautifully written, thoroughly absorbing, and totally terrifying." —C.J. Tudor, author of The Chalk Man 

"Here's an incredibly ambitious setting, prose as ornate as the boat, mood as ghostly as gothic, and what must have been enough research to build a ship of her own. Yet, The Deep is thrilling, rich, frightening, unsettling, and, best of all, told from the heart. I'm going to have to read it again, because I'm not sure how she did it....The Deep is divine. I hear bugles blaring; the announcement of the arrival of a brilliant author." —Josh Malerman, author of Bird Box, Unbury Carol, and Inspection 

"The Deep deftly mashes up spellbinding historical fiction, adroit commentary on class and gender, and a classic yet surprising ghost story. Annie's tale is truly haunting." —Paul Tremblay, author of A Head Full of Ghosts and The Cabin at the End of the World

"Blending choice elements of mystery and horror into an impeccably recreated history, Alma Katsu has created a rich, haunting, irresistible novel that succeeds in rewriting the past while making it feel more ominously present than ever." —Louis Bayard, author of Courting Mr. Lincoln and Roosevelt's Beast

"The Deep takes us back to the final days of the Titanic, her sister ship the Britannic, and the mysterious woman who links them both. In a haunting story of love and revenge, Alma Katsu blends the paranormal and historical fiction as only she can—a spellbinding tale where desire knows no bounds and death is only a beginning. Another fantastic story from the author of The Hunger." —J.D. Barker, author of The Sixth Wicked Child
 
"Alma Katsu is a fantastic writer, with a unique ability to blur the lines of history, horror, humanity, and tragedy. Think Diana Gabaldon by way of Charlaine Harris. As with her exceptional novel, The Hunger, in The Deep Katsu takes on an infamous tragedy and adds her own haunting twists. A marvelous new addition to Katsu's already impressive body of work." —Michael Koryta, author of Those Who Wish Me Dead

"Like The Hunger, The Deep is historical reimagining laced with magic and mystery. Alma Katsu adds a sweeping love story and a ghostly tale of revenge to the sinkings of RMS Titanic and HMHS Britannic to tell a tale that is haunting, thrilling, and utterly original." —Dacre Stroker, co-author of Dracul 

"Elegant and eerie. Alma Katsu really is something rather special." —John Connolly, author of A Book of Bones