See No Stranger: A Memoir and Manifesto of Revolutionary Love (Paperback)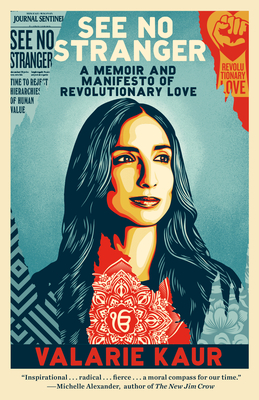 List Price: $18.99
Our Price: $18.00
(Save: $0.99 5%)
Staff Reviews
---
Valarie Kaur's memoir is a marvel. In See No Stranger, she chronicles her journey of activism (catalyzed by the hate crimes that followed 9/11), all the while being guided by the principles of her Sikh faith. Kaur writes with heart and clarity, offering a vulnerable account that inspires, equips, and awakens. A great pick for readers of When They Call You a Terrorist or Just Mercy.
— Holly
Description
---
An urgent manifesto and a dramatic memoir of awakening, this is the story of revolutionary love.

Finalist for the Dayton Literary Peace Prize • "In a world stricken with fear and turmoil, Valarie Kaur shows us how to summon our deepest wisdom."—Elizabeth Gilbert, author of Eat Pray Love
 
How do we love in a time of rage? How do we fix a broken world while not breaking ourselves? Valarie Kaur—renowned Sikh activist, filmmaker, and civil rights lawyer—describes revolutionary love as the call of our time, a radical, joyful practice that extends in three directions: to others, to our opponents, and to ourselves. It enjoins us to see no stranger but instead look at others and say: You are part of me I do not yet know. Starting from that place of wonder, the world begins to change: It is a practice that can transform a relationship, a community, a culture, even a nation.
 
Kaur takes readers through her own riveting journey—as a brown girl growing up in California farmland finding her place in the world; as a young adult galvanized by the murders of Sikhs after 9/11; as a law student fighting injustices in American prisons and on Guantánamo Bay; as an activist working with communities recovering from xenophobic attacks; and as a woman trying to heal from her own experiences with police violence and sexual assault. Drawing from the wisdom of sages, scientists, and activists, Kaur reclaims love as an active, public, and revolutionary force that creates new possibilities for ourselves, our communities, and our world. See No Stranger helps us imagine new ways of being with each other—and with ourselves—so that together we can begin to build the world we want to see.
About the Author
---
Valarie Kaur is a civil rights activist, lawyer, filmmaker, innovator, and founder of the Revolutionary Love Project. She has won national acclaim for her story-based advocacy, helping to win policy change on issues ranging from hate crimes to digital freedom. Her speeches have reached millions worldwide and inspired a movement to reclaim love as a force for justice. A daughter of Sikh farmers in California, she earned degrees from Stanford University, Harvard Divinity School, and Yale Law School and holds an honorary doctorate. She lives in a multigenerational home in Los Angeles with her husband, son, and daughter.
Praise For…
---
"Inspirational, radical, fierce . . . a reliable moral compass guided by revolutionary love."—Michelle Alexander, author of The New Jim Crow

"Valarie Kaur is a prophetic voice of our generation. Her wisdom ignites and inspires me, lighting the way through the darkness. This book will do the same for you."—America Ferrera, actress, activist, organizer

"Tested and tempered by suffering, but rising up with hope and joy, Kaur shows us how to love others, opponents, and ourselves in ways that will bring us closer to the Beloved Community. This book will change your life."—Parker J. Palmer, author of Let Your Life Speak

"Valarie Kaur is a visionary worker for justice and this book is her radiant offering."—Eve Ensler, author of The Vagina Monologues

"Valarie Kaur is a revolutionary for justice who shows us how to labor for the world we dream. In my darkest moments, I remember my Sikh sister's call to 'breathe and push!' Her wisdom inspires us to build movements and seek the change that love demands."—Rev. William J. Barber, II, president of Repairers of the Breach and co-chair of the Poor People's Campaign: A National Call for Moral Revival

"This is the book we have been waiting for. It calls us up and calls us into the hard and necessary work to heal our wounds and reimagine the world."—Van Jones, CEO of REFORM Alliance and CNN host

"This book and the woman who gave birth to it have so much to offer the struggle for peace and justice as we move into a most complex and crucial century. Open up your heart as you open these pages and let yourself be inspired and invigorated by the way Ms. Kaur breaks it down."—Ani DiFranco

"In a world ravaged by anger and hatred, Valarie Kaur offers a vision of 'Revolutionary Love,' not as platitude or panacea, but rather as a powerful weapon against intolerance and injustice. It may well be our only hope for peace and understanding in these troubled times."—Reza Aslan, author of Zealot: The Life and Times of Jesus of Nazareth

"Inspires us to become who we believe we are."—Lawrence Lessig, legal scholar

"Love-firebrand . . . Part personal history, part inspiring manifesto, Kaur's immensely readable book implores and inspires us toward love as 'sweet labor: bloody, fierce, imperfect, and life-giving.'"—Rainn Wilson, actor

"A book of remarkable courage and deep insight . . . Kaur maps singularly personal experiences of suffering and shared collective agonies of inequality as she seeks to understand the terrain of our humanity."—Melissa Harris-Perry, Maya Angelou Presidential Chair at Wake Forest University 

"The intimate, raw stories in See No Stranger will break and awaken your heart; the profound teachings and compelling vision will inspire you to serve and savor our precious world."—Tara Brach, author of Radical Acceptance