Call My Name (Paperback)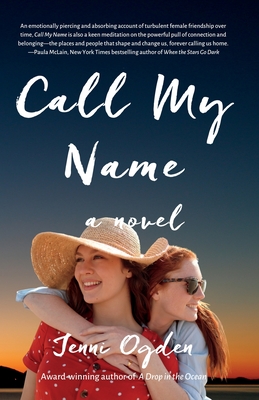 $18.95

Available from our distributor; usually Ships in 1-5 Days
Description
---
Two women, bound together by opposite personalities, friendship, love and family-until motherhood rips them apart.
From Jenni Ogden, author of best-selling novel A Drop in the Ocean (Gold Nautilus Award for Fiction) comes a powerful novel, set in Australia and spanning the 1960s to the 1990s.
Her mother dead from a drug overdose, thirteen-year-old Olivia is rescued by Cathie Tulloch, her mother's friend throughout the years they were held captive in Japanese prison camps in Sumatra in WWII. Welcomed into the Tulloch's remote family home in the Australian tropics, introverted Olivia is claimed by dramatic, generous, controlling Cassandra Tulloch as her sister and best friend. Moving to the UK at 18, Olivia finds her independence - and partner Ben. But in 1970, after five years away, she is homesick, and ready to fulfill her long-held dream: to make a family of her own. In Brisbane she and Ben share a hippie lifestyle with Cassandra and husband, Sebastian. But while earth-mother Cassandra effortlessly produces beautiful babies, for Olivia, becoming a mother is hard. Even harder is discovering the truth about her own mother. And when the unimaginable happens, destroying the friendship with Cassandra that has been her bedrock for so long, Olivia tells herself that she doesn't deserve a family, nor a place to call home.
Praise from Paula McLain, New York Times bestselling author of The Paris Wife & When the Stars Go Dark
​​​​​​​"An emotionally piercing and absorbing account of turbulent female friendship over time, Call My Name is also a keen meditation on the powerful pull of connection and belonging-the places and people that shape and change us, forever calling us home."
Editorial Reviews
"A gripping story that's hard to put down-draws the reader into complex and deeply human questions as her characters' lives intertwine over three decades of joy, loss, grief, and below it all, like a sustaining chord, loyalty and kindness. Layered, sometimes shocking, yet shining with goodness and hope, it's exactly the kind of story we need right now."-Barbara Linn Probst, Sarton and Nautilus award-winning author of The Sound Between the Notes & The Color of Ice
"Jenni Ogden's done it again-given us a beautifully crafted novel filled with the complexities, mysteries and joys of human connection within a family and between sisters, lovers and friends. Filled with authenticity, compassion and grace, Call My Name will find its way deep into your heart and soul, and stay with you long after the last page has been turned."
-Sally Cole-Misch, Award-winning author of The Best Part of Us
"Vivid setting, dynamic plot, and likable characters come together beautifully to deliver an emotionally compelling tale of friendship, love, loss, and forgiveness. Call My Name is a fantastic read."
-Jodi Wright, Award-winning author of How to Grow an Addict & Eat and Get Gas.