The Souls of Black Folk (Mass Market)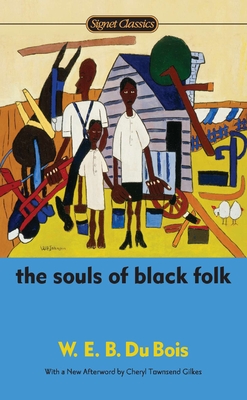 $5.95

Available from our distributor; usually Ships in 1-5 Days
Description
---
First published in 1903, this extraordinary work not only recorded and explained history—it helped alter its course. Written after Du Bois had earned his Ph.D. from Harvard and studied in Berlin, these fourteen essays contain both the academic language of sociology and the rich lyricism of African spirituals, which Du Bois called "sorrow songs."

Often revealingly autobiographical, DuBois explores topics as diverse as the death of his infant son and the politics of Booker T. Washington. In every essay, he shows the consequences of both a political color line and an internal one, as he grapples with the contradictions of being black and being American. One of our country's most influential books, The Souls of Black Folk reflects the mind of a visionary who inspired generations of readers to remember the past, question the status quo, and fight for a just tomorrow.

With an Introduction by Randall Kenan
and an Afterword by Cheryl Townsend Gilkes 
About the Author
---
William Edward Burghardt Du Bois was born in 1868 in Great Barrington, Massachusetts. A brilliant student and natural leader, he experienced little prejudice during his early years; it was while attending Fisk, a Southern university for Negroes, that the young Du Bois first fully awoke to the realities of race in America. His response was to make the cause of the black people his own. After graduation from Fisk, he earned his Ph.D. from Harvard, studied in Berlin, and became one of the great pioneer sociologists. In 1903, The Souls of Black Folk appeared. This prophetic masterpiece was but the beginning of a long, often lonely crusade that saw Du Bois forced into an increasingly radical position in his search for a solution to the American racial dilemma. His final years were marked by disillusionment with his native land, renunciation of his citizenship, and final self-exile in Ghana, where he died in 1963, while working on an Encyclopedia Africana.

Randall Kenan is the author of the critically acclaimed collection of stories Let the Dead Bury their Dead (a New York Times Notable book) and the novel A Visitation of Spirits, as well as a number of works of nonfiction. Among his many awards and honors are a Guggenheim Fellowship, a Whiting Writers Award, and the North Carolina Award for Literature. He is Associate Professor of English at the University of North Carolina at Chapel Hill.

Cheryl Townsend Gilkes is the John D. and Catherine T. MacArthur Professor of African American Studies and sociology and the director of the African American Studies Program at Colby College in Waterville, Maine. She is also an assistant pastor for special projects at the Union Baptist Church in Cambridge, Massachusetts. She holds degrees in sociology from Northeastern University (B.A., M.A., Ph.D.) and has pursued graduate theological study at Boston University.
Praise For…
---
.