My Broken Language: A Memoir (Paperback)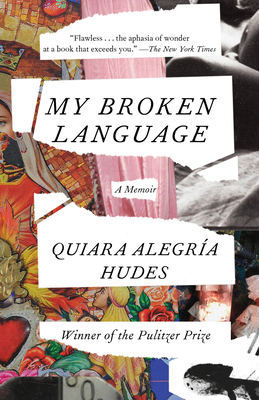 Staff Reviews
---
This memoir is a masterpiece. Quiara Algería Hudes uses every inch of this book to embrace her wholeness in a world hostile to her nuances. Recounting her childhood, Hudes invites the readers alongside her journey to find language to encapsulate the many dimensions of her identity. Her deeply bonded maternal family grounds her and empowers her search for her truth. Her mother, a practitioner of Santería, fosters Quiara's curiosity, self-confidence, and ambition. Her tias and cousins expand her world and provide ballast when seas are rocky. Her neighborhood offers community, connection, and courage. Hudes is a gifted storyteller and I was struck by the richness of her language, especially in a book ostensibly dedicated to its "brokenness." She seamlessly intertwines cultures, dialects, and slang across seemingly disparate groups — a skill honed as she grew into a Pulitzer-winning composer and playwright. Hudes commits to telling her story honestly but not tragically. She doesn't dwell on the hardest parts of her life. Instead, she acknowledges them plainly but spends much more energy celebrating the Perez women in all their diverse, indefatigable glory. I so deeply recommend this read.
— From
Holly
Description
---
GOOD MORNING AMERICA BUZZ PICK • The Pulitzer Prize–winning playwright and co-writer of In the Heights tells her lyrical story of coming of age against the backdrop of an ailing Philadelphia barrio, with her sprawling Puerto Rican family as a collective muse.

"Quiara Alegría Hudes is in her own league. Her sentences will take your breath away. How lucky we are to have her telling our stories."—Lin-Manuel Miranda, award-winning creator of Hamilton and In the Heights

ONE OF THE BEST BOOKS OF THE YEAR: NPR, New York Public Library, BookPage, BookRiot
 
Quiara Alegría Hudes was the sharp-eyed girl on the stairs while her family danced their defiance in a tight North Philly kitchen. She was awed by her mother and aunts and cousins, but haunted by the unspoken, untold stories of the barrio—even as she tried to find her own voice in the sea of language around her, written and spoken, English and Spanish, bodies and books, Western art and sacred altars. Her family became her private pantheon, a gathering circle of powerful orisha-like women with tragic real-world wounds, and she vowed to tell their stories—but first she'd have to get off the stairs and join the dance. She'd have to find her language.

Weaving together Hudes's love of music with the songs of her family, the lessons of North Philly with those of Yale, this is a multimythic dive into home, memory, and belonging—narrated by an obsessed girl who fought to become an artist so she could capture the world she loved in all its wild and delicate beauty.

LONGLISTED FOR THE ANDREW CARNEGIE MEDAL
About the Author
---
Quiara Alegría Hudes is the Pulitzer Prize–winning playwright of Water by the Spoonful and the author of a memoir, My Broken Language. She wrote the book for the Tony-winning Broadway musical In the Heights and later adapted it for the screen. Her notable essays include "High Tide of Heartbreak" in American Theatre magazine and "Corey Couldn't Take It Anymore" in The Cut. As a prison reform activist, Hudes and her cousin founded Emancipated Stories, a platform where people behind bars can share one page of their life story with the world. She lives with her family in New York but frequently returns to her native Philly.
Praise For…
---
"My Broken Language is such a flawless demonstration of . . . strife with linguistic inheritance that it nearly broke me. In the moments after I finished reading, first came the aphasia of wonder at a book that exceeds you; and then, swiftly crowding out the silence, the cresting roar of my own Afro-Caribbean ancestors shouting Ogún Balenyó in unison."—The New York Times Book Review

"Quiara Alegría Hudes is a bona fide storyteller about the people she loves—especially the women in her family who cook, talk, light candles, and conjure the spirits. Enormously empathetic and funny, My Broken Language is rich with unflinching observations that bring us in close, close, without cloaking the details. The language throughout is gorgeous and so moving. I love this book."—Angie Cruz, author of Dominicana

"Every line of this book is poetry. From North Philly to all of us, Hudes showers us with aché, teaching us what it looks like to find languages of survival in a country with a 'panoply of invisibilities.' Hudes paints unforgettable moments on every page for mothers and daughters and all spiritually curious and existential human beings. This story is about Latinas. But it is also about all of us."—Maria Hinojosa, Emmy Award–winning journalist and author of Once I Was You: A Memoir of Love and Hate in a Torn America

"Wise, graceful, and devastatingly beautiful, Hudes's memoir gives voice to the complicated cultural collisions and gentle rebellions that seed a life. I was inspired and moved by the resilient spirit of Hudes and the Perez women, who through joy and great heartbreak manage to conjure a remarkable world in and beyond their Philly barrio."—Lynn Nottage, two-time Pulitzer Prize–winning playwright

"Joyful, righteous, indignant, self-assured, exuberant: These are all words that could describe Quiara Alegría Hudes's My Broken Language. The celebrated playwright calls her language broken, but in this extraordinary memoir she actually remakes language so that it speaks to her world. . . . Hudes's first name is an invented endearment, a form of the verb querer, which means "to love." . . . There may be no better compliment to the author of this marvelous, one-of-a-kind memoir than to say she truly lives up to her name. With My Broken Language, she has invented a language of love and to-the-bone happiness to tell stories only a Perez woman could share."—BookPage (starred review)