Site Fidelity: Stories (Hardcover)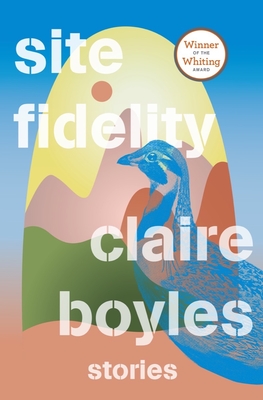 Staff Reviews
---
I loved this collection. Boyles has a way of deftly developing atmosphere and characters, quickly drawing the reader in to the varied lives we get to peek into. No two stories were alike, yet each struck a human chord that offered something relatable and poignant. While the collection on the whole is excellent, a few stories stood out in particular: In "Alto Cumulus Standing Lenticulars," Ruth yearns for her home in Colorado after moving to Nevada with her love and then feeling their lives disintegrate with the introduction of children and the hardness of the recession. In "Early Warning System," Mano challenges the authority that is poisoning the town's water through negligence. In "Sister Agnes Mary in the Spring of 2012," Sister Agnes reflects on a life dedicated to service and what she is called to do when her pre-school is threatened by environmentally-irresponsible development. In "Natural Resource Management," Leah must deal with the fallout of a flood while also handling the fallout of her husband's arrest. I was struck by Boyles's masterful way of making observations in subtle, tender ways. The characters have a unifying touchpoint (geography), but each has unique stories to tell and demons to face. I fully expect to revisit this collection, seeking out the sentences that were beautifully crafted and made my breath catch a bit when I read them.
— Holly
Description
---
A 2022 Whiting Award Winner in Fiction

Finalist for the 2022 Reading the West Debut Fiction Award

Finalist for the 2022 Colorado Book Award for Literary Fiction

Longlisted for the 2022 PEN/Robert W. Bingham Prize for Debut Short Story Collection



Set in the western sagebrush steppe, Site Fidelity is a vivid, intimate, and deeply human exploration of life on the shifting terrain of our changing planet.
Firmly rooted in the modern American West, Site Fidelity follows women and families who feel the instinctual, inexplicable pull of a home they must work to protect from the effects of economic inequity and climate catastrophe. A seventy-four-year-old nun turns to eco-sabotage to stop a fracking project. A woman delivers her own baby in a Nevada ghost town. A young farmer hides her chicken flock from the government during a bird flu epidemic. An ornithologist returns home to care for her rancher father and gets caught up trying to protect a breeding group of endangered Gunnison sage grouse.
In lean, lyrical prose, Claire Boyles evokes the bleakness and beauty of our threatened western landscapes. Spanning the decades from the 1970s to a plausible near future, this knockout debut introduces unforgettable characters who must confront the challenges of caregiving and loss alongside the very practical impacts of fracking, water rights law, and other agricultural policies. Site Fidelity is a vivid, intimate, and deeply human exploration of life on the shifting terrain of our changing planet.
About the Author
---
Claire Boyles is a writer, teacher, and former sustainable farmer. A 2022 Whiting Award winner, she received her MFA in creative writing from Colorado State University. Her fiction has appeared in Virginia Quarterly Review, Kenyon Review, and Boulevard, among others. She lives in Loveland, Colorado.
Praise For…
---
Tracing a landscape of deserts, mountains, sagebrush, and ranches, this story collection evokes life in the contemporary American West. Boyles's characters are steeped in a sense of connection to place and aware of the precariousness of their environment.
— The New Yorker

Shot through with a nicely fatalist sense of humor, the stories press on the touchy question of just who best speaks for today's American West—those who, in the pioneer tradition, view it as a realm of independence and opportunity or those who feel called upon to preserve it.
— Sam Sacks - Wall Street Journal

[These 10 stories] offer an unrelenting clarity... This is the real stuff, adulthood at its most complex... Boyles weaves such knowledge deep into her narratives, choosing to end many of them in the middle, in the moment just before the trouble starts. It is a deft and daring choice.
— David L. Ulin - Los Angeles Times

[Site Fidelity] offers a sometimes bleak, often funny and warm look at family and sense of place in the West... [It explores] how people form an ethos of climate justice and care for their communities and natural resources. Boyles often brings a sense of humor to this work, showing how that ethos can manifest itself alongside all the quirks and inconsistencies of the human brain.

— Erin Berger - Outside

[Boyles's] settings exist as characters in their own right, carefully detailed, possessed of complex backstories, and imbued with definite, sometimes dangerous, agency... Site Fidelity bursts with pleasures—not just its lush attention to place but its frequent moments of humor...as well as the delightful frissons of surprise that shiver off the pages each time we catch a reference to a previous story.

— Amy Hassinger - Kenyon Review

Site Fidelity is an impressive collection of stories that exudes kindness and warmth for its characters and a clear passion for its central thesis… [A] solid debut collection by a writer to watch out for.

— Taylor Griggs - Chicago Review of Books

These are tenderly, insightfully-told tales of the hardscrabble lives of women in the present-day West, their families and how nature influences those ties.
— David Steinberg - Albuquerque Journal

If we are to survive, even the next several decades, we need to feminize the myth of the American West…Claire Boyle's stories do just that, the tenacious, unsinkable women who inhabit them no longer content to sit back and let powerful men of industry make us all extinct. For anyone who loves and grieves the West, who isn't afraid to open their eyes and see her distress, these beautifully forged stories are as essential as water.
— Pam Houston, author of Deep Creek

In Site Fidelity, Claire Boyles explores her characters' love for the land with as much care as she evokes the knotty loyalties within families. These masterful short stories are wise, graceful, and as unsparingly beautiful as the sagebrush-scented landscapes they explore.

— Kirstin Valdez Quade, author of The Five Wounds

Site Fidelity pulled me in from the first line and stayed with me long after I'd finished the last. This is one of those rare story collections that manages to be both unsparing and bighearted, brutal and beautiful, intimate and sweeping. Claire Boyles is a marvel, and this book is a triumph.

— Molly Antopol, author of The UnAmericans

Attuned to harsh, western beauty and full of unforgettable, resilient characters, Site Fidelity is a bold and deeply affecting debut collection. Boyles writes with grace, style, and tremendous compassion about family, activism, and the undeniable impact (for better or worse) human beings have on the planet.

— Kimberly King Parsons, National Book Award–longlisted author of Black Light

Site Fidelity is a masterful collection of stories set in the contemporary and complex West…Site fidelity, the tendency to return to a previously occupied location, seems rather fitting—because of its artistry and heft, this is a book I will return to again and again.

— Laura Pritchett, winner of the PEN USA Award for Fiction for Hell's Bottom, Colorado

Claire Boyles grabs the myth of the American West and reinvents it…Each of her harrowing stories introduces us to a remote landscape where the world has begun to crumble—sometimes literally—and yet the beauty of these places comes through, the hope of the people who live there comes through, due to Boyle's patient, observant eye. A compassionate, raw, unforgettable collection.
— Leigh Newman, author of Still Points North