The King and Queen of Malibu: The True Story of the Battle for Paradise (Paperback)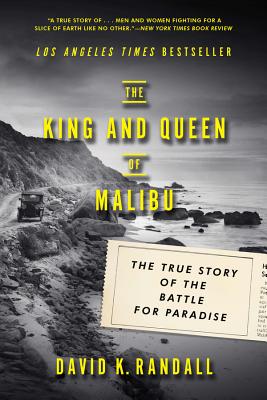 Description
---
"A true story of the battle for paradise…men and women fighting for a slice of earth like no other." —New York Times Book Review
Frederick and May Rindge, the unlikely couple whose love story propelled Malibu's transformation from an untamed ranch in the middle of nowhere to a paradise seeded with movie stars, are at the heart of this story of American grit and determinism. He was a Harvard-trained confidant of presidents; she was a poor Midwestern farmer's daughter raised to be suspicious of the seasons. Yet the bond between them would shape history.
The newly married couple reached Los Angeles in 1887 when it was still a frontier, and within a few years Frederick, the only heir to an immense Boston fortune, became one of the wealthiest men in the state. After his sudden death in 1905, May spent the next thirty years fighting off some of the most powerful men in the country—as well as fissures within her own family—to preserve Malibu as her private kingdom. Her struggle, one of the longest over land in California history, would culminate in a landmark Supreme Court decision and lead to the creation of the Pacific Coast Highway.
The King and Queen of Malibu traces the path of one family as the country around them swept off the last vestiges of the Civil War and moved into what we would recognize as the modern age. The story of Malibu ranges from the halls of Harvard to the Old West in New Mexico to the beginnings of San Francisco's counter culture amid the Gilded Age, and culminates in the glamour of early Hollywood—all during the brief sliver of history in which the advent of railroads and the automobile traversed a beckoning American frontier and anything seemed possible.
About the Author
---
David K. Randall is the New York Times best-selling author of four books, including Dreamland and Black Death at the Golden Gate. His writing has appeared in the New York Times, Wall Street Journal, and elsewhere. A senior reporter at Reuters, he lives in Montclair, New Jersey.
Praise For…
---
A doozy of a tale…[T]he Rindge saga has the trappings of [a] Hollywood movie.
— Wall Street Journal

The mother of all property disputes…[a] saga, complete with alleged arson, presidential appeals, and Supreme Court hearings.
— Vanity Fair

David Randall is…an artist in prose. He's fascinated by that lost world that was 19th century, downtown-centered Los Angeles.
— Los Angeles Weekly

Well written and thoroughly researched, Randall's exploration of land ownership in America and the American dream addresses issues of sexism, classism, love, and the preservation of natural beauty.
— Publishers Weekly

David Randall's The King and Queen of Malibu is a compelling love story about an unlikely couple and at the same time a rich and instructive tale about the American Dream crashing head-on into the march of American progress. Always fascinating and elegantly written, it totally absorbed me in the unfolding drama.

— Howard Blum, New York Times best-selling author of Dark Invasion and American Lightning

Anchoring himself in exhaustive research, David K. Randall enshrines this paradigmatic American story in a compelling narrative that at once explores the power and the limits of the Southern California dream.
— Kevin Starr, University of Southern California

David K. Randall's The King and Queen of Malibu is a vivid narrative of a strong-willed woman in a man's world. May Rindge, the landlady of her private Malibu paradise, was feared, even hated, but also respected. Randall tells the true story of a bloody feud that needs no invention.

— Bill Dedman, coauthor of Empty Mansions

David Randall has unearthed a rowdy origin story for Malibu, vividly proving that movie stars weren't the first people to bring drama to that fabled stretch of coastline. This thrilling book shows that before Barbie and surfers showed up, the beach was a battleground.
— Monte Reel, author of Between Man and Beast