BraveTart: Iconic American Desserts (Hardcover)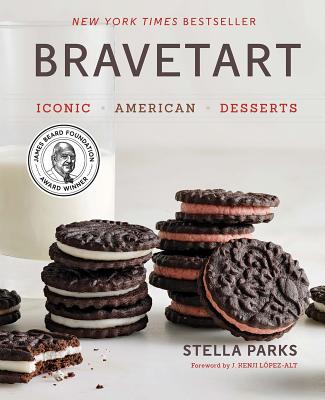 Description
---
Winner of the 2018 James Beard Foundation Book Award (Baking and Desserts)



A New York Times bestseller and named a Best Baking Book of the Year by the Atlantic, the Wall Street Journal, the Chicago Tribune, Bon Appétit, the New York Times, the Washington Post, Mother Jones, the Boston Globe, USA Today, Amazon, and more.



"The most groundbreaking book on baking in years. Full stop." —Saveur
From One-Bowl Devil's Food Layer Cake to a flawless Cherry Pie that's crisp even on the very bottom, BraveTart is a celebration of classic American desserts. Whether down-home delights like Blueberry Muffins and Glossy Fudge Brownies or supermarket mainstays such as Vanilla Wafers and Chocolate Chip Cookie Dough Ice Cream, your favorites are all here. These meticulously tested recipes bring an award-winning pastry chef's expertise into your kitchen, along with advice on how to "mix it up" with over 200 customizable variations—in short, exactly what you'd expect from a cookbook penned by a senior editor at Serious Eats. Yet BraveTart is much more than a cookbook, as Stella Parks delves into the surprising stories of how our favorite desserts came to be, from chocolate chip cookies that predate the Tollhouse Inn to the prohibition-era origins of ice cream sodas and floats. With a foreword by The Food Lab's J. Kenji López-Alt, vintage advertisements for these historical desserts, and breathtaking photography from Penny De Los Santos, BraveTart is sure to become an American classic.
About the Author
---
Stella Parks is a graduate of the Culinary Institute of America. She was named one of America's Best New Pastry Chefs by Food & Wine. When not at home in Lexington, Kentucky, Stella can be found at the Serious Eats test kitchen in Brooklyn, New York.

J. Kenji López-Alt is a chef, parent, and New York Times best-selling author of The Food Lab and Every Night Is Pizza Night. He is a wildly popular New York Times food columnist; the chief culinary advisor for Serious Eats; and the host of Kenji's Cooking Show, which has more than a million subscribers on YouTube. He lives in Seattle, Washington.
Praise For…
---
Why is BraveTart my new go-to? Because joy leaps off every page of it. . . . [Parks] insists on precision with her recipes, but she never forgets that sugary treats make people happy. . . . BraveTart made me excited to bake, and then backed up that excitement with researched recipes that work. I'm not sure there's higher praise you can give a cookbook.

— Food52

[BraveTart] is both a terrific showcase of those quintessential desserts and a case for the American dessert itself. . . Parks' writing is as engaging as her recipes.

— Los Angeles Times

Few recipe writers are as precise as Stella Parks, a former pastry chef whose instructions always fill me with a sense of clearheaded confidence.
— Tejal Rao - New York Times Magazine

Stella Parks is the brilliant pastry chef and writer behind Bravetart, the James Beard award-winning and bestselling cookbook that elevates classic American desserts into crave-worthy treats. In her hands, smart upgrades amplify the inherent deliciousness of familiar offerings, like adding brown butter to chocolate chip cookies or making Key lime pie with fresh ginger.

— Christa Glennie - Wall Street Journal

I was consumed by all the information on its pages. I read it like a book, absorbing the information, some of it new to me, and much of it debunking commonly held beliefs about cooking and baking.
— David Lebovitz

If you want to emerge from lockdown a better baker, start with Stella Parks's excellent book.
— Eater

One of the most engaging baking books to be published in years… Parks adds a remarkable new voice to the world of baking books. Combine smarts with whimsy and you get delicious results.
— Washington Post

As if it's not impressive enough that Stella Parks whips up her own Twinkies and animal crackers, Snickers and sprinkles, she can also tell us who invented them, when, why and how.
— Food & Wine

Parks uses [food science] to give people new tools to become better bakers, a better understanding of baking, and an emphatic reminder of why every one loved these cookies, cakes, and other sweets in the first place.
— GrubStreet

Lushly illustrated recipes. . . Parks is a serious cook, interested in the history of how those desserts became iconic, and one who applies her serious culinary education to what others might consider frivolous ends.
— The Atlantic

Wonderful fun to read. A coveted gift for anyone whose ears prick up at the jingle of an ice cream truck.
— Bon Appétit

Stella Parks has completely converted a heretofore-resolute non-baker. How's that for an achievement? . . . [BraveTart] speaks to my food-soul in a very special way.

— Tim Gunn

[Bravetart] will join the ranks of the timeless and transformative. Stella Park's knowledge is formidable and her baked goods are brilliant, exactly the type of things we crave.

— Southern Living