Fortune Favors the Dead: A Novel (A Pentecost and Parker Mystery #1) (Hardcover)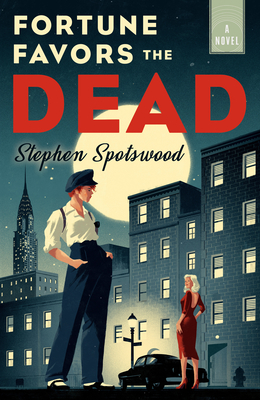 $26.95
Out of Stock - Not Available
Other Books in Series
This is book number 1 in the A Pentecost and Parker Mystery series.
Staff Reviews
---
"A great light mystery with shades of Sherlock Holmes."
— From
Will
November 2020 Indie Next List
---
"Not since Nero Wolfe and Archie Goodwin have I so enjoyed the page-turning yarn of a New York private detective and a wisecracking sidekick! Stephen Spotswood simultaneously nails the tone of classic detective stories and stands them on their head — because the brilliant gumshoe is Lillian Pentecost, a middle-aged woman with a disability, and her sidekick Willowjean 'Will' Parker, a gender-bending young circus performer with a sweet spot for the ladies. A delight from start to finish. Dare I hope this is the beginning of a series?"
— Jaye Lawrence, Content Bookstore, Northfield, MN
Description
---
A wildly charming and fast-paced mystery written with all the panache of the hardboiled classics, Fortune Favors the Dead introduces Pentecost and Parker, an audacious new detective duo for the ages.

"Razor-sharp style, tons of flair, a snappy sense of humor, and all the most satisfying elements of a really good noir novel, plus plenty of original twists of its own."—Tana French, bestselling author of The Searcher

It's 1942 and Willowjean "Will" Parker is a scrappy circus runaway whose knife-throwing skills have just saved the life of New York's best, and most unorthodox, private investigator, Lillian Pentecost. When the dapper detective summons Will a few days later, she doesn't expect to be offered a life-changing proposition: Lillian's multiple sclerosis means she can't keep up with her old case load alone, so she wants to hire Will to be her right-hand woman. In return, Will is to receive a salary, room and board, and training in Lillian's very particular art of investigation.

Three years later, Will and Lillian are on the Collins case: Abigail Collins was found bludgeoned to death with a crystal ball following a big, boozy Halloween party at her home—her body slumped in the same chair where her steel magnate husband shot himself the year before. With rumors flying that Abigail was bumped off by the vengeful spirit of her husband (who else could have gotten inside the locked room?), the family has tasked the detectives with finding answers where the police have failed.

But that's easier said than done in a case that involves messages from the dead, a seductive spiritualist, and Becca Collins—the beautiful daughter of the deceased, who Will quickly starts falling for. When Will and Becca's relationship dances beyond the professional, Will finds herself in dangerous territory, and discovers she may have become the murderer's next target.
About the Author
---
STEPHEN SPOTSWOOD is an award-winning playwright, journalist, and educator. As a journalist, he has spent much of the last two decades writing about the aftermath of the wars in Iraq and Afghanistan and the struggles of wounded veterans. His dramatic work has been widely produced across the United States. He makes his home in Washington, D.C. with his wife, young adult author Jessica Spotswood.
Praise For…
---
Winner of the 2021 Nero Award

"Bullets, blood, bodies, and belly-laughs: all the ingredients of a classic mystery novel. Stephen Spotswood hard-boils with the best of 'em!"—Alan Bradley, bestselling author of the Flavia de Luce Mystery Series

"Fortune Favors the Dead takes gritty 40s noir, shakes it up, gives it a charming twist, and serves it up with unforgettable style. My new favorite sleuthing duo are Pentecost and Parker, the spiritual sisters of Nero Wolfe and Archie Goodwin. An utterly brilliant debut!"—Deanna Raybourn, author of the Veronica Speedwell Mysteries

"Witty. . . Humorous and fun [with] all the hallmarks of an Agatha Christie mystery, and there's a delightful dose of noir thrown in for the more hardcore pulp fiction crowd, too. . . As mysterious and fun a caper as you will ever read, with plenty of misdirection and intrigue to keep you guessing. You don't need a clairvoyant to realize this duo will be around for years to come."—Bookpage *Starred Review*

"Spotswood's stellar debut puts a modern spin on the classic hard-boiled fiction... The deep and sensitive characterization of the two protagonists coupled with the rich description and tonally spot-on humor, makes this a novel to remember. Spotswood is definitely a writer to watch."—Publishers Weekly *Starred Review*
 
"One of the most rewarding and entertaining books I've read in years . . . Every page—nay, every paragraph—is rich and compelling. . . When it comes to male authors penning feminist issues that ring true and female characters who are fully realized and complex characters, Spotswood joins Terry Pratchett at the very top of the list. And if anyone's the heir apparent to Phryne Fisher or Elementary's Sherlock and Joan, it's Parker and Pentecost. This is an adventure you'll want to rave about to strangers on the streets. Personally, I'm already impatient for these ladies' next case." —Criminal Element
 
"A relentlessly entertaining romp through 1940's New York City, and through the annals of mystery fiction, as well, with many sly nods to authors of the past and some invigorating reinventions of classic tropes and gambits. . . Spotswood's style is swift and witty, and the mystery at the novel's heart is a clever knot."—CrimeReads

"Sparkles [with] wit and personality. . . Delightful. . . This mystery plot has all the twists and surprises a fan of the genre could ask for, but it is Will's distinctive, captivating voice and background [that] is Spotswood's real triumph. . . Gutsy Will, with her snappy, slangy narrative style, ultimately wins readers' hearts and carries the day. This classic noir-style mystery recast with humor, female leads and superb style is both satisfying and great fun." —Shelf Awareness

"Good news, mystery readers, your new favorite sleuthing duo has arrived on the scene! . . . Fortune Favors the Dead is a refreshing update to a classic Golden Age mystery, serving hard-boiled thrills and laugh-out-loud wit with charm and panache. A fantastic read!" —Northen Virginia Magazine

"If you've been dying for a fresh take on the sleuth genre, this book delivers that and more. A mix of classic noir aesthetics and tropes with an inclusive twist, Fortune Favors the Dead is the kind of mystery series that will capture your imagination in new and fun ways, and have you desperate to get your hands on more." —Get Literary

"Sparkles [with] wit and personality. . . Delightful. . . This mystery plot has all the twists and surprises a fan of the genre could ask for, but it is Will's distinctive, captivating voice and background [that] is Spotswood's real triumph. . . Gutsy Will, with her snappy, slangy narrative style, ultimately wins readers' hearts and carries the day. This classic noir-style mystery recast with humor, female leads and superb style is both satisfying and great fun."—Shelf Awareness

"Will keep readers engaged from start to finish. . . [Pentecost is] reminiscent of Agatha Christie's Miss Marple. . . A fun whodunit. . . Perfect for a cozy weekend read."—Library Journal

"A fast-paced, lightweight, and engaging whodunit. . . Satisfying. . . Fun."—Historical Novel Review

"An intriguing locked-room mystery that will keep readers guessing until the very end. . . Spotswood is fantastic at writing strong female characters. . . Fortune Favors the Dead is a fast-paced, smart murder mystery with a focus on strong women. . . A wonderful debut."—Bookbrowse.com

"A sprightly period debut. . . [A] provocative gender-flipping of Nero Wolfe and Archie Goodwin."—Kirkus Reviews