Five-Finger Discount: A Crooked Family History (Paperback)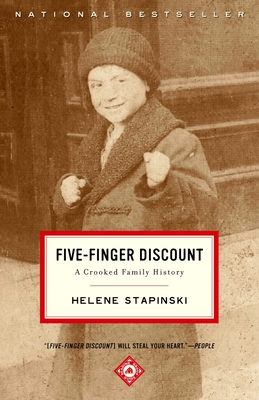 Staff Reviews
---
The piecemeal redemption of Helene Stapinski's outlaw family roughly approximates Jersey City's troubled ascent to legitimacy from its inception as a city of smokestacks and vice to "America's Golden Door". When casual graft was the rule of the day and knowing whose palms to grease spelled the difference between poverty and cornucopia, the author's family was embroiled in the same urban corruption that caricatured New Jersey for generations. Five-Finger Discount chronicles Helene Stapinski's life from within a criminal enterprise and what comes after.
— From
Steven
Description
---
Now a PBS documentary, this astonishing memoir of growing up in rough-and-tumble Jersey City "will steal your heart" (People)

With deadpan humor and obvious affection, Five-Finger Discount recounts the story of an unforgettable New Jersey family of swindlers, bookies, embezzlers, and mobster-wannabes. In the memoir Mary Karr calls "a page-turner," Helene Stapinski ingeniously weaves the checkered history of her hometown of Jersey City—a place known for its political corruption and industrial blight—with the tales that have swirled around her relatives for decades. Navigating a childhood of toxic waste and tough love, Stapinski tells an extraordinary tale at once heartbreaking and hysterically funny.

Praise for Five-Finger Discount

"By turns hilarious and alarming, [Helene Stapinski's] book reads on the surface like something by Damon Runyon and Elmore Leonard, with a dark undertow of real-life pain and disillusion."—Michiko Kakutani, The New York Times

"It's a brilliant book, a darling book. It is the blessedly modest chronicle of a magical consciousness that seems to have been born pulling diamonds out of the muck, hearing angels' voices in the fiercest thunder. . . . I adored every word of this wondrous book. Get it. Read it."—Michael Pakenham, The Baltimore Sun

"In the tradition of . . . Rita Mae Brown and Amy Tan, Ms. Stapinski is an exciting writer, unabashedly candid, and at the same time unashamedly self-contained. Five-Finger Discount is a must-read."—Victoria Gotti, The New York Observer

"What [Frank] McCourt did for Limerick, Ireland, Helene Stapinski does for Jersey City."—The Star-Ledger

"Hugely entertaining."—The Sunday Times (London)
About the Author
---
Helene Stapinski began her career at her hometown newspaper, The Jersey Journal, and since then has written for The New York Times, New York magazine, and People, among other publications. She received her B.A. in journalism from New York University in 1987 and her M.F.A. from Columbia in 1995. She lives in Brooklyn with her husband and son.
Praise For…
---
"By turns hilarious and alarming, [Helene Stapinski's] book reads on the surface like something by Damon Runyon and Elmore Leonard, with a dark undertow of real-life pain and disillusion."—Michiko Kakutani, The New York Times

"It's a brilliant book, a darling book. It is the blessedly modest chronicle of a magical consciousness that seems to have been born pulling diamonds out of the muck, hearing angels' voices in the fiercest thunder. . . . I adored every word of this wondrous book. Get it. Read it."—Michael Pakenham, The Baltimore Sun

"In the tradition of . . . Rita Mae Brown and Amy Tan, Ms. Stapinski is an exciting writer, unabashedly candid, and at the same time unashamedly self-contained. Five-Finger Discount is a must-read."—Victoria Gotti, The New York Observer

"What [Frank] McCourt did for Limerick, Ireland, Helene Stapinski does for Jersey City."—The Star-Ledger

"Hugely entertaining."—The Sunday Times (London)