Vera: (Mrs. Vladimir Nabokov) (Paperback)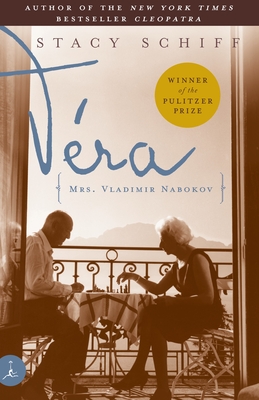 Description
---
WINNER OF THE PULITZER PRIZE FOR BIOGRAPHY • NEW YORK TIMES BESTSELLER • From the award–winning author of The Revolutionary and The Witches comes "an elegantly nuanced portrait of [Vladimir Nabokov's] wife, showing us just how pivotal Nabokov's marriage was to his hermetic existence and how it indelibly shaped his work."—Michiko Kakutani, The New York Times
 
ONE OF ESQUIRE'S 50 BEST BIOGRAPHIES OF ALL TIME

"Monumental."—The Boston Globe
"Utterly romantic."—New York magazine
"Deeply moving."—The Seattle Times

Stacy Schiff brings to shimmering life one of the greatest literary love stories of our time: Vladimir Nabokov, émigré author of Lolita; Pale Fire; and Speak, Memory, and his beloved wife, Véra. Nabokov wrote his books first for himself, second for his wife, and third for no one at all. "Without my wife," he once noted, "I wouldn't have written a single novel."
 
Set in prewar Europe and postwar America, spanning much of the twentieth century, the story of the Nabokovs' fifty-two-year marriage reads as vividly as a novel. Véra, both beautiful and brilliant, is its outsized heroine—a woman who loves as deeply and intelligently as did the great romantic heroines of Austen and Tolstoy. Stacy Schiff's Véra is a triumph of the biographical form.
About the Author
---
Stacy Schiff's Saint Exupéry was a finalist for the 1995 Pulitzer Prize. She is the recipient of fellowships from the Guggenheim Foundation and the National Endowment for the Humanities. She lives in New York City.
Praise For…
---
"An absorbing story, illumined by Schiff's flair for the succinct insight . . . This portrait of a fifty-two-year marriage to a woman who was the writer's prime reader opens up Nabokov's private life. . . . But the triumph of Véra is not just in providing entrée to her famous husband. She fascinates of her own right."—The New York Times Book Review

"Schiff has performed a monumental task in drawing a nuanced and fairly detailed portrait of the woman behind the mask both husband and wife conspired to create. . . . Writing in sprightly prose that captures the 'verbal tennis' of the couple's interactions, [she] has given us a vivid and truthful portrait of a proud and gifted woman whose contribution to Vladimir Nabokov's life and career was immense."—The Boston Globe

"A sharply focused, vividly detailed portrait. Schiff's elegant prose style [is] at once forceful and playfully allusive in the nicest Nabokovian fashion."—Los Angeles Times

"Artful . . . both revolutionary and old-fashioned, an intimate biography that leaves both the dignity and the privacy of its subject intact."—Newsday

"Illuminating . . . 'Without my wife,' Nabokov once remarked, 'I wouldn't have written a single novel.' . . . Schiff's work boldly and brilliantly illuminates how complex was this deceptively simple statement . . . A superb portrait."—The Chicago Tribune

"Absorbing, often wildly amusing, and deeply moving . . . Véra's mere listening to Lolita did more than we shall ever know to determine what we read when we read Lolita."—The Seattle Times

"Excellent . . . Behind every great man is a book about a great woman. The same is true of Schiff's Véra, and yet it is more than just a portrait of a marriage. It is a necessary contribution to Nabokov scholarship. . . . Véra is both love story and literary study. . . . Schiff has done a splendid job."—San Jose Mercury News