String Follow: A Novel (Paperback)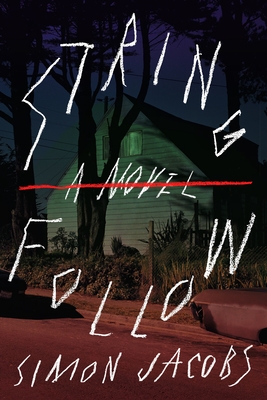 $18.00
Out of Stock - Not Available
Description
---
A darkly comic suburban Gothic about a malevolent force that targets a group of Ohio misfits, harnessing their angst for its sinister designs.

"A work of evil genius that put me in a literal trance and didn't relinquish me until the final page. I loved every insidious second." —Mona Awad, author of Bunny

Something strange is happening to the teens in Adena, Ohio.

A mysterious force is seeking inroads: vulnerabilities to exploit, friendships to hijack, untapped rage to harness toward its own ends. Who will serve it best? Claire is abrasive and aimless, embarrassed by her privilege. Weak-willed David entertains fantasies of cultish orgies, while Tyler covertly takes up residence in his basement. Greg wages war on the voices in his head, while his sister Beth quietly, furiously unravels. And at the center is the empathetic, naive Sarah. The force wants her most of all. But will she be the key to its success or its destruction?

Eerie, hypnotic, and shot through with dark comedy, String Follow is a razor-sharp suburban gothic that exposes the sweating, bleeding truth of how kids become adults in twenty-first-century America. Simon Jacobs blends the startlingly original and the uncannily familiar, revealing the dark chaos that lurks beneath the surface of Midwestern suburbia.
About the Author
---
Simon Jacobs is the author of the novel Palaces, and the short fiction collections Masterworks and Saturn, a collection of David Bowie stories. His fiction has appeared in Tin House, Black Warrior Review, and Joyland. He's from Dayton, Ohio.
Praise For…
---
"Moody, quirky, and funny, this is the perfect possession story for the social media age."
—Molly Odintz, CrimeReads

"A terrifying glimpse into teen anomie and rootlessness . . . Daring and stylish [with] flashes of black humor . . . the darkness is so relentless and remorseless that the reader can feel pursued by it, punished. Grim, violent Midwestern gothic—hard to watch, hard to turn away from."
—Kirkus

"String Follow is a work of evil genius that put me in a literal trance and didn't relinquish me until the final page. Like the irresistibly wise, dark, and unfathomable force it conjures, the voice got in my head and tainted my soul. I loved every insidious second."
—Mona Awad, author of Bunny

"A horrific descent into the madness that alternately connects and isolates us. Simon Jacobs creates a world where the characters' everyday terrors are taken advantage of by a larger force, a brilliant web of evil that stretches over an entire southern Ohio town. It's a riveting and unstoppable journey."
—Rachel Eve Moulton, author of Tinfoil Butterfly

"String Follow is a deliciously dark modern Gothic that deftly mines the terrors and vicissitudes of the suburban teenager. A small town in Ohio and indeed, the reader, are soon stalked by a mysterious dark force as it hunts for the perfect prey, but it is Simon Jacobs's sly and simmering prose that is the most undeniable force, slipping under your skin to haunt you long after the last page."
—Kira Jane Buxton, author of Hollow Kingdom