Big Tune: Rise of the Dancehall Prince (Hardcover)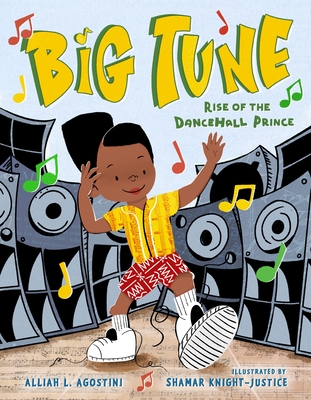 Description
---
An exuberant picture book written by Alliah L. Agostini and illustrated by Shamar Knight-Justice is about a Black boy with big dancing dreams who learns the meaning of courage and community.

It's the weekend, first in June; speaker's blasting out big tune!
Cousins, aunties, uncles, friends pack the house, and fun begins.

Shane is shy but loves to dance—and all year long, he's picked up cans
to earn some money toward his goal: high-tops with a pump-up sole.

But then the speaker blows—it's done! Will this stop his family's fun?
Can Shane come through to save the day and bring back Big Tune Saturday?

Set within a vibrant Caribbean American neighborhood and told to a rhythmic beat, Big Tune is a story of Black boy joy that touches on determination, confidence to express who you are, selflessness, and community gratitude.
About the Author
---
Alliah L. Agostini grew up an avid reader in a cross-cultural African-American and Guyanese household in Buffalo, NY. After pursuing a career marketing everything from beauty and personal care to home decor, motherhood helped her return to her first love: children's literature.

Now an author and speaker, Alliah has spoken at schools, libraries, corporations, and on several podcasts.She is also the author of the acclaimed The Juneteenth Story: Celebrating the End of Slavery in the United States. Alliah and her work have been highlighted on the TODAY Show, CNN, WashingtonPost.com, Good Housekeeping, and more.

Alliah writes to spread joy, truth, and to help more children see themselves reflected on the page. She and her family live in the suburbs of New York City, where she enjoys impromptu dance parties, museum hopping, and summer festival season. Big Tune is her debut fiction picture book. Learn more about her at alliahagostini.com.
Shamar Knight-Justice
is an illustrator based in Atlanta, Georgia. He grew up with a crayon in his hand and a love for patterns. He currently serves as the principal of an elementary school in Southwest Atlanta, where his scholars' stories and personalities inspire him to create illustrations that honor their identities. When not drawing, Shamar loves to spend time hoarding collage materials, going on long walks with his family, and devouring the nearest pancake.
Praise For…
---
A New York Public Library Best Book of the Year

"This lively, vibrant narrative has an infectious spirit, and Shane is irresistible. Grounded in a tightknit Jamaican American community, the story deftly incorporates visual and textual references to dance styles, food, and other cultural touchstones... Themes of joy, solidarity, and artistic expression are effortlessly woven throughout the words and images... An exuberant celebration of community that leaps off the page." —Kirkus, starred review

"Portrayals of diasporic Caribbean culture and a child's selflessness distinguish Agostini's 1990s Brooklyn-set story celebrating connection and community... Agostini's buoyant rhyming verse pulses with details, and Knight-Justice's stylized illustrations layer bold patterns and textures with typewritten text, sheet music, and images of the Jamaican flag, building a joyfully immersive portrait of neighborhood gatherings where 'Swaying hips wine fast and slow./ Brown skin shines with black light's glow.'" —Publishers Weekly, starred review

"The vibrant beat of the rhyming text makes a splendid complement to the energetic art. Rich textures evocative of cutpaper collage and dynamic patterns give enthusiastic life to the more geometric backgrounds, and figures are always in movement, with poses swinging, swaying, and bopping." —The Bulletin of the Center for Children's Books

"The picture book stresses the importance of community and selflessness, essential lessons for a picture book audience. Distinctive and vibrant collage-style illustrations depict a Black community of various skin tones and hair textures. This unique picture book's celebration of Jamaican culture and community is a great addition to every ­library." —School Library Journal