That's Debatable (Hardcover)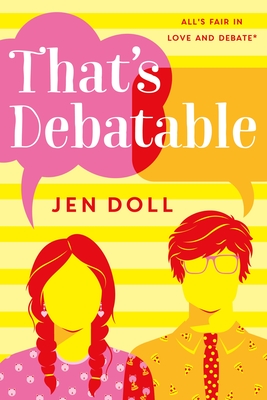 $18.99
Out of Stock - Not Available
Description
---
That's Debatable is a witty, smart, and feminist romantic comedy, author Jen Doll explores what it means to set boundaries while breaking down barriers.

Millicent Chalmers isn't here to make friends.

She's here to win, and she's on track to set a record if—no, when—she wins the state debate tournament for the fourth year in a row. Calm, cool, and always in control, Millie doesn't care what anyone else thinks of her, least of all the sexist bullies bent on destroying her reputation.

Taggart Strong couldn't care less about winning debate, much to the consternation of his teammates, school and parents. In fact, he might even enjoy losing, as long as the side he believes in wins.

But when a tournament takes a scary turn, Millie and Tag find themselves unexpectedly working together. Maybe Millie can teach Tag a thing or two about using his head, and Tag can teach Millie a little bit about following her heart.
About the Author
---
Jen Doll is the author of the young adult novel, Unclaimed Baggage which was a New York Times Staff Pick, an NPR Best Book of 2018, a Buzzfeed Best YA Book and a Cosmo Best New Book of 2018. She is also the author of the memoir, Save the Date: The Occasional Mortifications of a Serial Wedding Guest. She's written for The Atlantic, Elle, Esquire, Glamour, GQ, New York Magazine, The New York Times Book Review, Vice, The Village Voice, The Week, and many other publications. She grew up in Alabama and lives in upstate New York.
Praise For…
---
ALLA Alabama Authors Awards Best Teen Book of the Year
Rise: A Feminist Book Project List Honoree

"Millie's unapologetic battle against sexism is inspiring, and Tag's reckoning with his privilege is heartening. Weighty issues and the quirky rivals-to-lovers romance are given equal attention . . . An unusual, thought-provoking take on advocating for oneself and others." —Kirkus Reviews

"Both main characters are well-developed as individuals within a novel that explores the hostility, harassment, and other challenges faced by many girls who choose to enter the traditionally male-dominated world of debating. Drawing readers into that sphere, this detailed, engaging story delivers both happiness and justice in the end." —Booklist

"PW contributor and former high school competitor Doll's (Unclaimed Baggage) passion for debate is genuine and infectious, and the protagonists' alternating perspectives make for a persuasive read." —Publishers Weekly

"Doll's ­well-developed inspirational character arcs show Millie's and Tag's separate journeys to become voices for change. Additional depth is provided by edifying, and sometimes playful, footnotes. Informed by her own high school debate experience, Doll includes an extensive personal note that adds to the authenticity of issues explored in the novel." —School Library Journal