Other Terrors: An Inclusive Anthology (Paperback)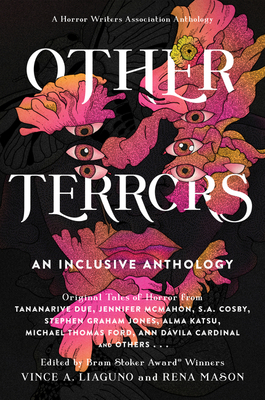 $18.99

Available from our distributor; usually Ships in 1-5 Days
Description
---
An anthology of original horror stories edited by Bram Stoker Award® winners Vince A. Liaguno and Rena Mason that showcases authors from historically excluded backgrounds telling terrifying tales of what it means to be, or merely to seem, "other"
Offering new stories from some of the biggest names in horror as well as some of the hottest up-and-coming talents, Other Terrors will provide the ultimate reading experience for horror fans who want to examine fear of "the other."
Be they of a different culture, a different background, a different sexual orientation or gender identity, a different belief system, or a different skin color, some people simply aren't part of the community's majority—and are perceived as scary. Humans are almost instinctively inclined to fear what's different, and there are a multitude of individuals who have spent far too long on the outside looking in. And the thing about the outside is . . . it's much larger than you think.
In Other Terrors, horror writers from a multitude of underrepresented backgrounds have created stories of everyday people, places, and things where something shifts, striking a deeper, much more primal, chord of fear. Are our eyes playing tricks on us, or is there something truly sinister lurking under the surface of what we thought we knew? And who among us is really the other, after all?
CONTRIBUTORS INCLUDE: Tananarive Due, Jennifer McMahon, S.A. Cosby, Stephen Graham Jones, Alma Katsu, Michael Thomas Ford, Ann Dávila Cardinal, Christina Sng, Denise Dumars, Usman T. Malik, Annie Neugebauer, Gabino Iglesias, Hailey Piper, Nathan Carson, Shanna Heath, Tracy Cross, Linda D. Addison, Maxwell I. Gold, Larissa Glasser, Eugen Bacon, Holly Lyn Walrath, Jonathan Lees, M. E. Bronstein, Michael Hanson
About the Author
---
VINCE A. LIAGUNO is an award-winning writer, anthologist, and editor and an occasional poet. He is the Bram Stoker Award–winning editor of Unspeakable Horror: From the Shadows of the Closet (Dark Scribe Press, 2008), an anthology of queer horror fiction, which he co-edited with Chad Helder. His debut novel, 2006's The Literary Six, was a tribute to the slasher films of the '80s and won an Independent Publisher Award (IPPY) for horror and was named a finalist in Foreword Magazine's Book of the Year Awards in the gay/lesbian fiction category. Vince currently resides in the mitten-shaped state of Michigan, where he is a licensed nursing home administrator by day and a writer, anthologist, and pop culture enthusiast by night.
 

RENA MASON is a three-time Bram Stoker Award–winning author of The Evolutionist and East End Girls, as well as a 2014 Stage 32 / The Blood List Presents: The Search for New Blood Screenwriting Contest quarter finalist. She's had nearly two dozen short stories, novelettes, and novellas published in various award-winning anthologies and magazines and writes a monthly column, often featuring special guest articles. Her debut novel, The Evolutionist, has been used in creative writing workshops to teach Southeast Asian students how to write minority characters as metaphors. Rena has also helped spearhead the Horror Writers Association's Diverse Works Inclusion Community that now runs a website feature titled The Seers' Table, hosting and promoting diverse authors and their works. Born in Nakhon Sawan, Thailand, Rena is a Thai-Chinese American and frequently incorporates Asian characters and mythos into her stories. A retired registered nurse, avid scuba diver, and world traveler, she currently resides in Reno, Nevada.
 
Praise For…
---
"[A] trailblazing anthology in which LGBTQ+ characters and people of color are both feared and preyed upon in jolting, haunting, sometimes funny, and/or graphically violent tales . . . . The face of horror fiction continues to be enhanced, both in representation and in relevance." — Kirkus Reviews (starred review)
"Powerful . . . Impactful writing and authentically embodied characters . . . unmissable for horror fans of all backgrounds." — Publishers Weekly (starred review)
"There is a wide array of types and genres of horror on offer in this collection, which should more than satisfy any reader interested in exploring the fear of otherness, in life or in fiction." — Booklist (starred review)
"What a great collection of horror tales, and one that expands the picture of who writes the stuff we love so much. This book serves as proof, if it was needed, that chilling, blood curdling and disturbing work can come to us from all quarters. An absolute delight. Curl up with this one and tremble." — Victor LaValle, author of The Ballad of Black Tom
"This timely and groundbreaking anthology offers up a wickedly talented pool of diverse perspectives who know that the best of horror is here to unmask difficult truths, chainsaw oppressive systems, interrogate notions of 'the other,' claw and gnaw at cultural and political unease, and—yes—scare the hell out of you." — Benjamin Percy, author of The Unfamiliar Garden and Thrill Me
"An extraordinary and very welcome showcase, Other Terrors brings us darkly wonderful and beautifully hideous stories from some of the best authors working in the genre today. Some will gravitate toward this volume due to the diversity of voices included, while others will be drawn by the reputations of some of the writers within, but however you come to Other Terrors, you'll be rewarded. Don't miss it!" — Christopher Golden, New York Times bestselling author of Road of Bones and Ararat
"[A]n ingenious collection of frights by marginalized identities." — Chicago Tribune
"From Tananarive Due's story of familial horror and shame to the interesting method of survival developed by Usman T. Malik's Pakistani islanders, horror fans will be hard-pressed to find a story that they dislike. On the contrary, stories from this collection will disturb readers long after they've been read. In the best way, of course." — Book Riot
"Trailblazing . . . . Fans of horror will appreciate "Other Terrors: An Inclusive Anthology" for many generations to come." — Bay Area Reporter
"A delightfully sinister mediation on what we all fear most: difference." — Harper's Bazaar
"Each story is much more than the surface-level creepy-crawly-feeling induced by good horror. In fact, the real chills arrive when you realize that while fictional and fantastical elements litter each page, the truth of these experiences is the actual evil of a world in which they can, and do, exist." — Lightspeed Magazine