Wool: Book One of the Silo Series (Paperback)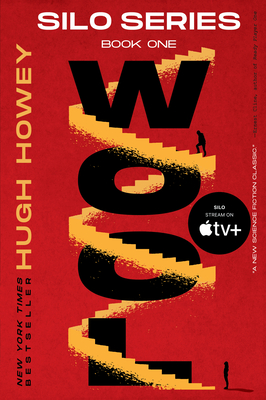 Other Books in Series
This is book number 1 in the Silo series.
Description
---
NOW A SERIES ON APPLE TV+ THAT STEPHEN KING CALLS "MYSTERIOUS AND TERRIFICALLY SUSPENSEFUL.... EXCELLENT SCIENCE FICTION WITH THREE-DIMENSIONAL CHARACTERS."
*INCLUDES ORIGINAL NEW ESSAY "A HISTORY OF THE DARKEST YARNS" FROM HUGH HOWEY*
"One of dystopian fiction's masterpieces alongside the likes of 1984 and Brave New World." — Daily Express
The first book in the acclaimed, New York Times best-selling trilogy, Wool is the story of mankind clawing for survival. The world outside has grown toxic, the view of it limited, talk of it forbidden. The remnants of humanity live underground in a single silo.
But there are always those who hope, who dream. These are the dangerous people, the residents who infect others with their optimism. Their punishment is simple. They are given the very thing they want: They are allowed to go outside. 
After the previous sheriff leaves the silo in a terrifying ritual, Juliette, a mechanic from the down deep, is suddenly and inexplicably promoted to the head of law enforcement. With newfound power and with little regard for the customs she is supposed to abide, Juliette uncovers hints of a sinister conspiracy. Tugging this thread may uncover the truth . . . or it could kill every last human alive.
"Claustrophobic and, at times, genuinely terrifying." — Washington Post
About the Author
---
HUGH HOWEY is the New York Times and USA Today bestsell­ing author of the Silo Series: Wool, Shift, and Dust; Beacon 23, Sand, Half Way Home, and Machine Learning. His works have been translated into more than forty languages and have sold millions of copies world­wide. Adapted from his bestselling sci-fi trilogy, Silo is now streaming on Apple TV+ with an adaptation of Beacon 23 due in 2023. Howey lives in New York with his wife, Shay.
Praise For…
---
"Claustrophobic and, at times, genuinely terrifying." — Washington Post
"Secrets unfold with just the right pacing . . . If you're looking for a good post-apocalyptic read, you can't do much better than Wool." — Rick Riordan, bestselling author of the Percy Jackson & the Olympians series
"With Wool Hugh Howey has created a new science fiction classic." — Ernest Cline, bestselling author of Ready Player One
"Howey's Wool is an epic feat of imagination. You will live in this world." — Justin Cronin, bestselling author of The Passage
"Exhilarating, intense, addictive." — S.J. Watson, bestselling author of Before I Go to Sleep
"The success of Howey's Wool trilogy was no fluke. This is a superior SF thriller, both slick and gritty." — Financial Times
"Sci-fi's Underground Hit . . . appeal[s] to both men and women, and has attracted hard-core science fiction fans as well as general readers, much like The Hunger Games." — Wall Street Journal
"One of dystopian fiction's masterpieces alongside the likes of 1984 and Brave New World." — Daily Express (UK)
"Fifty Shades of Grey was nothing but a twinkle in a publisher's eye this time last year . . . In twelve months time . . . Hugh Howey . . . is the best bet for the man we'll be talking about." — Guardian (UK)
"Wool is incredible. This is the best science fiction series I've read in years. Not since A Canticle for Leibowitz have I been so utterly and completely enthralled." — Douglas Preston, #1 bestselling author of Blasphemy and The Monster of Florence
"The best science-fiction stories are like tiny seeds that take root and blossom in the reader's imagination. Hugh Howey presents an entire garden of post-apocalyptic wonder, with weeds and predators, tended by the secret caretakers of a destroyed world. Page-turning sci-fi at its finest." — Jamie Ford, New York Times bestselling author of Hotel on the Corner of Bitter and Sweet
"Well written, tense, and immensely satisfying, Wool will be considered a classic for many years in the future." — WIRED
"The old assumptions about indie books no longer apply; Wool clears away the grime of the past and reveals the new truth. Here is a non-traditional author who can stand proudly in the company of traditionally published writers." — Geek Dad for WIRED
"In Wool, Hugh Howey delivers the key elements of great science fiction: an authentic and detailed future-world; realistic, relatable characters to live in it; and a taut, thoughtful story. Howey's supple, muscular writing is the icing on the cake." — Jonathan Hayes, author of A Hard Death
"Wool is frightening, fascinating, and addictive. In one word, terrific." — Kathy Reichs, bestselling author of the Temperance Brennan and Tory Brennan series
"Howey uses cliffhangers brilliantly and creates an immersive, engaging story that's anchored throughout by moody and atmospheric prose . . . a compulsive, accessible journey into a sharply realized and well-crafted dystopian world." — SFX Magazine
" . . . Compulsively readable, with each chapter acting like a potato chip. Reading just one at a sitting isn't enough . . . Howey's Wool world is so intriguing and his characters so compelling."  — Locus
"In a nutshell Wool might not be pitch perfect, but it is the nearest thing to it, and even if you are not the biggest post apocalypse fiction lover in the world, you will be once you have finished this."  — Hollywood News