Ordinary Light: A Memoir (Paperback)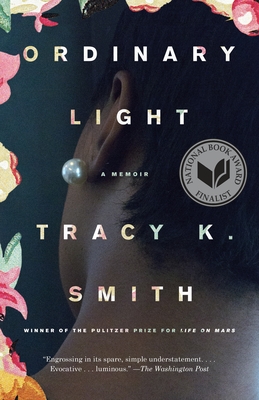 Description
---
NATIONAL BOOK AWARD FINALIST • This dazzling memoir from the former U.S. Poet Laureate and Pulitzer Prize-winning author of Life on Mars is the story of a young artist struggling to fashion her own understanding of belief, loss, history, and what it means to be black in America.

"Engrossing in its spare, simple understatement.... Evocative ... luminous." —The Washington Post

In Ordinary Light, Pulitzer Prize–winning poet Tracy K. Smith tells her remarkable story, giving us a quietly potent memoir that explores her coming-of-age and the meaning of home against a complex backdrop of race, faith, and the unbreakable bond between a mother and daughter.
About the Author
---
TRACY K. SMITH is the United States Poet Laureate. She is the author of four acclaimed books of poetry, including Wade in the Water and Life on Mars, winner of the 2012 Pulitzer Prize, a New York Times Notable Book, a New York Times Book Review Editors' Choice, and a New Yorker, Library Journal, and Publishers Weekly Best Book of the Year. A professor of creative writing at Princeton University, she lives in Princeton with her family.
Praise For…
---
Named one of the best books of the year by The New York Times, The Washington Post, San Francisco Chronicle, and Denver Post

"Engrossing in its spare, simple understatement.... Evocative ... luminous." —The Washington Post

"Honest, unflinching . . . an inspiring model for seeking the light in an 'ordinary' life—ask the tough questions, look in the hidden corners, allow yourself to understand and never stop searching for faith." —O, The Oprah Magazine

"Remarkable. . . . In a passage of agonizing beauty, Smith notes how far she travelled from the religion that had infused her childhood. The tension is [in] the division between Smith's reflective self and the energy that goes into actively living one's life. The Smith of Ordinary Light is our Emerson—the Emerson of 'Self-Reliance.' In her world, possibility is the key." —Hilton Als, The New Yorker

"Engrossing in its spare, simple understatement. . . . Evocative . . . luminous." —The Washington Post

"A subtle, elegant meditation that reveals the profound in the quotidian. . . . Exquisitely beautiful." —San Francisco Chronicle

"Transcendent. . . . Lovely, languid, and painful." —Slate

"Smith writes as a daughter who has lost her mother and is thinking of her own daughter. . . . She offers her painstaking reflections on what went into the making of her." —The New York Times Book Review

"Ordinary Light shines bright not because of extraordinary events that occurred in Smith's life but because of the warm glow the memoir casts on the simple everyday life of a young girl yearning to do great things. . . . Smith's spare yet beautiful prose transforms her story into a shining example of how one person's shared memories can brighten everyone's world." —Minneapolis Star Tribune

"[A] forceful memoir. . . . Rendered indelibly." —The New Yorker

"A riveting read. . . . Smith writes about her childhood with humor and acute insight." —Terre Roche, O, The Oprah Magazine

"[Smith's] self-scrutiny, her empathy, and her lifelong quest to figure things out—in particular our bedeviling national aches, religion and race—make for an indelible self-portrait: moving, utterly clear and compulsively readable." —Mark Doty, author of Fire to Fire: New and Selected Poems

"A lyrical reminiscence. . . . The memoir overflows with memorable stories." —Pittsburgh Tribune Review

"Both precise and transcendent . . . [Smith's] revelations about identity, religion, and family feel as momentous as anything Barack Obama once put between covers." —Vulture

"A powerful meditation on being a daughter and, by the end, on being a mother, too." —The Guardian

"[Smith's] quiet, questioning memoir is an act of recovery and devotion." —Newsday

"Stunning. . . . A lyrical, evocative and poignant memoir that is the best of that genre." —Abraham Verghese, author of Cutting for Stone

"Smith unsurprisingly reveals tremendous grace and eloquence through her honest, unyielding consideration of the past." —Time Out NY

"Deeply engaging and brilliantly written." —Elaine Pagels, author of Beyond Belief

"Small and big moments are observed in elegant prose and in epiphanies that seem both surprising and inevitable." —Los Angeles Review of Books

"Poetic. Each sentence is beautiful in its simplicity and readability, artistic in its craft, and deep with its insight and wisdom." —Washington Missourian

"So emotionally engaging that a reader may wish to reach back through time and envelop the author in a warm parental hug." —BookPage

"Big and significant because it reminds us that the everyday is where we experience our common struggles." —Jamaica Kincaid, author of See Now Then

"Ordinary Light is no ordinary book. . . . Smith can now claim a place among the best writers of prose." —Julia Alvarez, author of In the Time of the Butterflies and How the García Girls Lost Their Accents