The Zimmermann Telegram: America Enters the War, 1917-1918; Barbara W. Tuchman's Great War Series (Paperback)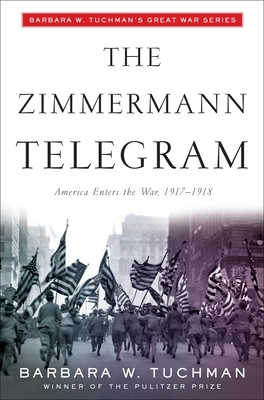 $18.00

Available from our distributor; usually Ships in 1-5 Days
Description
---
"A tremendous tale of hushed and unhushed uproars in the linked fields of war and diplomacy" (The New York Times), from the Pulitzer Prize–winning author of The Guns of August

In January 1917, the war in Europe was, at best, a tragic standoff. Britain knew that all was lost unless the United States joined the war, but President Wilson was unshakable in his neutrality. At just this moment, a crack team of British decoders in a quiet office known as Room 40 intercepted a document that would change history. The Zimmermann telegram was a top-secret message to the president of Mexico, inviting him to join Germany and Japan in an invasion of the United States. How Britain managed to inform the American government without revealing that the German codes had been broken makes for an incredible story of espionage and intrigue as only Barbara W. Tuchman could tell it.
 
The Proud Tower, The Guns of August, and The Zimmermann Telegram comprise Barbara W. Tuchman's classic histories of the First World War era.


About the Author
---
Barbara W. Tuchman (1912–1989) achieved prominence as a historian with The Zimmermann Telegram and international fame with The Guns of August—a huge bestseller and winner of the Pulitzer Prize. Her other works include Bible and Sword, The Proud Tower, Stilwell and the American Experience in China (for which Tuchman was awarded a second Pulitzer Prize), Notes from China, A Distant Mirror, Practicing History, The March of Folly, and The First Salute.
Praise For…
---
"A true, lucid thriller . . . a tremendous tale of hushed and unhushed uproars in the linked fields of war and diplomacy . . . Tuchman makes the most of it with a creative writer's sense of drama and a scholar's obeisance to the evidence."—The New York Times
 
"The tale has most of the ingredients of an Eric Ambler spy thriller."—Saturday Review