Notes from the Burning Age (Paperback)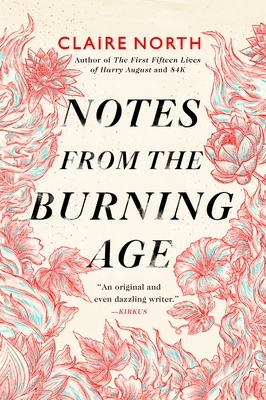 $17.99

Available from our distributor; usually Ships in 1-5 Days
Description
---
AN NPR BEST BOOK OF 2021
A WASHINGTON POST BEST BOOK OF 2021

"A riveting tale of subterfuge and deadly self-indulgence" (Publishers Weekly, starred review) from award-winning author Claire North, Notes from the Burning Age presents an extraordinary vision of the future that puts dystopian fiction in a whole new light.

Ven was once a holy man, a keeper of ancient archives. It was his duty to interpret archaic texts, sorting useful knowledge from the heretical ideas of the Burning Age—a time of excess and climate disaster. For in Ven's world, such material must be closely guarded so that the ills that led to that cataclysmic era can never be repeated.

But when the revolutionary Brotherhood approaches Ven, pressuring him to translate stolen writings that threaten everything he once held dear, his life will be turned upside down. Torn between friendship and faith, Ven must decide how far he's willing to go to save this new world—and how much he is willing to lose.

"ONE OF THE BEST BOOKS I'VE READ IN RECENT YEARS. THOUGHT PROVOKING, IMAGINATIVE AND PACKS A HELL OF AN EMOTIONAL PUNCH." —Adrian Tchaikovsky, author of Children of Time
Also by Claire North:
The First Fifteen Lives of Harry AugustTouchThe Sudden Appearance of HopeThe End of the Day84KThe GameshouseThe Pursuit of William Abbey
About the Author
---
Claire North is a pseudonym for Catherine Webb, who wrote several novels in various genres before publishing her first major work as Claire North, The First Fifteen Lives of Harry August. It was a critically acclaimed success, receiving rave reviews and an Audie nomination, and was included in the Washington Post's Best Books of the Year list. Her novel, The Sudden Appearance of Hope, won the World Fantasy Award for Best Novel. Catherine currently works as a theatre lighting designer and is a fan of big cities, urban magic, Thai food and graffiti-spotting. She lives in London.
Praise For…
---
"One of the best books I've read in recent years. Thought provoking, imaginative, and packs a hell of an emotional punch."—Adrian Tchaikovsky, author of Children of Time, on Notes from the Burning Age

"A fantastical nightmare so skillfully sketched that it felt like truth. And when it was done, I simply didn't want to leave... Compelling [and] beautiful."—NPR Books on Notes from the Burning Age

"A riveting tale of subterfuge and deadly self-indulgence in this postapocalyptic thrill ride... North's convincing view of postapocalyptic society captivates, and the political intrigues will keep readers hooked right up until the explosive close."—Publishers Weekly (starred review) on Notes from the Burning Age

"Claire North depicts a startling, richly developed postapocalyptic world in this beautiful and riveting novel."—BuzzFeed on Notes from the Burning Age

"A fascinating and tense novel, recommended especially for fans of Margaret Atwood's MaddAddam trilogy."—Booklist on Notes from the Burning Age

"A passionate and committed vision of what we do to nature, and what it can do to us."—Locus on Notes from the Burning Age

"There is no doubt that Claire North is an exceptional writer with a brilliant imagination and eloquent storytelling. If you are looking for a unique fantasy with an espionage driven plot and descriptive writing, pick up this one!"—Nerd Daily on Notes from the Burning Age

"North is an original and even dazzling writer."—Kirkus on 84K

"Claire North's writing is terrific, smart, and entertaining."—Patrick Ness on The First Fifteen Lives of Harry August

"North has established a reputation for tense, dense, science fiction/fantasy-inflected thrillers that defy facile explanations... Well-paced, brilliant and balanced."—New York Times on The Sudden Appearance of Hope