Black Wolf: A Novel (Hardcover)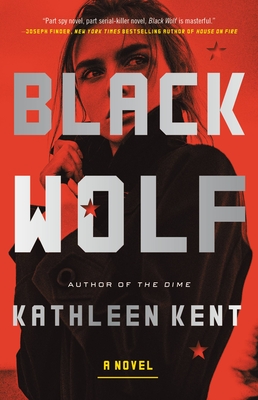 $29.00

Available from our distributor; usually Ships in 1-5 Days
Description
---
A "masterful" and "riveting" thriller about a female CIA agent whose extraordinary facial recognition powers lead her into the dangerous heart of the Soviet Union—and the path of a killer who shouldn't exist (Joseph Finder, New York Times bestselling author).

She never forgets a face. 
He never forgets his prey.

It is 1990 when Melvina Donleavy arrives in Soviet Belarus on her first undercover mission with the CIA, alongside three fellow agents—none of whom know she is playing two roles. To the prying eyes of the KGB, she is merely a secretary; to her CIA minders, she is the only one who can stop the flow of nuclear weapons from the crumbling Soviet Union into the Middle East.

For Mel has a secret; she is a "super recognizer," someone who never forgets a face. But no training could prepare her for the reality of life undercover, and for the streets of Minsk, where women have been disappearing. Soviet law enforcement is firm: murder is a capitalist disease. But could a serial killer be at work? Especially if he knew no one was watching? As Mel searches for answers, she catches the eye of an entirely different kind of threat: the elusive and petrifying "Black Wolf," head of the KGB.

Filled with insider details from the author's own time working under the direction of the U.S. Department of Defense, Black Wolf is a riveting new spy thriller from an Edgar-nominated crime writer, and a biting exploration of the divide between two nations, two masterminds, and two roles played by a woman pushed to her breaking point, where she'll learn that you can only ever trust one person: yourself.
About the Author
---
Kathleen Kent
is the Edgar-nominated author of the crime trilogy 
The Dime,
The Burn
, and
The Pledge,
 as well as three bestselling historical novels:
The Heretic's Daughter, The Traitor's Wife,
and
The Outcasts
. She has written short stories and essays for
D Magazine, Texas Monthly,
and
LitHub
, and has been published in the crime anthology 
Dallas Noir
. In March 2020 she was inducted into the Texas Institute of Letters for her contribution to Texas literature. Kent lives in Dallas, Texas.  
Praise For…
---
"Part spy novel, part serial-killer novel, Black Wolf is masterful, a riveting tale and a powerful depiction of the collapse of the Soviet Union as seen through the eyes of Melvina Donleavy, a uniquely talented CIA recruit who deserves a series of her own."
—
Joseph Finder, New York Times bestselling author of House on Fire
"An intelligent, propulsive spy thriller . . . Kent draws on her own experience working for the U.S. Department of Defense to create an utterly convincing espionage novel full of tradecraft. Readers will eagerly await Mel's further adventures."—
Publishers Weekly (starred review)
"Kathleen Kent slays it with her new thriller
Black Wolf
, a propulsive page-turner chock full of juicy spy game goodies: intrigue, serial murder, nuclear secrets, passion, and of course, survival of the fittest. A young, gifted CIA recruit with a "superpower" —the ability to recognize faces—is sent on a top-secret mission into Belarus. What could go wrong? I couldn't turn the pages fast enough. Welcome to the high-stakes world of Melvina Donleavy—a riveting, rich, and relevant heroine destined to take the suspense book world by storm. Simply masterful."—
Lisa Barr, New York Times bestselling author of Woman on Fire
"A gritty depiction of the spy game during the dissolution of the Soviet Union. Perfect for fans of
The Americans
."—
Alma Katsu, author of Red Widow
"Tension builds quickly here, and Minsk's KGB controlled streets, long hidden from Western visitors, create an atmosphere of dangerous alienation."—
Booklist
"Based on real-life people and events in the gritty Belorussia of this era . . . the characters and their experiences are well drawn and complex. At the same time, the story moves well; the tensions are high; the climax action-packed. Kent brings her gift for building strong and complex female characters to Mel. A well-crafted spy novel married to a serial killer mystery equals lots of dark drama."—
Kirkus Reviews
"
Black Wolf
is a riveting read. A razor-sharp, whip-smart, beautifully written thriller set in the chaotic days following the collapse of the Soviet Union, it combines the research and plotting of Frederick Forsythe with the gruesome chills of Thomas Harris. Part espionage tale, part serial killer mystery,
Black Wolf
is a wholly original page turner of the first order. Highly recommended."—
Christopher Reich, New York Times bestselling author of Once a Thief
"What makes
Black Wolf
such a memorable thriller is the brilliant authenticity that swings off the pages, no doubt from the author's time under the US Department of Defense. The spycraft is both exciting and tense, glimmering with a smooth but edgy prose that keeps on coiling with bouts of nervous energy from all the dangers spies face behind enemy lines."—
Best Thriller Books
Praise for The Pledge:
"A police procedural like none you've ever read. . . The incredibly talented Kathleen Kent has created a haunting, dark, and original character. Do not miss this!"—
Hank Phillippi Ryan, bestselling author of Her Perfect Life
"Strong women, sharp dialogue, and a vulnerable, kick-ass heroine combine for another satisfying adventure."—
Kirkus Reviews
"Thrilling … Kent does a fine job weaving the various plot strands into a satisfying and action-packed whole."
 —
Publishers Weekly
"Riveting."—
The Washington Post