The Devil's Highway: A True Story (Paperback)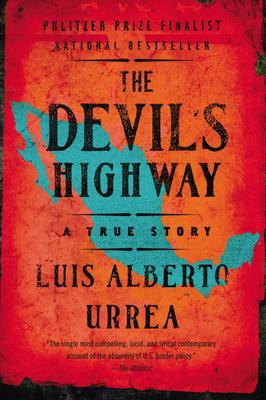 $16.99
In stock at Brooklyn or Jersey City -- click for more details
Staff Reviews
---
"What is a life worth dying to achieve? Or a life that worth dying to escape? Who are the agents and the people that occupy and "protect" our borders? Luis Alberto Urrea, embarks on a valiant attempt to answer these questions and more through this multi-layered account of just one horrific incident at the U.S.-Mexico border. You will walk away from this book wanting to learn and know more about our current crisis and the longstanding traumatic history of poverty, commodification and the interwoven sadistic layers that leave us with we see at the border today."
— From
Deidre
Description
---
From a Pulitzer Prize finalist, "the single most compelling, lucid, and lyrical contemporary account of the absurdity of U.S. border policy" (The Atlantic).

In May 2001, a group of men attempted to cross the Mexican border into the desert of southern Arizona, through the deadliest region of the continent, the "Devil's Highway." Three years later, Luis Alberto Urrea wrote about what happened to them. The result was a national bestseller, a Pulitzer Prize finalist, a "book of the year" in multiple newspapers, and a work proclaimed as a modern American classic.
About the Author
---
A finalist for the Pulitzer Prize for his landmark work of nonficiton The Devil's Highway, Luis Alberto Urrea is also the bestselling author of the novels The Hummingbird's Daughter, Into the Beautiful North, and Queen of America, as well as the story collection The Water Museum, a PEN/Faulkner Award finalist.

He has won the Lannan Literary Award, an Edgar Award, and a 2017 American Academy of Arts and Letters Award in Literature, among many other honors. Born in Tijuana to a Mexican father and American mother, he lives outside of Chicago and teaches at the University of Illinois-Chicago.
Praise For…
---
"The single most compelling, lucid, and lyrical contemporary account of the absurdity of U.S. border policy."—The Atlantic

"It makes what currently passes for our public debate over illegal immigration seem appallingly abstract and tin-eared. The Devil's Highway isn't just a great book, it's a necessary one."—Jeff Salamon, Austin American-Statesman

"Urrea's writing is wickedly good--outrage tempered with concern channeled into deft prose."—Kathleen Johnson, Kansas City Star

"Urrea writes about U.S.-Mexican border culture with a tragic and beautiful intimacy that has no equal."—Tom Montgomery Fate, Boston Globe

"One of the great surrealistic tragedies of the global age...Urrea has crafted an impassioned and poetic exploration of the dark side of globalization, where commodities flow free and people die in the desert."—Jefferson Cowie, Chicago Tribune

"In artful yet uncomplicated prose, Urrea captivatingly tells how a dozen men squeezed by to safety...Confident and full of righteous rage, Urrea's story is a well-crafted melange of first-person testimony, geographic history, cultural and economic analysis, poetry and an indictment of immigration policy."—Publishers Weekly

"A powerful, almost diabolical impression of the disaster and the exploitative conditions of the border. Urrea shows immigration policy on the human level."—Booklist