Bet Me (Paperback)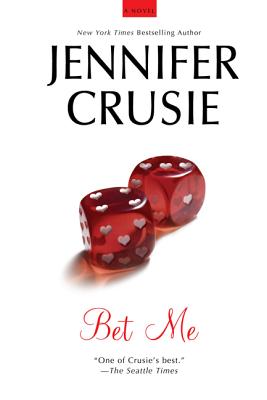 $25.99

Available from our distributor; usually Ships in 1-5 Days
Description
---
Minerva Dobbs knows all about risk management, which is why it's such a shock when David, her extremely logical choice for a boyfriend, dumps her three weeks before her perfect sister's wedding: David was not supposed to be a wild card. So when Min overhears David make a bet with his old nemesis—the gorgeous and successful Calvin Morrisey—that Cal can't get Min into bed in a month, she decides that fate has just handed her a stacked deck: she can make Cal sweat his sex appeal and get a date to the wedding, if she plays along and doesn't fold. What follows is a novel of destiny, chaos theory, Krispy Kreme donuts, the spirit of Elvis, Chicken Marsala, and a gamble for the highest stake of all: true love.

Bet Me is the winner of a 2005 RITA Award.
About the Author
---
Jennifer Crusie was researching her dissertation on the differences in the way men and women tell stories when she got sidetracked into writing romance novels.

Her first book was published in 1993 (which pretty much finished off any hope of her getting that PhD) and her twenty-second book, Maybe This Time, came out in August of 2010, all of which she considers a minor miracle, especially since she is also a New York Times, USA Today and Publishers Weekly bestselling author and a two-time Rita award winner.
Praise For…
---
"Bet you can't stop reading it. Absolutely, irresistibly hilarious." —Kirkus Reviews