Little Green: An Easy Rawlins Mystery (Paperback)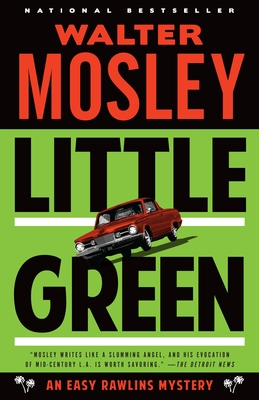 $17.00
Out of Stock - Not Available
Description
---
In Little Green, Walter Mosley's acclaimed detective Easy Rawlins returns from the brink of death to investigate the dark side of that haven for Los Angeles hippies, the Sunset Strip. He's soon back in top form, cruising the gloriously psychedelic mean streets of L.A. with his murderous sidekick, Mouse. They've been hired to look for a young black man, Evander "Little Green" Noon, who disappeared during an acid trip.

Fueled by an elixir called Gator's Blood, Easy experiences a physical, spiritual, and
emotional resurrection, but peace and love soon give way to murder and mayhem.
About the Author
---
WALTER MOSLEY is the author of more than forty books, including eleven previous Easy Rawlins mysteries, the first of which, Devil in a Blue Dress, was made into an acclaimed film starring Denzel Washington. Always Outnumbered was an HBO film starring Laurence Fishburne, adapted from Mosley's first Socrates Fortlow novel. A native of Los Angeles and a graduate of Johnson State College, he lives in Brooklyn, New York. He is the winner of numerous awards, including an O. Henry Award, a Grammy, and PEN America's Lifetime Achievement Award.
Praise For…
---
"Mosley writes like a slumming angel, and his evocation of mid-century L.A. is worth savoring." —The Detroit News

"Faster, smarter and more gutsy than any of its predecessors. . . .  Mosley writes mysteries, but they're also literary jewels and priceless social history."
—The Globe and Mail (Toronto)

"Mosley is never better than when he's got a juicy cut of history to chew on, and the hippie counterculture of the late '60s perfectly feeds his style."
—The New York Times Book Review
 
"Mosley's project, like James Ellroy's, like Chester Himes's, has always been to use the genre to explore history and racial politics. He's a thinker and a polemicist and not just a mystery guy." —Los Angeles Times

"Rawlins himself is at the heart of the series' appeal: a well-read auto-didact and man of action, father of found children and spouse to no one who sometimes sees his double life, divided between the land of law and the underworld."
—The Wall Street Journal

"The Easy Rawlins novels. . . .  have never been mere whodunits. Taken together, they are nothing less than a history of race relations in post-World War II Los Angeles. Little Green more than lives up to the high standard the author has set."
—Associated Press

"The mix of hardboiled detective narrative and social philosophizing on African American life . . . [is what] makes Easy such an enduring figure and his comeback so welcome." —The Houston Chronicle

"[A] major event for crime-fiction fans. . . . Mosley returns here to doing what he does best: setting the pain and pleasure of individual lives, lived mostly in L.A.'s black community, within an instantly recognizable historical moment and allowing the two to feed off one another." —Booklist

"Superb. . . .  If there were an Edgar for best comeback player, Easy Rawlins would be a shoo-in." —Publishers Weekly (starred review)

"Rawlins, Mouse, and the world they live in have as many sharp, hard surfaces as ground obsidian. But Mosley gives them an additional facet. Whereas the traditional hard-boiled detective is a lonely, solitary figure, Rawlins is surrounded by a family of his own making, an adopted, makeshift, multi-ethnic family that reflects and prefigures the realities of modern America." —Tulsa World

 "Mosley is a master of historical setting and atmosphere, and he does a dazzling job of capturing the 1960s vibe of the Strip, from the free-spirited innocence of the flower children to the sinister glint of those who prey upon them." —Tampa Bay Times

"[In Easy,] Mosley has created a flesh-and-blood man who transcends the page and walks forever in our imaginations." —Minneapolis Star-Tribune

"A powerful writer, with such well-honed prose and so strong a sense of place that his books are always entertaining." —The Philadelphia Inquirer

"Unraveling the puzzles . . . is almost as enjoyable as marveling at the author's nimble mind, and discovering, yet again, that the prolific Mosley has many more tales to tell."
—The Boston Globe