Chasing Venus: The Race to Measure the Heavens (Paperback)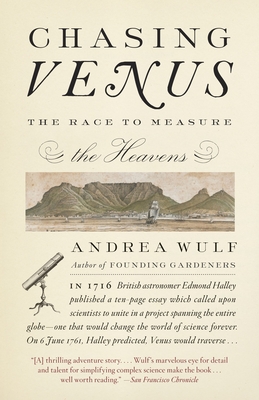 $19.00
Out of Stock - Not Available
Description
---
A "thrilling adventure story" (San Francisco Chronicle) that brings to life the astronomers who in the 1700s embarked upon a quest to calculate the size of the solar system, and paints a vivid portrait of the collaborations, rivalries, and volatile international politics that hindered them at every turn. • From the author of Magnificent Rebels and New York Times bestseller The Invention of Nature.

On June 6, 1761, the world paused to observe a momentous occasion: the first transit of Venus between the Earth and the Sun in more than a century. Through that observation, astronomers could calculate the size of the solar system—but only if they could compile data from many different points of the globe, all recorded during the short period of the transit. Overcoming incredible odds and political strife, astronomers from Britain, France, Russia, Germany, Sweden, and the American colonies set up observatories in the remotest corners of the world, only to be thwarted by unpredictable weather and warring armies. Fortunately, transits of Venus occur in pairs; eight years later, they would have another opportunity to succeed.

Thanks to these scientists, neither our conception of the universe nor the nature of scientific research would ever be the same.
About the Author
---
ANDREA WULF was born in India and moved to Germany as a child. She lives in London, where she trained as a design historian at the Royal College of Art. She is the author of The Brother Gardeners, long-listed for the Samuel Johnson Prize in 2008 and winner of the American Horticultural Society 2010 Book Award, and of Founding Gardeners; she is also the coauthor (with Emma Gieben-Gamal) of This Other Eden: Seven Great Gardens and 300 Years of English History. She has written for The Sunday Times, Financial Times, The Wall Street Journal, and Los Angeles Times, and she reviews for several newspapers, including The New York Times, The Guardian, and The Times Literary Supplement.
Praise For…
---
"[A] thrilling adventure story. . . . Wulf's marvelous eye for detail and talent for simplifying complex science make the book . . . well worth reading." —San Francisco Chronicle

"Chasing Venus captures the spirit of adventure and the wonder at mankind's newfound ability to understand the world around it. . . . A pleasure to read from beginning to end." —Sky at Night Magazine

"Here is a book both astrophysicists and poets can understand." —The Boston Globe
 
"Andrea Wulf's story of the chase is an enthralling, nail-biting thriller and will undoubtedly prove one of the nonfiction books of the year. . . . Don't miss this wonderful book." —Daily Mail

"A narrative . . . rich in personalities and adventures. . . . . [Wulf] wonderfully sketch[es] the race for scientific, and patriotic, glory." —Dallas Morning News

"Excellent. . . . Chasing Venus is beautifully paced, alternating between expeditions, with lush descriptions of the often arduous journeys involved." —Nature

"Wulf's entertaining book is a fine tribute to that admirable human trait of scientific curiosity. . . . An inspiring story." —The Dispatch (Columbus, MS)

"[An] enticing tale. . . . [Wulf's] feeling for personality and her attention to both the scientific records and to the astronomers' journals brings their exploits to life as both scientific exploration and adventurous derring-do." —The Washington Times

"Another fine example of such scientific storytelling. . . . Narrated with elegant expertise." —The Times (London)

"A human story, and . . . a rallying call to humanity's quest to explore the universe simply for the sake of it." —The Daily Telegraph (London)

"Magisterial. . . Andrea Wulf traces the dramatic transformation of Venus from object of mythological awe to instrument of scientific revelation."  —The Guardian (London)

"Thrilling. . . . Wulf's account is an absorbing, . . . exciting yarn." —The Independent (London)

"[An] excellent book. . . . Chasing Venus chronicles a rare planetary event that happened at a rare juncture in human history, when the age of empire, the age of science, and the age of curiosity brought the world together for just a few moments—to achieve the measure of the universe." —Brain Pickings

"Outstanding. . . . It's the book of the year so far—do not miss it!" —Astronomy Now

"Writing in a clean and precise style reminiscent of Dava Sobel's Navigation and Holly Tucker's Blood Work, Wulf nonetheless develops a narrative pace more typical of a globe-trotting thriller than a history book. . . . The history of science at its most fascinating—and most adventurous." —Chapter 16

"[A] lively narrative. . . . Enlightening Enlightenment fare." —Kirkus Reviews (starred review)

"[An] enthusiastic account. . . [and] well-handled history." —Booklist

"Replete with meticulous detail, delightful illustrations and a cast of very familiar names from world history, Chasing Venus is an eminently readable account of humanity's effort to chart the heavens.  At once an exhilarating adventure, a tale of personal obsession, a tragedy and a detailed history of astronomical endeavour, Wulf's latest work is a fascinating read." —Press Association (UK)