The Bottoms (Paperback)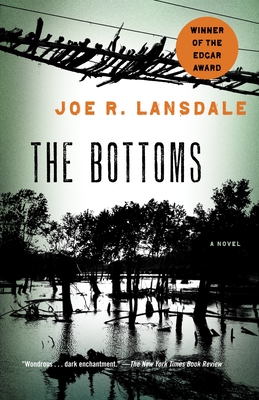 $16.95

In stock at Brooklyn or Jersey City -- click for more details
Description
---
This Edgar Award winner is "equal parts morality tale and page-turning thriller" (Denver Post)—classic American storytelling in its truest, darkest, and most affecting form, with echoes of William Faulkner and Harper Lee. 

Its 1933 in East Texas and the Depression lingers in the air like a slow moving storm. When a young Harry Collins and his little sister stumble across the body of a black woman who has been savagely mutilated and left to die in the bottoms of the Sabine River, their small town is instantly charged with tension. When a second body turns up, this time of a white woman, there is little Harry can do from stopping his Klan neighbors from lynching an innocent black man. Together with his younger sister, Harry sets out to discover who the real killer is, and to do so they will search for a truth that resides far deeper than any river or skin color.
About the Author
---
Joe R. Lansdale is the author of over thirty novels and numerous short stories. His work has appeared in national anthologies, magazines, and collections, as well as numerous foreign publications. He has written for comics, television, film, newspapers, and Internet sites. His work has been collected in eighteen short-story collections, and he has edited or co-edited over a dozen anthologies.

Lansdale has received the Edgar Award, eight Bram Stoker Awards, the Horror Writers Association Lifetime Achievement Award, the British Fantasy Award, the Grinzani Cavour Prize for Literature, the Herodotus Historical Fiction Award, the Inkpot Award for Contributions to Science Fiction and Fantasy, and many others.

A major motion picture based on Lansdale's crime thriller Cold in July was released in May 2014, starring Michael C. Hall (Dexter), Sam Shepard (Black Hawk Down), and Don Johnson (Miami Vice). His novella Bubba Hotep was adapted to film by Don Coscarelli, starring Bruce Campbell and Ossie Davis. His story "Incident On and Off a Mountain Road" was adapted to film for Showtime's "Masters of Horror." He is currently co-producing a TV series, "Hap and Leonard" for the Sundance Channel and films including The Bottoms, based on his Edgar Award-winning novel, with Bill Paxton and Brad Wyman, and The Drive-In, with Greg Nicotero.

Lansdale is the founder of the martial arts system Shen Chuan: Martial Science and its affiliate, Shen Chuan Family System. He is a member of both the United States and International Martial Arts Halls of Fame. He lives in Nacogdoches, Texas with his wife, dog, and two cats.
Praise For…
---
"Wondrous...dark enchantment."
--New York Times Book Review
 
"Terrific suspense...equal parts morality tale and page-turning thriller."
--Denver Post
 
"Lansdale subtly but surely traces how race hatred can embitter, poison, and often physically destroy those who fall under its sway."
--Philadelphia Inquirer
 
"Lansdale creates many colorful and vivid characters. . . . The Bottoms tells a great yarn of a vanished place and time."
--Bookreporter