The Boy Who Couldn't Sleep and Never Had To (Vintage Contemporaries) (Paperback)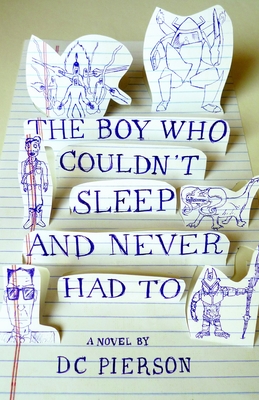 $14.95

In stock at Brooklyn or Jersey City -- click for more details
Staff Reviews
---
"Where do your dreams go when you wake up? Where do your dreams live if you never sleep? This charming coming-of-age story explores themes of friendship, alienation, first love, and how, if you never sleep, your dreams turn into monsters in the desert, and the government comes after you, so they can study you and kill you and turn your brain into energy drink."
— From
Steven
Description
---
A wildly original and hilarious debut novel about the typical high school experience: the homework, the awkwardness, and the mutant creatures from another galaxy.
 
When Darren Bennett meets Eric Lederer, there's an instant connection. They share a love of drawing, the bottom rung on the cruel high school social ladder and a pathological fear of girls.  Then Eric reveals a secret: He doesn't sleep. Ever.  When word leaks out about Eric's condition, he and Darren find themselves on the run. Is it the government trying to tap into Eric's mind, or something far darker?  It could be that not sleeping is only part of what Eric's capable of, and the truth is both better and worse than they could ever imagine.
About the Author
---
DC Pierson was born and raised in Phoenix, AZ.  He graduated from NYU's Dramatic Writing Department in 2007 with a degree in writing for television. His comedy group DERRICK made a feature film called "Mystery Team."  He publishes short stories and unsolicited opinions on his website, dcpierson.com.  This is his first novel.

Praise For…
---
"Funny as hell. . . . The ribald humor of a Judd Apatow movie married to a science-fiction-fantasy spectacle."—Kirkus
 
"A witty coming-of-age novel. . . . In Darren and Eric, Pierson has created two engaging and memorable co-conspirators and co-protagonists."—Booklist
 
"Charmingly honest and honestly funny. Nails what it's like to be a geeky teenage male, right down to the Agtranian Berserkers." —Max Barry, author of Company

"In a smart, funny and endlessly imaginative debut, the voluminously talented DC Pierson shows keen insight into the rocky emotional terrain of adolescence and the nuances of geek culture. Pierson has a sharp eye for the way teenagers think, talk and behave. The scope and depth of the novel's ambition don't become apparent until a riveting final third that radically reinvents the narrative as a sly, Unbreakable-style exercise in genre deconstruction. Pierson has written a trenchant, briskly readable and ultimately sad novel about the greatest, most fantastical and mind-bending adventure of all: growing up."—Nathan Rabin, Head Writer, The A.V. Club, author, The Big Rewind: A Memoir Brought To You By Pop Culture

"Awesome stuff: great jokes, shocking twists, cyborgs. There's even some sex. It's fast-paced and funny and you should definitely check it out."--Simon Rich, author of Free-Range Chickens