Some New Kind of Kick: A Memoir (Hardcover)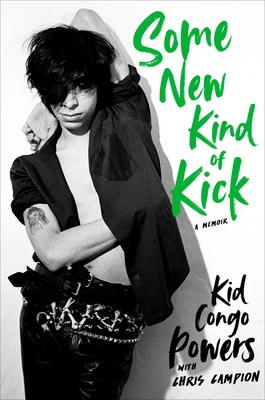 $29.00

Available from our distributor; usually Ships in 1-5 Days
Staff Reviews
---
Kid Congo Powers is the coolest guy in the room. His ritualistic and instinctive bursts of sonic brilliance have electrified the music of The Gun Club, The Cramps, and Nick Cave & the Bad Seeds. His influence can be felt in everything that's interesting over the last forty years. This is his hero's journey of discovering his sexual identity through glam rock, navigating the LA punk scene as an awkward, Chicano boy, and withstanding blow after devastating blow on his way to glory.
— From
Steven
Description
---
An intimate, coming-of-age memoir by legendary guitarist Kid Congo Powers, detailing his experiences as a young, queer Mexican-American in 1970s Los Angeles through his rise in the glam rock and punk rock scenes.

Kid Congo Powers has been described as a "legendary guitarist and paragon of cool" with "the greatest resume ever of anyone in rock music." That unique imprint on rock history stems from being a member of not one but three beloved, groundbreaking, and influential groups—Nick Cave and the Bad Seeds, the Cramps, and last but not least, The Gun Club, the wildly inventive punk-blues band he co-founded.

Some New Kind of Kick begins as an intimate coming of age tale, of a young, queer, Chicano kid, growing up in a suburb east of East LA, in the mid-'70s, exploring his sexual identity through glam rock. When a devastating personal tragedy crushes his teenage dreams, he finds solace and community through fandom, as founder ('The Prez') of the Ramones West Coast fan club, and immerses himself in the delinquent chaos of the early LA punk scene.

A chance encounter with another superfan, in the line outside the Whiskey-A-Go-Go to get into a Pere Ubu concert, changes the course of his life entirely. Jeffrey Lee Pierce, a misfit Chicano punk who runs the Blondie fan club, proposes they form a band. The Gun Club is born. So begins an unlikely transition from adoring fan to lauded performer. In Pierce, he finds brotherhood, a creative voice, and a common cause, but also a shared appetite for self-destruction that threatens to overwhelm them both.

Quirky, droll, and heartfelt, with a pitch-perfect evocation of time and place, and a wealth of richly-drawn supporting characters, Some New Kind of Kick is a memoir of personal transformation, addiction and recovery, friendship and belonging, set against the relentless creativity and excess of the '70s and '80s underground music scenes.
About the Author
---
Kid Congo Powers is a guitarist and singer-songwriter best known for his work with The Gun Club, the Cramps, and Nick Cave and the Bad Seeds. He is currently the frontman for Kid Congo & The Pink Monkey Birds. He lives in Tucson, AZ.

Chris Campion is a British author, journalist, editor, and music producer. His writing, exploring the extremities of popular culture, as well as its beating heart, has been published in The Guardian, LA Times, The Telegraph, Rolling Stone, Bizarre, and Vice.
 
Praise For…
---
**A Los Angeles Times Bestseller**

**A California Independent Booksellers Alliance Bestseller**

Vanity Fair, "7 Books We Can't Stop Talking About"
"[A] whirlwind of discovery and debauchery that is... loaded with iconic scenes and scenesters..."
—
Washington Post
"Powers imbues his epic coming-of-age story with a narrative tension that ping pongs between on-and-off drug abuse (eventually fully off) and a complicated musical partnership with legendary Gun Club maestro Jeffrey Lee Pierce… at turns dark, comedic, and dishy, with occasional tugs at the heartstrings." —
Vanity Fair
"An entertaining, funny, illuminating, and at times harrowing story from a man who was slap bang centre of the 80s alternative scene… Brian Tristan comes across as a really nice guy. Kid Congo Powers as one of the coolest."—
Louder than War
"A thoroughly entertaining, can't-put-it-down saga."
 —
The Ticket (Seattle Times)
"Immensely entertaining."—
Bay Area Reporter
"A juicy and humble account of a joyful yet traumatic life spent in three of the most beloved alternative bands of the 1980s."
—
The Fat Angel Sings
"A dreamlike narrative that maintains a kind of spiritual innocence even as it wades into a sea of rock & roll action, back alley sex, and drugged glory."
—
Aquarium Drunkard
"An informative, fun, and easy to read recounting of life on the frontlines of underground music at a time when there was equal amounts of danger and excitement in the air; with no easy paths to take, and little thought of commercial success."
—
Midnight to Six
"A beautifully edgy tale of a kid discovering himself through music."
 —
Booklist
"... Fans of early punk rock will revel in this pungent evocation of the scene."—
Publishers Weekly
"[
Some New Kind of Kick
is] an autobiography that has taken years to write and shows the guts this man has. It's also a frank account of Kid's time growing up, his denial of grief and his own sexuality, as well as being a brilliant document of his experiences with said brilliant bands. It's also utterly amazing to read."—
Felten Ink
"Enthralling…. an incredibly compelling story."
—
Glide Magazine
"An entertaining, funny, illuminating, and at times harrowing story… Powers' book is an illuminating insight on how rock 'n' roll can save, but also destroy."
—
HeroMag
"Moving... a hold-on-tight roller coaster ride... beautifully produced... There's a reason 
Some New Kind of Kick
 is popping up on a lot of Best of 2022 lists."—
Boing Boing
"Kid Congo Powers has lived an amazing life and his bands (founding member of the Gun Club, the Cramps, Nick Cave and the Bad Seeds and Pink Monkey Birds among others) need no introduction. He found punk in the streets of Los Angeles--right place, right time--and it allowed him his self-expression: sexually, culturally, musically and, of course, the drugs. The book follows him as he does time in these bands, each with its own fascinating dynamic, while the spiral of drug use, interrupted by bouts of being clean, continues to drag him down. His keen insight makes for vivid descriptions of scenes, some pretty crazed band dynamics and some wanton self-destructive behavior. Luckily he pulled through and lived to write about it."—
Thrasher Magazine