Strange Angel: The Otherworldly Life of Rocket Scientist John Whiteside Parsons (Paperback)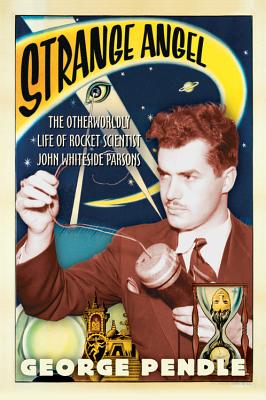 $21.99

Available from our distributor; usually Ships in 1-5 Days
Staff Reviews
---
In an age when experimental aviation was tinted with undertones of the supernatural, one man stood at the intersection of science and magic, investigating each with equal fervor. Jack Parsons and his cult of renegade engineers revolutionized aeronautics with their ecstatic devotion to rocketry. His dedication to mysticism was driven by the same fascination. These twin obsessions would become volatile reactants -- the ensuing explosion catalyzed by the unchecked mania of a mad scientist.
— Steven
Description
---
Now a CBS All Access series created by Mark Heyman with executive producer Ridley Scott.

ROCKET SCIENTIST KILLED IN PASADENA EXPLOSIONscreamed the headline of the Los Angeles Times. John Parsons, a maverick rocketeer who helped transform the rocket from a derided sci-fi plot line into a reality, was at first mourned as a scientific prodigy. But reporters soon uncovered a more shocking story: Parsons had been a devotee of black magic.

George Pendle re-creates the world of John Parsons in this dazzling portrait of prewar superstition, cold war paranoia, and futuristic possibility. Fueled by childhood dreams of space flight, Parsons was a leader of the motley band of enthusiastic young men who founded the Jet Propulsion Laboratory, a cornerstone of the American space program. But Parsons's wild imagination also led him into the occult- for if he could make rocketry a reality, why not magic?

With a cast of characters including Howard Hughes, L. Ron Hubbard, and Robert Heinlein, Strange Angel explores the unruly consequences of genius.

 
About the Author
---
GEORGE PENDLE writes about science, art, and culture for the Times (London), the Sunday Times, and the Financial Times, among other publications. He lives in New York City.
Praise For…
---
PRAISE FOR STRANGE ANGEL "Pendle weaves a fascinating yarn . . . he deftly and seemingly effortlessly leads his readers through the technical aspects of Parsons' work. You don't have to be a rocket scientist to enjoy it." —The Seattle Times "Pasadena's famous Craftsman mansions disgorge their ghosts in this rambunctiously funny, deliriously weird, and incredibly true story of a space-science pioneer turned lustful witch." —Mike Davis, author of City of Quatrz "As a history of space travel, Strange Angel is a cornerstone. This is your book if you want to start reading up on the space age. Highly recommended." —Ray Bradbury —