The Saturday Night Ghost Club: A Novel (Paperback)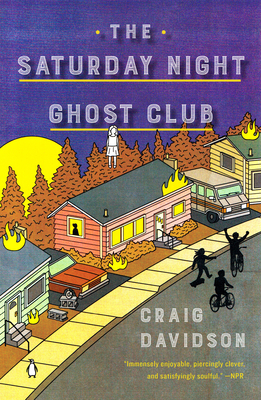 List Price: $17.00
Our Price: $16.00
(Save: $1.00 6%)
Staff Reviews
---
"Committed to paper in spare, unflinching prose, this harsh but compassionate novel precisely captures the peculiar sadness of being a child. Populated with misfits and eccentrics, pugilists, rebels, and manics, the seedy suburb of Niagara Falls is haunted by the memories of its melancholy past. Three fast friends spend one unforgettable summer investigating the paranormal and all-too-human mysteries that shape their community."
— From
Steven
July 2019 Indie Next List
---
"Good ghost stories are never really about ghosts. They are about memories, lessons learned, unfinished business, broken promises, potential unfulfilled, unthinkable tragedy, and everything that happened before we came on the scene. The Saturday Night Ghost Club is about all of these things and more. A heaping scoop of '80s nostalgia provides a solid and comfortable backdrop for the story of a kid growing up and learning that adults (even familiar loved ones) have complicated lives and histories of their own."
— Jen Richter, Inkwood Books (NJ), Haddonfield, NJ
Description
---
An irresistible and bittersweet coming-of-age story in the vein of Stranger Things and Stand by Me about a group of misfit kids who spend an unforgettable summer investigating local ghost stories and urban legends

"A celebration of the secret lives of children, both their wonders and their horrors . . . Immensely enjoyable, piercingly clever, and satisfyingly soulful." -Jason Heller, NPR

Growing up in 1980s Niagara Falls - a seedy but magical, slightly haunted place - Jake Baker spends most of his time with his uncle Calvin, a kind but eccentric enthusiast of occult artifacts and conspiracy theories. The summer Jake turns twelve, he befriends a pair of siblings new to town, and so Calvin decides to initiate them all into the "Saturday Night Ghost Club." But as the summer goes on, what begins as a seemingly light-hearted project may ultimately uncover more than any of its members had imagined. With the alternating warmth and sadness of the best coming-of-age stories, The Saturday Night Ghost Club is a note-perfect novel that poignantly examines the haunting mutability of memory and storytelling, as well as the experiences that form the people we become, and establishes Craig Davidson as a remarkable literary talent.
About the Author
---
Craig Davidson has published five other books of literary fiction: Rust and Bone, which was made into a Golden Globe–nominated feature film, The Fighter, Sarah Court, the Scotiabank Giller Prize–nominated Cataract City, and Cascade. Davidson is a graduate of the Iowa Writers' Workshop, and his articles and journalism have been published in Esquire, GQ, and The Washington Post, among other places. He lives in Toronto, Canada, with his partner and their child. He also publishes bestselling horror fiction under the pseudonym Nick Cutter.
Praise For…
---
"[Davidson's] powers of description poetically evoke the magic of youth…The masterful segues between the narratives of child Jake and adult Jake shimmer. And even more profoundly, the book is a celebration of the secret lives of children, both their wonders and their horrors...Immensely enjoyable, piercingly clever, and satisfyingly soulful, Saturday Night Ghost Club is an exquisite little talisman of a book, one that doesn't flinch as it probes the dark underside of nostalgia." -Jason Heller, NPR

"This compact novel is reminiscent of Ray Bradbury's Dandelion Wine and Stephen King's The Body: dark and unforgettable coming-of-age stories." -Shelf Awareness 

"If you like darkness poured out like molasses from a bucket,you'll love this novel."-BookPage

"Davidson makes beautifully clear how the ghoulish tales we feared when we were young can't compare to the blood-bathed teeth we eventually encounter as adults. The Saturday Night Ghost Club is a tale for those who like their Stranger Things spiked, Stand by Me charred, and who are battered enough yet still brave enough to revisit that moment when made-up horrors finally come to root in a world beyond invention. A novel that both stabs and breaks your heart." -Mark Z. Danielewski, bestselling author of House of Leaves

"The Saturday Night Ghost Club is not only creepy and chills-down-your-spine fun, it's also incredibly poignant and heartwarming. This is a tender coming-of-age story that isn't afraid to face the darkness in the world or meditate on the power of memory and the mysteries of the human brain. Craig Davidson is such a nimble storyteller and his latest novel is proof of his remarkable gift."-Edan Lepucki, New York Times bestselling author of California and Woman No. 17

"A moving, delightful, thrillingly unexpected coming-of-age story about the irresistible collision of childhood's dark wonders and adulthood's haunting mysteries." -Elan Mastai, author of All Our Wrong Todays

"A delightfully creepy tale of misfits and misadventures, The Saturday Night Ghost Club perfectly captures the ache and wonder of growing up. In this trim, accomplished novel, Craig Davidson sheds brilliant light on the ways that scary stories can not only make us shudder, but can also lead us down unexpected paths and foster our most meaningful connections." -Matthew Sullivan, author of Midnight at the Bright Ideas Bookstore

"A well-crafted, whimsical coming-of-age tale…Davidson creates a quirky landscape and colorful characters, resulting in a novel that will entertain readers while providing a nice dose of nostalgia."—Publishers Weekly

"A lovely book that proves how a good storyteller requires only a big heart to resonate with readers. The Saturday Night Ghost Club has a lot of heart, and it carries these characters through every tender page." -Locus

"Through the intensity of his characters' experiences, Davidson reconnects us to our own memories of growing up."—Kirkus Reviews