A Small Town in Germany: A Novel (Paperback)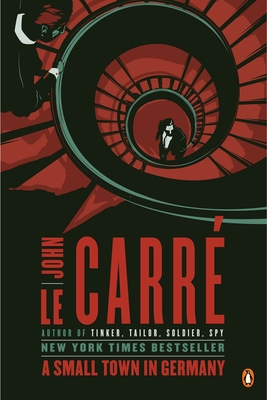 Description
---
From the New York Times bestselling author of A Legacy of Spies. 
"Haven't you realized that only appearances matter?"
The British Embassy in Bonn is up in arms. Her Majesty's financially troubled government is seeking admission to Europe's Common Market just as anti-British factions are rising to power in Germany. Rioters are demanding reunification, and the last thing the Crown can afford is a scandal. Then Leo Harting—an embassy nobody—goes missing with a case full of confidential files. London sends Alan Turner to control the damage, but he soon realizes that neither side really wants Leo found—alive.
Set against the threat of a German-Soviet alliance, John le Carré's A Small Town in Germany is a superb chronicle of Cold War paranoia and political compromise.

With an introduction by the author.
About the Author
---
John le Carré was born in 1931. For six decades, he wrote novels that came to define our age. The son of a con man, he spent his childhood between boarding school and the London underworld. At sixteen he found refuge at the university of Bern, then later at Oxford. A spell of teaching at Eton led him to a short career in British Intelligence (MI5&6). He published his debut novel, Call for the Dead, in 1961 while still a secret servant. His third novel, The Spy Who Came in from the Cold, secured him a worldwide reputation, which was consolidated by the acclaim for his trilogy Tinker Tailor Soldier Spy, The Honourable Schoolboy, and Smiley's People. At the end of the Cold War, le Carré widened his scope to explore an international landscape including the arms trade and the War on Terror. His memoir, The Pigeon Tunnel, was published in 2016 and the last George Smiley novel, A Legacy of Spies, appeared in 2017. He died on December 12, 2020.
Praise For…
---
"Exciting, compulsively readable, and brilliantly plotted."—The New York Times

"Brilliant, unforgettable…a masterpiece."—New Statesman (UK)