Anna Karenina: (Penguin Classics Deluxe Edition) (Paperback)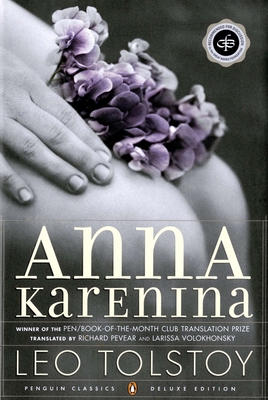 Description
---
The must-have Pevear and Volokhonsky translation of one of the greatest Russian novels ever written

Described by William Faulkner as the best novel ever written and by Fyodor Dostoevsky as "flawless," Anna Karenina tells of the doomed love affair between the sensuous and rebellious Anna and the dashing officer, Count Vronsky. Tragedy unfolds as Anna rejects her passionless marriage and thereby exposes herself to the hypocrisies of society. Set against a vast and richly textured canvas of nineteenth-century Russia, the novel's seven major characters create a dynamic imbalance, playing out the contrasts of city and country life and all the variations on love and family happiness.

While previous versions have softened the robust and sometimes shocking qualities of Tolstoy's writing, Pevear and Volokhonsky have produced a translation true to his powerful voice. This authoritative edition, which received the PEN Translation Prize and was an Oprah Book Club™ selection, also includes an illuminating introduction and explanatory notes. Beautiful, vigorous, and eminently readable, this Anna Karenina will be the definitive text for fans of the film and generations to come. This Penguin Classics Deluxe Edition also features French flaps and deckle-edged paper.

For more than seventy years, Penguin has been the leading publisher of classic literature in the English-speaking world. With more than 1,700 titles, Penguin Classics represents a global bookshelf of the best works throughout history and across genres and disciplines. Readers trust the series to provide authoritative texts enhanced by introductions and notes by distinguished scholars and contemporary authors, as well as up-to-date translations by award-winning translators.
About the Author
---
Count Leo Tolstoy was born on September 9, 1828, in Yasnaya Polyana, Russia. Orphaned at nine, he was brought up by an elderly aunt and educated by French tutors until he matriculated at Kazan University in 1844. In 1847, he gave up his studies and, after several aimless years, volunteered for military duty in the army, serving as a junior officer in the Crimean War before retiring in 1857. In 1862, Tolstoy married Sophie Behrs, a marriage that was to become, for him, bitterly unhappy. His diary, started in 1847, was used for self-study and self-criticism; it served as the source from which he drew much of the material that appeared not only in his great novels War and Peace (1869) and Anna Karenina (1877), but also in his shorter works. Seeking religious justification for his life, Tolstoy evolved a new Christianity based upon his own interpretation of the Gospels. Yasnaya Polyana became a mecca for his many converts At the age of eighty-two, while away from home, the writer suffered a break down in his health in Astapovo, Riazan, and he died there on November 20, 1910.

Richard Pevear and Larissa Volokhonsky have produced acclaimed translations of Tolstoy, Dostoevsky, Gogol, and Bulgakov. Their translation of The Brothers Karamazov won the 1991 PEN/Book-of-the-Month Club Translation Prize. They are married and live in Paris, France.
Praise For…
---
"I finally finished Anna Karenina recently, in a translation by Richard Pevear and Larissa Volokhonsky. I think I can say without controversy that it's a great book." —Sally Rooney, The New York Times Book Review