The Sinister Booksellers of Bath (Hardcover)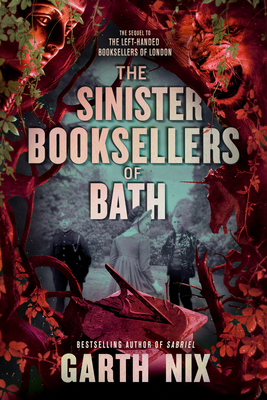 $19.99

Available from our distributor; usually Ships in 1-5 Days
Description
---
Return to the enchanting world of The Left-Handed Booksellers of London in this sequel by Garth Nix, bestselling master of teen fantasy, where once again a team of booksellers must fight to keep dangerous magic under cover before the stuff of legends destroys our world. New York Times bestseller!
There is often trouble of a mythical sort in Bath. The booksellers who police the Old World keep a careful watch there, particularly on the entity that inhabits the ancient hot spring.
This time trouble comes from the discovery of a sorcerous map, leading left-handed bookseller Merlin into great danger, requiring a desperate rescue attempt from his sister, the right-handed bookseller Vivien, and art student Susan Arkshaw, who is still struggling to deal with her own recently discovered magical heritage.
The map takes the trio to a place separated from this world, maintained by deadly sorcery and guarded by monstrous living statues. But this is only the beginning. To unravel the secrets of a murderous Ancient Sovereign, the booksellers must investigate centuries of disappearances and deaths. If they do not stop her, she will soon kill again. And this time, her target is not an ordinary mortal.
About the Author
---
Garth Nix is a New York Times bestselling novelist and has been a full-time writer since 2001 but has also worked as a literary agent, marketing consultant, book editor, book publicist, book sales representative, bookseller, and part-time soldier in the Australian Army Reserve.
Garth's many books include the Old Kingdom fantasy series, beginning with Sabriel and continuing to Goldenhand; the sci-fi novels Shade's Children and A Confusion of Princes; the Regency romance with magic Newt's Emerald; and novels for children including The Ragwitch, the Seventh Tower series, the Keys to the Kingdom series, and Frogkisser!, which is now in development as a feature film with Fox Animation/Blue Sky Studios. Garth has written numerous short stories, some of which are collected in Across the Wall and To Hold the Bridge. He has also cowritten several children's book series with Sean Williams, including TroubleTwisters and Have Sword, Will Travel.
More than six million copies of his books have been sold around the world and his work has been translated into forty-two languages.
Praise For…
---
"This satisfying sequel keeps up the same breathless pace as The Left-Handed Booksellers of London. It's a treat to rejoin Susan and company on their ever-expanding adventures." — Booklist
PRAISE FOR BOOK 1: THE LEFT-HANDED BOOKSELLERS OF LONDON: "The worldbuilding is exquisite—the broad, immersive world and the specific rules for types of booksellers maintain a sense of discovery, and Susan and Merlin, the heroic protagonists, have vibrant, entertaining personalities (and a realistic romantic storyline). Readers will beg for more adventures in this London."  — Kirkus Reviews
"[An] immersive fantasy. Nix builds meta mentions [and] marries fey elements and spectacular bookshops with booksellers who wield mystical artifacts, cold steel, and magic. Unflappable Susan and wonderfully costumed, magically gender-fluid Merlin make for a fantasy that genre fans, teen or adult, won't want to miss."- — Publishers Weekly
"Nix wastes no time getting to the action, throwing readers headlong into the splendid new world alongside the bewildered but determined heroine. It's an incredibly diverse, detailed, and . . . Nix puts in enough twists to make it his own. A remarkable romp through a fantastical new world."  — Booklist
"Nix's latest offers a thrill-packed fantasy adventure. Strong world building is clearly informed by a deep knowledge of local mythologies, and the allusions, literary shoutouts, and pseudo-historical references become a game for the clued-in reader. Overall, this is a fresh, engaging fantasy with an old-school, nostalgic vibe."  — Bulletin of the Center for Children's Books
"As in his high-fantasy novels, Nix puts a strong, capable, and resourceful young woman front and center within a diverse cast [with] tropes from British spy stories. A thrilling, suspenseful romp with lots of humor and romantic tension; we haven't seen the last of Susan and Merlin."  — Horn Book Magazine
"A warm, whimsical delight—The Left-Handed Booksellers of London is a witty, clever adventure in an exquisitely detailed world you will love escaping into." — Veronica Roth, New York Times bestselling author of DIVERGENT
 "A compelling magical romp, both familiar and inventive. These bookshops would be worth visiting at any time—but they feel like a special treat while I can't set foot in a real one."  — Molly Templeton, Tor.com
"This was my first time reading Garth Nix and it was great, wacky and fun. It throws gender norms out the window and gives you a quirky, adventure-filled good time. The characters were great and the storyline was fantastic. I loved all the books named throughout the book. It's a cool book list. Very funny, and very good."  — Kim Brock, Joseph-Beth Booksellers (Cincinnati, OH)