The Lake House (Hardcover)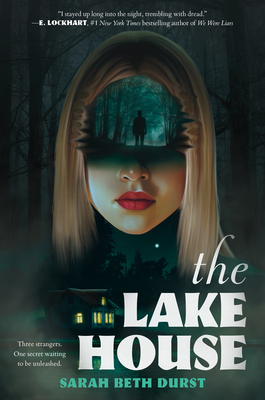 $19.99

Available from our distributor; usually Ships in 1-5 Days
Description
---
Yellowjackets meets One of Us Is Lying in this masterful survival thriller from award-winning author Sarah Beth Durst.
"Formidably scary, Durst's survival/horror story is the stuff of late-night campfire legends. With three deftly drawn, powerful girls at the center, reading felt like I had found a crew of clever, loyal best friends, even as I stayed up long into the night, trembling with dread." —E. Lockhart, #1 New York Times bestselling author of We Were Liars
Claire's grown up triple-checking locks. Counting her steps. Second-guessing every decision. It's just how she's wired—her worst-case scenarios never actually come true.
Until she arrives at an off-the-grid summer camp to find a blackened, burned husk instead of a lodge—and no survivors, except her and two other late arrivals: Reyva and Mariana.
When the three girls find a dead body in the woods, they realize none of this is an accident. Someone, something, is hunting them. Something that hides in the shadows.
Something that refuses to let them leave.
About the Author
---
Sarah Beth Durst is the author of fantasy novels for children, teens, and adults. Winner of the Mythopoeic Award and an ALA Alex Award and thrice nominated for the Andre Norton Award for YA Science Fiction and Fantasy, she lives in New York. sarahbethdurst.com, Twitter: @sarahbethdurst.
Praise For…
---
"Formidably scary, Durst's survival/horror story is the stuff of late-night campfire legends. With three deftly drawn, powerful girls at the center, reading felt like I had found a crew of clever, loyal best friends, even as I stayed up long into the night, trembling with dread." - — E. Lockhart, #1 New York Times bestselling author of We Were Liars
"Nail-biting and atmospheric, The Lake House explores how secrets keep people apart—and the power of female friendships. Reyva, Mariana, and especially Claire are characters you can't stop rooting for, even as every obstacle they surmount is replaced by a bigger one. I read it every time I had a spare second, and a lot of times when I didn't." — April Henry, New York Times bestselling author
Fans of the televisions shows The Wilds or Yellowjackets will relish this thriller about friendship and the sheer power of teenage girls to overcome any odds.   — Bulletin of the Center for Children's Books
Praise for Sarah Beth Durst's Queen of Sorrow Trilogy: "Mythopoeic Award-winner Durst launches her Queens of Renthia series with a stellar and imaginative tale."  — Publishers Weekly (starred review)
"Durst presents a thrilling beginning to a sweeping series about searching for sovereignty and truth in order to save one's land."  — School Library Journal (starred review)
"The threats are chilling, and the landscape haunting, even in quiet, safe moments. In Daleina, readers will find a strong young woman whose intense self-doubt and unconventional approach to dealing with the spirits makes her a character well worth cheering. Known for YA novels like The Girl Who Could Not Dream, Durst dives into adult fantasy with thrilling results."  — Shelf Awareness, starred review
"The thrilling and sometimes melancholy finale of Durst's Queens of Renthia trilogy... The well-crafted denouement wraps up the entire adventure perfectly."  — Publishers Weekly (starred review)
"The Queens of Renthia series (which began with The Queen of Blood) concludes with an earth-shattering conflict between three determined queens, two countries, and a multitude of bloodthirsty spirits."  — Booklist (starred review)
"Fans will be eager to reenter Renthia and discover another queen."  — Booklist (starred review)
"In Durst's excellent second Queens of Renthia fantasy, the world of Renthia remains a dangerous place where the spirits of the elements want to kill humans, and only powerful queens...can control them.... Durst throws a lot of balls in the air but manages to juggle them deftly.... New readers will benefit from starting with the first book, but they'll want to get to this one as soon as they can."  — Publishers Weekly (starred review)
Praise for Catalyst: "Durst masterfully interjects humor into a suspense-filled plot that twists and thickens as the group reaches its destination. A surprising but satisfying resolution brings this charming fantasy to a close." — Booklist (starred review)
Praise for Race the Sands: "A thrill-filled story about monster racing with impressive thematic depth and a refreshing spectrum of female characters. [...] Durst consistently defies expectations in both plot and characterization while exploring sophisticated themes of found family, integrity, and morality. This excellent epic fantasy will appeal to adult fans of YA authors Tamora Pierce and Megan Whalen Turner."  — Publishers Weekly (starred review)
Praise for Spark: "Durst's fantasy is fascinating and powerful... The underlying theme of the book reminds readers that it only takes one spark from one child to change the world." ? — Booklist (starred review)
Praise for The Stone Girl's Story: "Mayka's kindness and steady loyalty, her friends' animated and varied personalities, and some downright brilliant problem-solving will carve themselves into readers' memories. Thoughtful, colorful, strengthening, and understatedly tender."  — Kirkus Reviews (starred review)
"Featuring a richly diverse cast, vividly imagined worldbuilding, and passionate storytelling, Durst's middle grade fantasy is a feast for the senses."  — Publishers Weekly (starred review)
Praise for The Girl Who Could Not Dream: ?"Readers will not want to stop reading this quirky, fast-paced adventure until reaching its satisfactory, heartwarming conclusion... Funny, warm, and highly imaginative."  — Kirkus Reviews (starred review)
"This book is self-aware, playing with common fantasy tropes, thus reinvigorating the familiar underlying story of a loner having to learn to overcome her fears to save the ones she loves... A fun, fast read with broad appeal." — School Library Journal (starred review)
Praise for Vessel: "Durst offers a meditation on leadership and power and a vivid story set outside the typical Western European fantasy milieu. From the gripping first line, a fast-paced, thought-provoking and stirring story of sacrifice."  — Kirkus Reviews (starred review)
"Readers will feel the desert heat, the earth-numbing droughts, the vicious sandstorms and resulting sandwolves, and the bizarre sensations of a goddess living within the body of its human vessel. Brilliantly riveting."  — Booklist (starred review)
"Vessel is a fast-paced, thrilling adventure set in a hostile world filled with complex clan feuds and strong traditions.... The highly descriptive writing forms intense visuals for the reader so that characters, animals, and locations feel rich and realistic."  — Voice of Youth Advocates (VOYA) (starred review)
"Truly tense. Fans of the genre will find plenty of familiar beats and sequences, with some twists along the way to keep them guessing." — Booklist