Unbought and Unbossed (Paperback)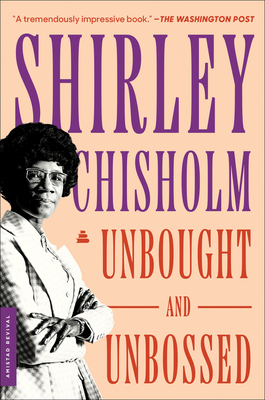 Staff Reviews
---
"What real leadership looks like. Standing up for what's right, speaking for those without a voice, refusing to be put in your place, rejecting conventional wisdom, calling out dysfunction in systems intended to serve, refusing to be silenced, demanding fairness, remaining authentic within political environments that reward subterfuge, back-room dealing, power-hoarding and the betrayal of people and principles. Unbought and Unbossed is an extraordinary testimony, the tale of Shirley Chisholm's actual and political upbringing, and an astonishing account of what she discovered when she arrived in congress as the first Black woman member. Published more than 50 years ago, it reads like a political thriller written yesterday. It is full of uncommon courage and cannot fail to inspire anyone seeking a model of genuine leadership and advocacy. I'm so glad I read this book!"
— From
Davi
Description
---
"A tremendously impressive book."—Washington Post
"Her motto and title of her autobiography—Unbought and Unbossed—illustrates her outspoken advocacy for women and minorities during her seven terms in the U.S. House of Representatives."—National Women's History Museum
In this classic work—a blend of memoir, social criticism, and political analysis that remains relevant today—the first Black Congresswoman to serve in American history, New York's dynamic representative Shirley Chisholm, traces her extensive political struggle and examines the problems that have long plagued the American system of government.
"I want to be remembered as a woman . . . who dared to be a catalyst of change." Political pioneer Shirley Chisholm—activist, member of the House of Representatives, and former presidential candidate—was a woman who consistently broke barriers and inspired generations of American women, and especially women of color. Unbought and Unbossed is her story, told in her own words—a thoughtful and informed look at her rise from the streets of Brooklyn to the halls of Congress. Chisholm speaks out on her life in politics while illuminating the events, personalities, and issues of her time, including the schism in the Democratic party in the 1960s and '70s—all of which speak to us today.
In this frank assessment, "Fighting Shirley" recalls how she took on an entrenched system, gave a public voice to millions, and embarked on a trailblazing bid to be the first woman and first African American President of the United States. By daring to be herself, Shirley Chisholm shows how one person forever changed the status quo.
About the Author
---
Shirley Chisholm was the first black woman elected to the U.S. Congress in 1969 and was re-elected six times until she retired in 1983. While in office, she spoke out for civil rights and women's rights, advocated for the poor, and opposed the Vietnam War. In 1972, she was the first African American person to run for the Democratic Nomination for President of the United States. In 2015, she was posthumously awarded the Presidential Medal of Freedom by President Barack Obama. Chisholm wrote the autobiographical works Unbought and Unbossed (1970) and The Good Fight (1973).