A Farewell to Gabo and Mercedes: A Son's Memoir of Gabriel García Márquez and Mercedes Barcha (Hardcover)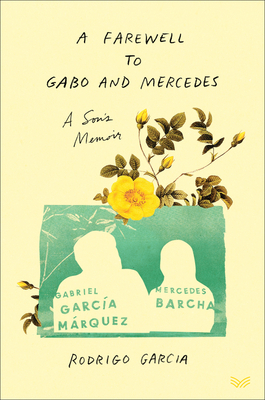 $23.99

Available from our distributor; usually Ships in 1-5 Days
Description
---
"This is a beautiful farewell to two extraordinary people. It enthralled and moved me, and it will move and enthrall anyone who has ever entered the glorious literary world of Gabriel García Márquez."—Salman Rushdie
"In A Farewell to Gabo and Mercedes Rodrigo Garcia finds the words that cannot be said, the moments that signal all that is possible to know about the passage from life to death, from what love brings and the loss it leaves. With details as rich as any giant biography, you will find yourself grieving as you read, grateful for the profound art that remains a part of our cultural heritage."—Walter Mosley, New York Times bestselling author of Down the River Unto the Sea
"An intensely personal reflection on [Garcia's] father's legacy and his family bonds, tender in its treatment and stirring in its brevity."—Booklist (starred review)
The son of one of the greatest writers of our time—Nobel Prize winner and internationally bestselling icon Gabriel García Márquez—remembers his beloved father and mother in this tender memoir about love and loss.
In March 2014, Gabriel García Márquez, one of the most acclaimed writers of the twentieth century, came down with a cold. The woman who had been beside him for more than fifty years, his wife Mercedes Barcha, was not hopeful; her husband, affectionately known as "Gabo," was then nearly 87 and battling dementia. I don't think we'll get out of this one, she told their son Rodrigo. 
Hearing his mother's words, Rodrigo wondered, "Is this how the end begins?" To make sense of events as they unfolded, he began to write the story of García Márquez's final days. The result is this intimate and honest account that not only contemplates his father's mortality but reveals his remarkable humanity.
Both an illuminating memoir and a heartbreaking work of reportage, A Farewell to Gabo and Mercedes transforms this towering genius from literary creator to protagonist, and paints a rich and revelatory portrait of a family coping with loss. At its center is a man at his most vulnerable, whose wry humor shines even as his lucidity wanes. Gabo savors affection and attention from those in his orbit, but wrestles with what he will lose—and what is already lost. Throughout his final journey is the charismatic Mercedes, his constant companion and the creative muse who was one of the foremost influences on Gabo's life and his art.
Bittersweet and insightful, surprising and powerful, A Farewell to Gabo and Mercedes celebrates the formidable legacy of Rodrigo's parents, offering an unprecedented look at the private family life of a literary giant. It is at once a gift to Gabriel García Márquez's readers worldwide, and a grand tribute from a writer who knew him well. 
"You read this short memoir with a feeling of deep gratitude. Yes, it is a moving homage by a son to his extraordinary parents, but also much more: it is a revelation of the hidden corners of a fascinating life. A Farewell to Gabo and Mercedes is generous, unsentimental and wise." —Juan Gabriel Vásquez, author of The Sound of Things Falling
"A warm homage filled with both fond and painful memories." —Kirkus  
"Garcia's limpid prose gazes calmly at death, registering pain but not being overcome by it . . . the result is a moving eulogy that will captivate fans of the literary lion." — Publishers Weekly
About the Author
---
Rodrigo Garcia was born in Colombia, grew up in Mexico City, and now lives in Los Angeles with his family. He studied history at Harvard University before becoming a screenwriter and director. His theatrical films include Nine Lives, Albert Nobbs, and Last Days in the Desert, and he has directed episodes of Six Feet Under, The Sopranos, and the pilot of Big Love, for which he received an Emmy nomination. He was a writer, executive producer, and series showrunner for HBO's In Treatment, and directed several of the series' episodes. 
Praise For…
---
"Garcia's limpid prose gazes calmly at death, registering pain but not being overcome by it... the result is a moving eulogy that will captivate fans of the literary lion." — Publishers Weekly
"...An intensely personal reflection on [Garcia's] father's legacy and his family bonds, tender in its treatment and stirring in its brevity." — Booklist (starred review)
"In A FAREWELL TO GABO AND MERCEDES: A SON'S MEMOIR OF GABRIEL GARCÍA MÁRQUEZ AND MERCEDES BARCHA Rodrigo Garcia finds the words that cannot be said, the moments that signal all that is possible to know about the passage from life to death, from what love brings and the loss it leaves. With details as rich as any giant biography, you will find yourself grieving as you read, grateful for the profound art that remains a part of our cultural heritage."                                 
— Walter Mosley, New York Times bestselling author of Down the River unto the Sea
"A warm homage filled with both fond and painful memories." — Kirkus Reviews
"You read this short memoir with a feeling of deep gratitude. Yes, it is a moving homage by a son to his extraordinary parents, but also much more: it is a revelation of the hidden corners of a fascinating life. A Farewell to Gabo and Mercedes is generous, unsentimental and wise."
— Juan Gabriel Vásquez, author of The Sound of Things Falling
"This is a beautiful farewell to two extraordinary people. It enthralled and moved me, and it will move and enthrall anyone who has ever entered the glorious literary world of Gabriel García Márquez." — Salman Rushdie
 "An intimate record of the autumn of Gabriel García Márquez. Memoirs by 'the children of…' tend to be tightly personal, as if a cadre of fans, journalists, assistants, drivers and domestic workers did not exist. This slender book, by the writer's son, has the distance and assurance natural to a man who became a distinguished filmmaker in NorteAmerica, a world away from his father. There are no apologies or obfuscations. It's a beautiful book: loyal, complicated, loving. And Rodrigo Garcia manages, however unconsciously, to give his private parent the final movement of his narrative and with this one stroke, despite the weight of a world's worth of admirers, to equalize his beloved parents' lives."   — Mona Simpson
"[T]his slender, 176-page memoir functions more as a moving meditation on the end of life and its aftermath, both physical and psychological. . . . García Márquez's story now has an end. It is tender and poignant and fitting."
— Los Angeles Times
"García's notes, acutely observational, are simultaneously infused with love, respect and the pain of loss."
— BookPage (starred review)
"Mr. Garcia's Farewell moves and touches when it tiptoes gently from public into private life to show us the familiar closing of this unique partnership."
— Wall Street Journal
"An intimate and surprisingly relatable chronicle of grief and acceptance, [that] also offers a glimpse into one of the most famous literary figures of all time." — Washington Post
"A poignant memoir."
— New York Times
"[An] intimate, endearing tribute...García's notes, acutely observational, are simultaneously infused with love, respect and the pain of loss." — BookPage (starred review)
"[Garcia] breaches the walls that surround his father's genius, bringing us into the circle of the three people who knew García Márquez best. His tone is intimate, confidential, tender."
— Oprah.com
"An award-winning director and screenwriter, García brings both his gifts as a writer and his filmmaker's eye to the story of his parents' lives and deaths."
— The Chicago Review of Books
"[A] lovingly irreverent memoir." — Air Mail