Stacey Abrams and the Fight to Vote (Hardcover)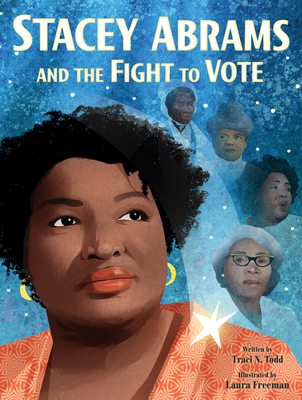 Description
---
"A brilliant introduction to a powerful Black female politician and voting rights activist. Todd and Freeman bring this to life in their creative biography of Georgia-based politician Abrams." —Kirkus Reviews (starred reviews)
"Freeman's airbrush-style digital art leans into portraiture while visually bridging the astral divide, evoking yearning, frustration, and sisterly pride in their ongoing mission of purpose." —Publishers Weekly
Stacey Abrams, politician and Nobel peace prize nominee, is brought to life in this poetic picture book biography that follows Abrams's fight for voters' rights. Narrated by Sojourner Truth, Ida B. Wells-Barnett, Septima Clark, and Fannie Lou Hamer, this powerful story tells how Abrams's work was inspired by those luminaries before her.
"Sometimes she would light the way. Sometimes her way would be lit by others…"
Stacey Abrams was always destined for big things, because she always imagined more. Now she protects the least powerful, works toward making voting fair and easy, and demands better for Georgia and every other state in this nation. Stacey Abrams's determination, perseverance, and courage will inspire younger generations to make meaningful change in the world.
Traci Todd's lyrical text is coupled with stunning artwork from Laura Freeman, Coretta Scott King Honoree for Hidden Figures. Use this book to encourage conversation at home and the classroom about Black women and voting. This book is perfect for Black History Month and to be shared alongside such powerful titles as Kamala Harris: Rooted In Justice by Nikki Grimes and I Dissent by Debbie Levy.
About the Author
---
Traci N. Todd is a children's book editor and writer whose work centers on Black culture and social justice. She is the author of Nina: A Story of Nina Simone, illustrated by Christian Robinson, and is a proud native Chicagoan, currently living in Jackson Heights, Queens.
Laura Freeman received her BFA from the School of Visual Arts in New York City and began her career illustrating for various editorial clients. Laura has illustrated many fine children's books over the years, including Fancy Party Gowns: The Story of Fashion Designer Ann Cole Lowe, written by Deborah Blumenthal, and the Coretta Scott King Honor Book Hidden Figures: The True Story of Four Black Women and the Space Race, by Margot Lee Shetterly. Laura now lives in Atlanta, Georgia, with her husband and their two children. Find out more about Laura at www.lfreemanart.com.
Praise For…
---
"A brilliant introduction to a powerful Black female politician and voting rights activist. Todd and Freeman bring this to life in their creative biography of Georgia-based politician Abrams. Voting rights champions across two centuries—Sojourner Truth, Ida B. Wells, Septima Poinsette Clark, and Fannie Lou Hamer—speak to one another about Abrams as they reflect on the barriers that national and state governments have systematically erected to prevent specific populations from voting." — Kirkus Reviews (starred review)
"Freeman's airbrush-style digital art leans into portraiture while visually bridging the astral divide, evoking yearning, frustration, and sisterly pride in their ongoing mission of purpose."  — Publishers Weekly