Bombshell: A Hell's Belles Novel (Hardcover)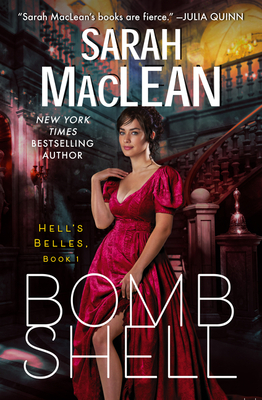 Description
---
New York Times bestselling author Sarah MacLean returns with a blazingly sexy, unapologetically feminist new series, Hell's Belles, beginning with a bold, bombshell of a heroine, able to dispose of a scoundrel—or seduce one—in a single night.

After years of living as London's brightest scandal, Lady Sesily Talbot has embraced the reputation and the freedom that comes with the title. No one looks twice when she lures a gentleman into the dark gardens beyond a Mayfair ballroom…and no one realizes those trysts are not what they seem.
No one, that is, but Caleb Calhoun, who has spent years trying not to notice his best friend's beautiful, brash, brilliant sister. If you ask him, he's been a saint about it, considering the way she looks at him…and the way she talks to him…and the way she'd felt in his arms during their one ill-advised kiss.
Except someone has to keep Sesily from tumbling into trouble during her dangerous late-night escapades, and maybe close proximity is exactly what Caleb needs to get this infuriating, outrageous woman out of his system. But now Caleb is the one in trouble, because he's fast realizing that Sesily isn't for forgetting…she's forever. And forever isn't something he can risk.
About the Author
---
A life-long romance reader, Sarah MacLean wrote her first romance novel on a dare, and never looked back. She is the New York Times and USA Today bestselling author of romances translated into more than twenty languages, a romance columnist, and the co-host of the weekly romance novel podcast, Fated Mates. A graduate of Smith College and Harvard University, she lives in New York City.
Praise For…
---
"Sarah MacLean's books are fierce." — Julia Quinn, #1 New York Times bestselling author of the Bridgerton series
"When a new Sarah MacLean novel comes out, I drop everything to read." — Emily Henry, #1 New York Times bestselling author of Beach Read
"I recommend anything by Sarah MacLean." — Lisa Kleypas, New York Times bestselling author
"Smart, sexy, action-packed, propulsive escapism at it's absolute finest. We are lucky to be living and breathing in the Sarah MacLean era." — Christina Lauren, New York Times and #1 international bestselling authors of The Unhoneymooners
"Sarah MacLean came to slay, not play with Bombshell! In this first installment of her Hell's Belles series, she delivers a stormy, swoony love story, yes, but also a cadre of powerful women who take no sh*t and give as good as they get. Thoroughly modern in its sensibilities and perspective on what women are capable of and still perfectly historical. I'll never get used to how talented this woman truly is." — Kennedy Ryan, USA Today bestselling author
"It's not summer if you're not getting lost in the lush, sinful world of a Sarah MacLean novel… MacLean delivers a knockout one-two punch of blazing-hot romance and a deliriously feminist girl gang." — Entertainment Weekly
"MacLean is a master at weaving passion and vulnerability equally in her characters… when it comes to historical romance, she's one of the best." — Vulture
"Attention, Bridgerton fans! Bombshell by Sarah MacLean is the first installment in a feminist romance series about British aristocrat Lady Sesily Talbot, a fiercely independent woman who's not afraid to go after what—and who— she wants." — Real Simple
"Bestseller MacLean (Daring and the Duke) launches her Hell's Belles series with a sizzling, adventurous Victorian romance...This promises good things to come." — Publishers Weekly
"…A celebration of finding joy through living and loving with truth and authenticity…Another stunner from a Romancelandia favorite." — Kirkus Reviews (starred review)
"With the splendidly conceived launch to her new Hell's Belles series, RITA award-winning MacLean aptly demonstrates that her literary magic never loses its allure by gifting readers with both an extraordinarily memorable cast of characters and a fiercely feminist storyline powered by ample measures of intense sensuality and sharp wit." — Booklist
"MacLean ("Bareknuckle Bastards" series) kicks off a planned series with this feminist historical romance that's full of witty dialogue and plenty of steamy scenes... MacLean's dedicated fan base will be eagerly awaiting this novel, but it will also appeal to other romance readers who are unfamiliar with her body of work. Highly recommended for general purchase." — Library Journal (starred review)