Cygnet: A Novel (Paperback)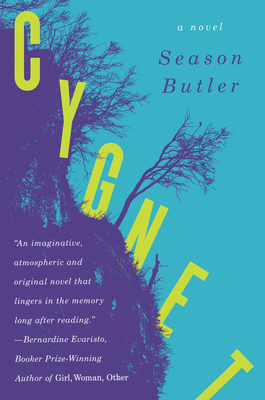 Staff Reviews
---
This short, creative, unsettling novel follows an unnamed teenager narrator who is stuck on an island off the New Hampshire coast in a separatist community of retirees (self-named The Wrinklies) who begrudgingly let her stay after her grandmother dies and her parents cannot be reached. Season Butler writes with clarity, wit, and rich description. Her imagination is on clear display and produced an immersive, memorable read. The book is quiet and character-driven, exploring generational distrust & misunderstanding, the end of the world, and a person's worth.
— Holly
Description
---
Winner of the Writers' Guild Award for Best First Novel
An utterly original coming-of-age tale, marked by wrenching humor and staggering charisma, about a young woman resisting the savagery of adulthood in a community of the elderly rejecting the promise of youth.
"Season Butler has written an imaginative, atmospheric and original novel that lingers in the memory long after reading. She is a bright new voice in literature."  —Bernardine Evaristo, Booker Prize-winning author of Girl, Woman, Other
"It's too hot for most of the clothes I packed to come here, when I thought this would only be for a week or two. My mother kissed me with those purple-brown lips of hers and said, we'll be back, hold tight."
The seventeen-year-old Kid doesn't know where her parents are. They left her with her grandmother Lolly, promising to return soon. That was months ago. Now Lolly is dead and the Kid is alone, stranded ten miles off the coast of New Hampshire on tiny Swan Island. Unable to reach her parents and with no other relatives to turn to, she works for a neighbor, airbrushing the past by digitally retouching family photos and movies to earn enough money to survive.
Surrounded by the vast ocean, the Kid's temporary home is no ordinary vacation retreat. The island is populated by an idiosyncratic group of the elderly who call themselves Wrinklies. They have left behind the youth-obsessed mainland—"the Bad Place"—to create their own alternative community, one where only the elderly are welcome. The adolescent's presence on their island oasis unnerves the Wrinklies, turning some downright hostile. They don't care if she has nowhere to go;they just want her gone. She is a reminder of all they've left behind and are determined to forget.
But the Kid isn't the only problem threatening the insular community. Swan Island is eroding into the rising sea, threatening the Wrinklies' very existence there. The Kid's own house edges closer to the seaside cliffs each day. To find a way forward, she must come to terms with the realities of her life, the inevitability of loss, and an unknown future that is hers alone to embrace.
Season Butler makes her literary debut with an ambitious work of bold imagination. Tough and tender, compassionate and ferocious, understated and provocative, Cygnet is a meditation on death and life, past and future, aging and youth, memory and forgetting, that explores what it means to find acceptance—of things gone and of those yet to come.
About the Author
---
Season Butler is a writer and artist born in Washington, DC. She currently splits her time between London and Berlin. Cygnet is her first novel.
Praise For…
---
"Cygnet is a beautiful book, a meander through the fluid anxiety of youth, an observation of fixed imperfections of age, and a longing search for compassion on the journey between."
— Uzodinma Iweala, author of Speak No Evil and Beasts of No Nation
"Teenage 'Kid' is abandoned by her parents on an island community of elderly citizens, who don't want her around. She scrambles to survive under adverse circumstances. You can't help but root for this resourceful but vulnerable girl, who yearns for her parents' return." — Minneapolis Star Tribune
"Terribly moving. A clear-sighted, poignant rumination on loneliness, love, the melancholy of age and of youth—and, in its quiet way, the end of the world." — China Miéville, author of Perdido Street Station
"A powerful, poignant, smart debut.... The prose style ranges widely from this (realistic) awkwardness [of a teenager] to inspired lyricism." — Shelf Awareness
"Not since Holden Caulfield have I been so captivated by a first-person voice as the one Season Butler creates in Cygnet... this sad, funny, highly original novel keeps us turning the pages." — Blake Morrison, author of And When Did You Last See Your Father?
"Season Butler has written an imaginative, atmospheric and original novel that lingers in the memory long after reading. She is a bright new voice in literature." — Bernardine Evaristo, author of Girl, Woman, Other
"An original novel with a memorable narrator." — Elle, UK
"Butler's writing is sensitive and sharp. . . . A unique debut from a promising writer." — Kirkus Reviews
"A potent debut." — Guardian, UK
"Butler has created an appealingly rich world with quirky, flawed characters and a dramatic landscape determined by the constant action of wind and water. Butler delivers a potent and finely calibrated novel." — Publishers Weekly
"The narrator['s] wise reflections on age, race, class and global warming belie her tender youth."  — New Internationalist, UK
"[A] beautifully off-kilter debut…. Through excellent writing, Butler has created a wonderfully bizarre… novel filled with quirky characters and a heroine to root for. Readers will want to keep their eyes on Butler." — Booklist
"As sixteen-year old environmental activist Greta Thunberg has shown us, teenagers are the ideal candidates for raising consciousness about our planetary plight. Kid's ardent voice powers Cygnet. Her expression of the loneliness, boredom and rage she feels at her circumstances is reminiscent of Holden Caulfield . . . the characters have real emotional depth . . . Cygnet is both very funny and convincingly tragic, its young narrator memorably charismatic and self-aware." — Literary Review, UK
"Season Butler is an extraordinary writer. In this wonderful novel the narrative voice is rhythmic and compelling, telling a coming of age story which resonates with our times. Like Colson Whitehead, her work is fearless in its inventiveness." — Julia Bell, author of Massive
"An uncanny meditation on mortality and intergenerational distrust." — Metro, UK
"[A] vivid, poetic debut." — Daily Mail, UK