The Pallbearers Club: A Novel (Hardcover)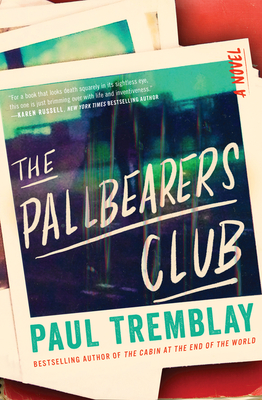 $27.99

Available from our distributor; usually Ships in 1-5 Days
Description
---
"Paul Tremblay delivers another mind-bending horror novel . . . The Pallbearers Club is a welcome casket of chills to shoulder." – Washington Post
A cleverly voiced psychological thriller from the nationally bestselling author of The Cabin at the End of the World and Survivor Song.
What if the coolest girl you've ever met decided to be your friend?
Art Barbara was so not cool. He was a seventeen-year-old high school loner in the late 1980s who listened to hair metal, had to wear a monstrous back-brace at night for his scoliosis, and started an extracurricular club for volunteer pallbearers at poorly attended funerals. But his new friend thought the Pallbearers Club was cool. And she brought along her Polaroid camera to take pictures of the corpses.
Okay, that part was a little weird.
So was her obsessive knowledge of a notorious bit of New England folklore that involved digging up the dead. And there were other strange things – terrifying things – that happened when she was around, usually at night. But she was his friend, so it was okay, right?
Decades later, Art tries to make sense of it all by writing The Pallbearers Club: A Memoir. But somehow this friend got her hands on the manuscript and, well, she has some issues with it. And now she's making cuts.
Seamlessly blurring the lines between fiction and memory, the supernatural and the mundane, The Pallbearers Club is an immersive, suspenseful portrait of an unusual and disconcerting relationship.
About the Author
---
Paul Tremblay has won the Bram Stoker, British Fantasy, and Massachusetts Book awards and is the author of Growing Things, The Cabin at the End of the World, Disappearance at Devil's Rock, A Head Full of Ghosts, and the crime novels The Little Sleep and No Sleep Till Wonderland. His essays and short fiction have appeared in the Los Angeles Times, Entertainment Weekly online, and numerous year's-best anthologies. He has a master's degree in mathematics and lives outside Boston with his family.
Praise For…
---
"Paul Tremblay delivers another mind-bending horror novel. . . . The Pallbearers Club is a welcome casket of chills to shoulder." — Washington Post
"Uncertainty is Tremblay's stock-in-trade. Over the last decade, he has grown from hot new thing to horror icon without compromising on his uniquely inexplicable nightmares."  — Esquire
"A jaunty, character-driven exploration of a complicated friendship, [The Pallbearers Club] is more emotional than [Tremblay's] previous novels, and more innovative. . . . [T]his delightfully morbid and surprisingly emotional horror novel demonstrates Tremblay's literary range." — New York Times
"[A] deliciously confusing thriller."  — Weekend Edition (NPR) on The Pallbearers Club 
"Melancholy and funny as well as dark and complex, this novel will be the dark hit of the summer. Unique in terms of style and format, The Pallbearers Club occupies a peculiar place between a thriller, a horror novel, and a narrative that will make you question everything." — Boston Globe
"Books can have teeth. A whole mouthful of them. The Pallbearers Club has a whole lifetime of them."  — Stephen Graham Jones, New York Times bestselling author of My Heart is a Chainsaw
"A new novel from Paul Tremblay is always cause for celebration. The Pallbearers Club has it all--growth and decay, metatextual playfulness and earnest terror, dark hilarity and deep melancholy. For a book that looks death squarely in its sightless eye this one is just brimming over with life and inventiveness. I loved floating and falling through time with Art Barbara and Mercy." — Karen Russell, New York Times bestselling author of Swamplandia! and Orange World
"One of the best, most intriguing horror novels I've read in many years, The Pallbearers Club is also Paul Tremblay's crowning achievement, sure to be embraced by literary fiction devotees and horror lovers with equal fervor. It's a high-wire act most writers would never attempt." 
— Christopher Golden, New York Times bestselling author of Road of Bones and Ararat
"The Pallbearers Club is a sinuous, mercurial novel that shifts under your very eyes like a trick of the light. This is Paul Tremblay's most dazzling book yet, and that's saying something. I was left breathless." — Catriona Ward, author of Last House on Needless Street and Sundial
"A stark evocation of a lonesome New England life. . . While Tremblay is a detailed and deft writer, this is his greatest embrace yet of the tools available in literature alone. And oh, what he's done with it." — Vol. 1 Brooklyn
"In his brilliant new novel, Tremblay takes on the well-mined small-town, coming-of-age horror trope, transforming it into something so original, it elevates the entire genre." — Booklist (starred review)
"It is clear from the start that this is not your average psychological thriller. Truly, it is difficult to pigeonhole this novel as one specific genre, as it encapsulates qualities from many distinctly different areas of writing. Blurring the lines between fiction and memory, supernatural and ordinary, Paul Tremblay's latest work is nothing short of enthralling." — Erie Reader
"The most beautiful and heartbreaking funeral I've been to in a long time, The Pallbearers Club is melancholy, funny, and very cruel, but you won't regret carrying this coffin." — Grady Hendrix, bestselling author of The Final Girl Support Group
"Creepy, funny and Gen X all the way. . . . A masterful psychological thriller." — NPR
"The Pallbearers Club is Tremblay at his most audacious best. It's such a sneaky mindblower! It'll burrow deep inside you, and by the end, you'll be wondering if the room you're sitting in, the people you're talking with, or even your own memory, are real. This book is horror's answer to Nabokov's Pale Fire." — Sarah Langan, author of Good Neighbors
"Tremblay ensnares the readers so well one doesn't dare stop reading." — Locus
"The Pallbearers Club constructs a maze of uncanny ambiguity and disquiet—a Nabokovian labyrinth that sustains its mystery past the point few writers but Paul Tremblay would risk." — Ramsey Campbell
"Any new book by Paul Tremblay makes me sit up straight. Part of the joy is not knowing what to expect from each new story." — Adam Nevill, author of The Ritual and No One Gets Out Alive
"The Pallbearers Club sits right at the intersection of the unreliable call and response of memory and truth. Replete with the trademark brilliant characterization, intricate switchback plotting and general weirdness you get with a Paul Tremblay novel, Art and Mercy's friendship—and bickering over what may or may not be a vampire story—will haunt you long after the last page." — A. G. Slatter, award-winning author of All the Murmuring Bones
"An extraordinary novel. This book is fun, warm, sad, and most of all, profoundly humane: it subverts horror tropes and real-life certainties in one go. I loved it and I need to shout it in the streets."  — Francesco Dimitri, author of The Book of Hidden Things and Never the Wind
"A uniquely devastating portrait of love, loss, family, and friendship that will equally enchant and terrify readers. Paul Tremblay reinvents the horror genre with this masterpiece of blurred fact and fiction—a story where we stare into the gaping, black maw of darkness and something quietly beckons us to look deeper." — Eric LaRocca, author of Things Have Gotten Worse Since We Last Spoke and Other Misfortunes
"This is horror at its most heartfelt, horror that confirms our fears and flaws, the insecurities that we carry with us from our formative years."  — Priya Sharma, the award-winning author of Ormeshadow
"Absolutely riveting. I haven't been able to put it down." — Stephen King on Survivor Song
"Survivor Song is a small horror story. A personal one. A fast and terrible one that is committed beautifully to the page. . . . It exists in a pandemic world where all choices are bad ones. Where things unravel faster than you can possibly believe. Where happy endings are transactional: they come with a cost. Because Survivor Song isn't a fairy tale. It's a horror story." — NPR
"For the past few years, Paul Tremblay has been setting the standard for modern horror. His genius is that he never forgets the core of a great horror novel resides first in its characters. In Survivor Song, he revitalizes the zombie novel by keeping the focus narrow and intimate: two women, in the space of a few hours, just trying to get across town. The result is heartfelt and terrifying, in a narrative that moves like a bullet train." — Nathan Ballingrud, author of North American Lake Monsters and Wounds
"Tremblay has earned worldwide acclaim because he is able to seamlessly combine reality with speculative elements, and his newest may be his most prescient yet. . . Gorgeously written about terrible things, the relatively short Survivor Song is a good choice for fans of pandemic epics . . . and novels that probe themes of friendship, family, and social commentary amidst chillingly realistic horror." — Booklist (starred review)