Bad Fat Black Girl: Notes from a Trap Feminist (Hardcover)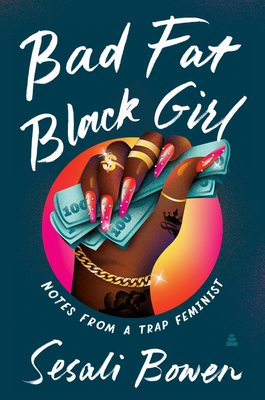 $24.99
Out of Stock - Not Available
Description
---
"Sesali Bowen is poised to give Black feminism the rejuvenation it needs. Her trendsetting writing and commentary reaches across experiences and beyond respectability. I and so many Black girls still figuring out who they are in this world will gain so much from whatever she has to say."—Charlene A. Carruthers, activist and author of Unapologetic: A Black, Queer and Feminist Mandate for Radical Movements
"Sesali perfectly vocalizes the inner dialogue, and daily mantras needed to be a Bad Bitch."—Gabourey Sidibe, actor, director, and author of This is Just My Face: Try Not To Stare
"A powerful call for a more inclusive and 'real' feminism."—Publishers Weekly (starred review)
"Bowen writes from an authentic space for Black women who are often left out of feminist conversations due to respectability politics, but who are just as deserving of the same voice and liberation."—Booklist (starred review)
From funny and fearless entertainment journalist Sesali Bowen, Bad Fat Black Girl combines rule-breaking feminist theory, witty and insightful personal memoir, and cutting cultural analysis for an unforgettable, genre-defining debut.
Growing up on the south side of Chicago, Sesali Bowen learned early on how to hustle, stay on her toes, and champion other Black women and femmes as she navigated Blackness, queerness, fatness, friendship, poverty, sex work, and self-love. 
Her love of trap music led her to the top of hip-hop journalism, profiling game-changing artists like Megan Thee Stallion, Lizzo, and Janelle Monae. But despite all the beauty, complexity, and general badassery she saw, Bowen found none of that nuance represented in mainstream feminism. Thus, she coined Trap Feminism, a contemporary framework that interrogates where feminism meets today's hip-hop.
Bad Fat Black Girl offers a new, inclusive feminism for the modern world. Weaving together searing personal essay and cultural commentary, Bowen interrogates sexism, fatphobia, and capitalism all within the context of race and hip-hop. In the process, she continues a Black feminist legacy of unmatched sheer determination and creative resilience.
Bad bitches: this one's for you.
About the Author
---
SESALI BOWEN is a writer who curates events, writes for film and television, and creates elevated pop culture correspondence. Bowen is the former senior entertainment editor at Nylon magazine and senior entertainment writer at Refinery29. Focusing on Black pop culture, she helped launch Unbothered, R29's sub brand for Black women. Her writing has appeared in the New York Times and Feministing. Bowen lives in New Jersey.

Praise For…
---
"This is a powerful call for a more inclusive and "real" feminism." — Publishers Weekly (starred review)
"Bowen writes from an authentic space for Black women who are often left out of feminist conversations due to respectability politics, but who are just as deserving of the same voice and liberation." — Booklist (starred review)
"Sesali is one of my favorite voices because of her truth, that somehow seems to be my own truth. . . . The duality of being from the hood, and educated and valuable in ways most people find contradictory; a feminist, who doesn't need a man, but wants to be wanted because Bad Bitches need love too . . .  Sesali perfectly vocalizes the inner dialogue, and daily mantras needed to be a Bad Bitch." — Gabourey Sidibe, actor, director, and author of This is Just My Face: Try Not To Stare
"Reading [Bad Fat Black Girl] is like an unforgettable conversation between you and your best homegirl. Expect to cry from laughing too hard, be pushed intellectually, love yourself more deeply, and commit to charging your worth like only the badddddddeeest do!" — Dr. Ruth Nicole Brown, professor and author of Black Girlhood Celebration: Toward A Hip Hop Feminist Pedagogy and Hear Our Truths: The Creative Potential of Black Girlhood
"Sesali Bowen is poised to give Black feminism the rejuvenation it needs. Her trend-setting writing and commentary reaches across experiences and beyond respectability. I and so many Black girls still figuring out who they are in this world will gain so much from whatever she has to say." — Charlene A. Carruthers, activist and author of Unapologetic: A Black, Queer and Feminist Mandate for Radical Movements
"Bad Fat Black Girl: Notes from a Trap Feminist matter-of-factly resurfaces the contributions of Black femmes often left out of even prominent Black feminist texts. As Sesali put it perfectly, Black fat girls from the hood wearing bonnets in public preserving their hairstyles to not be seen as unkempt deserve a framework to be returned to them, as they are the progenitors of why a Black feminist framework would need to even exists. This is a text that belongs in the feminist, music, sex, race, and class sections of the bookstore. It does not merely focus on one topic, but effortlessly captures the intersections of Black experience free from respectability, a celebration of the folks who are often sex shamed, sex workers, and those who are denied pleasure entirely." — Ericka Hart, Activist and Sexuality Educator
"Sesali Bowen is the girl a lot of media types have been cosplaying as for years. In her first book she has proven why she can be imitated, but never duplicated. Her willingness to be at once incredibly vulnerable and unrepentantly entitled on behalf of Black women—including herself—is a gift." — Jamilah Lemieux, Writer, Culture Critic, Podcast Host