When Women Invented Television: The Untold Story of the Female Powerhouses Who Pioneered the Way We Watch Today (Hardcover)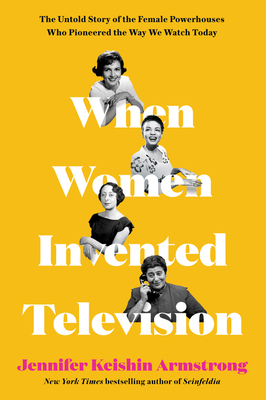 $27.99

Available from our distributor; usually Ships in 1-5 Days
Staff Reviews
---
Sitcoms! Talk shows! Soap operas! Activism! McCarthyism! Tabloids! Schmoozing! Sexism! It's all here. This excellent book focuses on four pioneering women who are responsible for the early TV programming that led directly to many of our modern staples. It is excellently researched and engagingly written.
— Holly
Description
---
New and Noteworthy  —New York Times Book Review
Must-Read Book of March  —Entertainment Weekly
Best Books of March  —HelloGiggles
"Leaps at the throat of television history and takes down the patriarchy with its fervent, inspired prose. When Women Invented Television offers proof that what we watch is a reflection of who we are as a people." —Nathalia Holt, New York Times bestselling author of Rise of the Rocket Girls

New York Times bestselling author of Seinfeldia Jennifer Keishin Armstrong tells the little-known story of four trailblazing women in the early days of television who laid the foundation of the industry we know today.

It was the Golden Age of Radio and powerful men were making millions in advertising dollars reaching thousands of listeners every day. When television arrived, few radio moguls were interested in the upstart industry and its tiny production budgets, and expensive television sets were out of reach for most families. But four women—each an independent visionary— saw an opportunity and carved their own paths, and in so doing invented the way we watch tv today.
Irna Phillips turned real-life tragedy into daytime serials featuring female dominated casts. Gertrude Berg turned her radio show into a Jewish family comedy that spawned a play, a musical, an advice column, a line of house dresses, and other products. Hazel Scott, already a renowned musician, was the first African American to host a national evening variety program. Betty White became a daytime talk show fan favorite and one of the first women to produce, write, and star in her own show.
Together, their stories chronicle a forgotten chapter in the history of television and popular culture.
But as the medium became more popular—and lucrative—in the wake of World War II, the House Un-American Activities Committee arose to threaten entertainers, blacklisting many as communist sympathizers. As politics, sexism, racism, anti-Semitism, and money collided, the women who invented television found themselves fighting from the margins, as men took control. But these women were true survivors who never gave up—and thus their legacies remain with us in our television-dominated era. It's time we reclaimed their forgotten histories and the work they did to pioneer the medium that now rules our lives.
This amazing and heartbreaking history, illustrated with photos, tells it all for the first time. 
About the Author
---
Jennifer Keishin Armstrong is the New York Times bestselling author of Seinfeldia: How a Show about Nothing Changed Everything, When Women Invented Television, Sex and the City and Us, and Mary and Lou and Rhoda and Ted. She writes about entertainment and pop culture for the New York Times Book Review, Fast Company, Vulture, BBC Culture, Entertainment Weekly, and several others. Armstrong lives in New York's Hudson Valley.
Praise For…
---
"Armstrong's depth of knowledge and easy command of the material make her subjects compelling from the first beat. Her writing—propulsive, and neatly scene-oriented—can feel almost like watching television....In prose as charming as the women she writes about, she makes her subjects feel knowable....makes you feel their genius and charisma, almost like you were there when they invented television." — Boston Globe
"Armstrong uses her impressive analytic and research skills to unearth some much less-explored ground....Armstrong also makes strong statements about the fact that women were marking these accomplishments during a time when they were expected to stay home and care for their families....a definite step in the right direction toward giving just some of these forgotten women their due." — AV Club
"Catnip for TV fans and a welcome addition to the literature of television history." — Minneapolis Star Tribune
"Keishin Armstrong always finds fresh relevance and excitement in pop culture, and she has really outdone herself here. Armstrong uncovers the  hidden heroines of the TV world, and shows us how Betty White became one of TV's first female multi-hyphenate moguls; how Hazel Scott became the first Black person to host a primetime, network show before she stood up to McCarthyites; how Irna Phillips raised two children  while creating the soap opera; and how Gertrude Berg ruled her production empire with precision and righteous ambition. An essential contribution toward a more complete, inclusive, and true history of television." — Sheila Weller, New York Times bestselling author of Girls Like Us
"When Women Invented Television turns a pivotal moment in history into a page-turner, with a depiction of four powerhouse talents that is so vivid and detailed, you feel like you're riding their career ups and downs along with them. The kinescopes of their groundbreaking earliest work may be gone, but thanks to Armstrong's clearly painstaking research, the world now has this wonderful, preserved record of the days when visionary women brought forth the medium which so influences our world today."  — Jim Colucci, New York Times bestselling author of Golden Girls Forever: An Unauthorized Look Behind the Lanai
"Armstrong's look into the powerhouses who shaped an industry reflects a respect and reverence for her subjects as much as her dedication to calling out the social norms that worked tirelessly to keep these pioneers down. Armstrong's research is thorough, her arguments thoughtful, and her responsibility to history unparalleled. Frankly, we're lucky to have Armstrong, an author who so eloquently constructs a picture we might otherwise have overlooked."  — Anne T. Donahue, author of Nobody Cares
"These profiles in creativity and courage amount to a feminist revelation, a pre-history of television that is as brightly written as the pioneers might wish--a prize of a book, intelligent, sobering, and a delight to read."  — Patrick McGilligan, author of Funny Man: Mel Brooks
"These women not only ruled television -- their vision, skill, and talent shaped how the world's most influential contemporary form of media would function for the next century. They understood TV as a vector where creativity and entertainment could also inspire empathy and social change. Jennifer Keishin Armstrong has meticulously written these women back into TV history as the genre-defining, medium-morphing titans they were." — Jennifer Pozner, author of Breaking (the) News and Reality Bites Back, and founder of Women In Media & News
"Just as they did in the early moving picture industry, women played key roles in the earliest days of television, although their roles as pioneers have largely been forgotten. Armstrong corrects the record to reclaim these women's stories and document their influence. When Women Invented Television is rediscovered history at its finest."
— William J. Mann, author of Tinseltown: Murder, Morphine and Madness at the Dawn of Hollywood and The Contender: The Story of Marlon Brando 
"This book leaps at the throat of television history and takes down the patriarchy with its fervent, inspired prose. Armstrong reveals that while men may dominate TV today, they do so on the backs of women who invented and perfected the formats we love. With heart wrenching detail, When Women Invented Television offers proof that what we watch is a reflection of who we are as a people, a medium whose founders deserve our respect." — Nathalia Holt, New York Times bestselling author of The Queens of Animation and Rise of the Rocket Girls
"With crisp, electrifying prose, Armstrong recounts the hard work and struggles of four women trailblazers who shaped the dawn of television....Armstrong deftly illustrates how this quartet of women battled skepticism, sexism, and even the infamous Cold War blacklist to become vital players in the burgeoning days of the small screen." — Booklist (starred review)
"....fresh and welcome.....Engaging and well-documented recognition of four women's significant impact on the emerging TV medium." — Kirkus Reviews
"Television cultural critic Armstrong (Sex and the City and Us) reclaims in this enthusiastic outing the forgotten history of four women who shook up the staid ranks of mid-century television and set it on a course to become the medium it is today....This fast-paced and fascinating group biography will enthrall pop culture, television, and women's history buffs." — Publishers Weekly
"In this compelling, well-researched work, Armstrong (Seinfeldia) uncovers the role women played in developing television, fighting for airtime as they launched sitcoms, soap operas, variety shows, and more....Armstrong preserves an important part of television's—and women's—history in this engaging book." 
—
Library Journal
"You might not realize it, but women made television what it is today. From writing to producing to hosting, this well-researched book explores a forgotten chapter in pop culture history. These are the stories of how Irna Phillips, Gertrude Berg, Hazel Scott, and Betty White (yes, that Betty White!) changed TV forever." — HelloGiggles
"Will the Academy of Television Arts and Sciences please create an honorary Emmy Award for Jennifer Keishin Armstrong already? With When Women Invented Television: The Untold Story of the Female Powerhouses Who Pioneered the Way We Watch Today, Armstrong offers a group biography of four TV iconoclasts that doubles as a captivating record of behind-the-scenes goings-on during the medium's infancy....[a] sterling group biography." — Shelf Awareness
"Keishin Armstrong does the exhaustive research it takes to unearth compelling, and often untold, stories about our collective pop-culture obsessions and weaves them into narratives that resonate with fans." — Shondaland.com
"Keishin Armstrong adds another important book to her growing library of pop cultural criticism....This is an exciting book—ambitious women shaping the birth of an industry, FTW! But it's also enraging, like when Armstrong reveals that today, even with hundreds of scripts in production, only about 25 percent of TV creators are women—only about 1 percent higher than the figure was in 1950." — Bust Magazine