How the Dukes Stole Christmas: A Christmas Romance Anthology (Mass Market)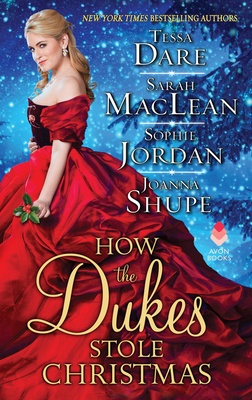 Description
---
From the ballrooms of London, to abandoned Scottish castles, to the snowy streets of Gilded Age New York, four bestselling authors whip up unforgettable Christmas romance.

"Meet Me in Mayfair" by Tessa Dare
Louisa Ward needs a Christmas miracle. Unless she catches a wealthy husband at the ball, the Duke of Thorndale will evict her family from their home. When Louisa finds herself waltzing with the heartless Thorndale, she's unnerved by his handsome looks—and surprising charm.
"The Duke of Christmas Present" by Sarah MacLean 
Rich and ruthless, Eben, Duke of Allryd doesn't care for the holidays. But when Lady Jacqueline Mosby returns to town after a long absence, Eben falls under the spell of Christmas—and the woman he never stopped loving.
"Heiress Alone" by Sophie Jordan 
When Annis Bannister finds herself stranded in the Highlands during a Christmas snowstorm, she must fend off brigands terrorizing the countryside. Her only hope falls on her neighbor, a surly hermit duke who unravels her with a kiss. 
 
"Christmas in Central Park" by Joanna Shupe
Mrs. Rose Walker pens a popular advice/recipe column. No one knows Rose can't even boil water. When her boss, Duke Havemeyer, insists she host a Christmas party, Rose must find a husband, an empty mansion, and a cook. But Rose fears her plan is failing—especially when Duke's attentions make her want to step under the mistletoe with him.
About the Author
---
Tessa Dare is the New York Times bestselling, award-winning author of more than a dozen historical romances. A librarian by training and a book-lover at heart, Tessa makes her home in Southern California, where she shares a cozy, cluttered bungalow with her husband, their two children, and a pair of cosmic kittens.
A life-long romance reader, Sarah MacLean wrote her first romance novel on a dare, and never looked back. She is the New York Times and USA Today bestselling author of romances translated into more than twenty languages, a romance columnist, and the co-host of the weekly romance novel podcast, Fated Mates. A graduate of Smith College and Harvard University, she lives in New York City.
Sophie Jordan grew up in the Texas hill country where she wove fantasies of dragons, warriors, and princesses. A former high school English teacher, she's the New York Times, USA Today and international bestselling author of more than fifty novels. She now lives in Houston with her family. When she's not writing, she spends her time overloading on caffeine (lattes preferred), talking plotlines with anyone who will listen (including her kids), and cramming her DVR with anything that has a happily ever after.
Joanna Shupe has always loved history, ever since she saw her first Schoolhouse Rock cartoon. Her books have appeared on numerous yearly "best of" lists, including Publishers Weekly, The Washington Post, Kirkus Reviews, Kobo, and BookPage. She lives in New Jersey with her two spirited daughters and dashing husband.