Inventor of the Future: The Visionary Life of Buckminster Fuller (Hardcover)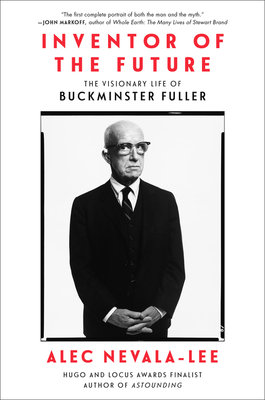 $35.00

Available from our distributor; usually Ships in 1-5 Days
Description
---
One of Esquire's 50 Best Biographies of All Time * One of The Economist's Best Books of 2022 * A New York Times Book Review Editors' Choice * Nominated for The Next Big Idea Club * The Week Magazine Book of the Week
From Alec Nevala-Lee, the author of the Hugo and Locus Award finalist Astounding, comes a revelatory biography of the visionary designer who defined the rules of startup culture and shaped America's idea of the future. 
During his lifetime, Buckminster Fuller was hailed as one of the greatest geniuses of the twentieth century. As the architectural designer and futurist best known for the geodesic dome, he enthralled a vast popular audience, inspired devotion from both the counterculture and the establishment, and was praised as a modern Leonardo da Vinci. To his admirers, he exemplified what one man could accomplish by approaching urgent design problems using a radically unconventional set of strategies, which he based on a mystical conception of the universe's geometry. His views on sustainability, as embodied in the image of Spaceship Earth, convinced him that it was possible to provide for all humanity through the efficient use of planetary resources. From Epcot Center to the molecule named in his honor as the buckyball, Fuller's legacy endures to this day, and his belief in the transformative potential of technology profoundly influenced the founders of Silicon Valley.
Inventor of the Future is the first authoritative biography to cover all aspects of Fuller's career. Drawing on meticulous research, dozens of interviews, and thousands of unpublished documents, Nevala-Lee has produced a riveting portrait that transcends the myth of Fuller as an otherworldly generalist. It reconstructs the true origins of his most famous inventions, including the Dymaxion Car, the Wichita House, and the dome itself; his fraught relationships with his students and collaborators; his interactions with Frank Lloyd Wright, Isamu Noguchi, Clare Boothe Luce, John Cage, Steve Jobs, and many others; and his tumultuous private life, in which his determination to succeed on his own terms came at an immense personal cost. In an era of accelerating change, Fuller's example remains enormously relevant, and his lessons for designers, activists, and innovators are as powerful and essential as ever. 
About the Author
---
Alec Nevala-Lee was born in Castro Valley, California, and graduated from Harvard University with a bachelor's degree in classics. He was a 2019 Hugo and Locus Award finalist for Astounding: John W. Campbell, Isaac Asimov, Robert A. Heinlein, L. Ron Hubbard, and the Golden Age of Science Fiction, which was named one of the best books of the year by The Economist, and is the author of three novels, including The Icon Thief. His nonfiction has appeared in the New York Times, the Los Angeles Times, Salon, The Daily Beast, Longreads, The Rumpus, Public Books, and the San Francisco Bay Guardian, and his short stories have been published in Analog Science Fiction and Fact, Lightspeed, and The Year's Best Science Fiction. He lives with his wife and daughter in Oak Park, Illinois. 
Praise For…
---
"Revealing...Fuller could come across as a selfless seer, almost a secular saint; in Nevala-Lee's biography he is all too human...The strength of this carefully researched and fair-minded biography is that the reader comes away with a greater understanding of a deeply complicated individual who overcame obstacles—many of his own making—to achieve a kind of imperfect greatness." — Witold Rybczynski, New York Times
"Alec Nevala-Lee is a sure-footed guide to a dizzying life. He eschews mythmaking, laying out the way Fuller burnished his own legend by rewriting history and slighting the contributions of his collaborators. Clear-eyed about his subject's faults, Mr Nevala-Lee nevertheless gives him his due as a dazzlingly original thinker...The portrait the author paints is compelling...[Fuller] comes alive in these pages as a visionary who rose above his imperfections to labour for the benefit of humankind." — The Economist
"Brilliant...Alec Nevala-Lee's writing is as serene and precise as one of Fuller's geodesic domes...A genuinely groundbreaking book full of surprises."  — Esquire
"Nevala-Lee is something of an expert in a very specific type: twentieth-century men, working on the fringes of stem careers, who channeled the technological optimism of the years between World War I and the 1970s into careers as media icons…A labor of love…Meticulous and clearly written." — New Republic
"It requires a Dymaxion biographer to take the full measure of Buckminster Fuller—the huckster-visionary who finally made good on (at least some of) his dizzying schemes and changed the world. In his effervescent Inventor of the Future, Alec Nevala-Lee proves himself Bucky's match, debunking myths and ferreting out deeper truths at every twist and turn of this remarkable saga of an unlikely rise to global fame and influence. Nevala-Lee is the rare biographer of a 'great man' who successfully links private and public life, showing how Fuller's incomparable genius was both innate and inspired by the synergy of meetings with a cast of brilliant characters, a Who's Who of the twentieth century's modernist intelligentsia. For Fuller, a better future was never beyond imagining, an optimism this fine biography makes contagious."  — Megan Marshall, Pulitzer Prize-winning author of Margaret Fuller: A New American Life
"Buckminster Fuller was part design guru, part visionary futurist, part bold technocrat, part New England patrician and part insecure striver. Until now we have never had a book about him that portrays the full extent of his complex and contradictory character, and explains how he could be at once a quirky iconoclast and an inspiration to technological empires. Alec Nevala-Lee's beautifully written Inventor of the Future is the perceptive, nuanced biography of Fuller that we have needed, and it is as engaging to read as Fuller's extraordinary geodesic domes are to look at." — Paul Goldberger, Pulitzer Prize winner and author of Building Art: The Life and Work of Frank Gehry
"Various friends and acolytes wrote books about Fuller in his lifetime, but until now there has never been a thoroughgoing biography…Carefully researched…Nevala-Lee compares Fuller to Steve Jobs, a design visionary, and Elon Musk—both 'outsiders who disrupted established fields'—as well as Jeff Bezos." — James Gleick, The New York Review of Books
"Ever the optimist, ever the outsider, Fuller never tired of trying to pull humanity toward a better future. Alec Nevala-Lee's authoritative biography...tells Fuller's story in greater detail than ever." — Wall Street Journal
"Alec Nevala-Lee's new biography, Inventor of the Future, fact-checks Fuller's legend and then corrects the record...He resists the hypnotic whirlpool surrounding Fuller...A bedazzling cobweb of who's who in 20th-century America." — Pradeep Niroula, Los Angeles Review of Books
"Novelist, biographer, and science-fiction writer Nevala-Lee draws on abundant archival material to fashion a thoroughly researched, comprehensive biography of architect, inventor, and "serial entrepreneur" R. Buckminster Fuller….A perceptive and cleareyed biography of a unique figure." — Kirkus Reviews (starred review)
"This probing biography of Buckminster Fuller distinguishes man from myth while giving the iconic designer and futurist due credit for influencing generations of big thinkers...Nevala-Lee diligently emphasizes Fuller's contradictions...but he also persuasively demonstrates that, in the end, none of Fuller's epic shortcomings would matter. Fuller's most enduring creation was his own ethos, that of the free-thinking futurist whose design solutions would solve the planet's problems. Such ideas would take deep root, especially in Silicon Valley, even if the math never quite worked out." — Booklist (starred review)
"A clear-eyed portrait of the cult of (tech) personality that reads very 2022." — Chicago Tribune, "Books for Summer 2022"
"Novelist Nevala-Lee (Astounding) offers a cogent assessment of futurist Buckminster Fuller (1895–1983), "a man who had been revered by both the counterculture and the establishment" in this solid biography...a fascinating portrait of a larger-than-life figure." — Publishers Weekly
"This new biography of the multi-hyphenate American icon and futurist promises to dig deep into both his professional and personal life and frames him as the father of startup culture, showing how his ideas infected Silicon Valley and still hold sway today—whether you live in a geodesic dome or not." — Lit Hub, "Most Anticipated Books of 2022, Part Two"
"Nevala-Lee draws a revealing portrait of the Buckminster Fuller behind the legend. It encompasses both Fuller's passions and his foibles. Placing Fuller where he belongs in the pantheon of America's inventors, Inventor of the Future is the first complete portrait of both the man and the myth." — John Markoff, author of Whole Earth: The Many Lives of Stewart Brand
"This is a deceptively artful book of circuitous tensions and great circles (which the author uses as beautiful chapter titles and section headings) where, finally, all the loops and time-bends of Buckminster Fuller's improbable life come close to merging into one." — Paul Hendrickson, author of Plagued by Fire: The Dreams and Furies of Frank Lloyd Wright
"Nevala-Lee brings back to life one of the most influential American minds of the twentieth century—revealing both the brilliance and the flaws that are contributing to the bold and radical technological reimagining of how we think and live." — David Edwards, author of Creating Things That Matter: The Art and Science of Innovations That Last
"Revealing . . . Utterly fascinating . . . An important biography and entertaining read from start to finish." — Analog Science Fiction and Fact
"This exhaustive biography of mastermind architect Buckminster Fuller sheds light on the origins of some of his most notable works. While the book looks back on interviews and unpublished documents from Fuller's lifetime and career, Fuller himself will always be remembered for looking toward the future." — The Architect's Newspaper